2018 iPad vs. Acer Chromebook Tab 10: education showdown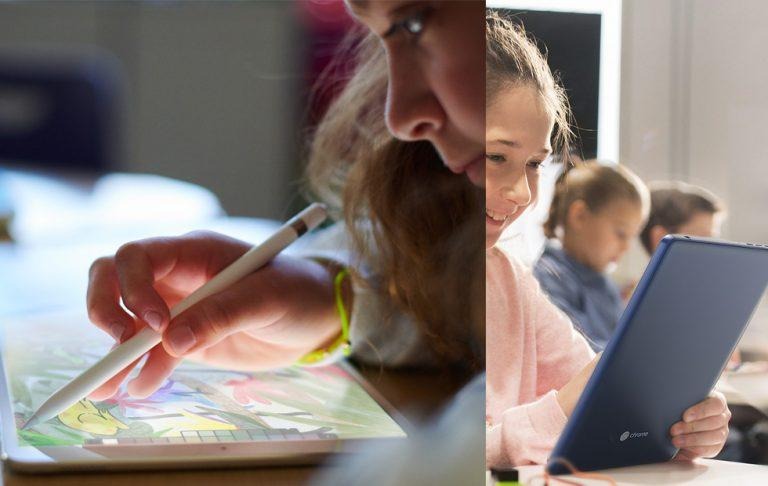 Last week, two tech giants made a big attempt at grabbing our future. Google and Apple, long-time rivals and frenemies, announced two education-centric device. Both are interesting in their own right. One is the first Chrome OS tablet, the other the first non-Pro tablet that supports the Apple Pencil. Both are trying to sell themselves not just to individual buyers or even students but to educational institutions and school districts as well. Given a choice between the 2018 iPad and the Acer Chromebook Tab 10, which should consumers and educators choose? We took seven key factors and made the two tablets face off to find out.
Specs
Spec sheets will be one of the first things people will consider but, at the end of the day, they might not actually mean that much in practice. Real-world performance, not benchmarks, will be the true litmus test and when it comes to these two, it's almost like apples and oranges, pardon the pun.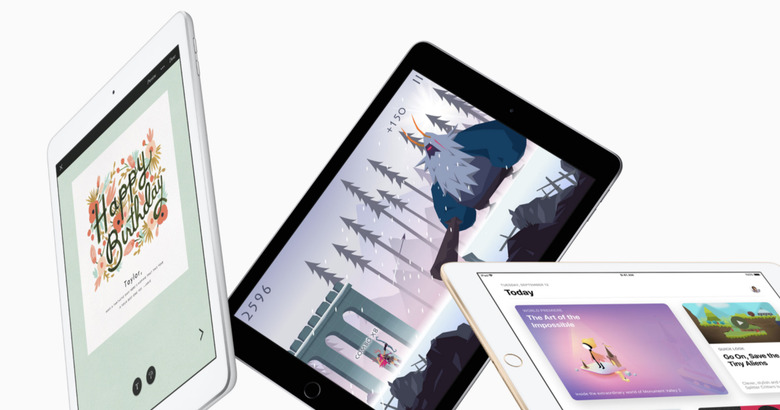 Except for the 9.7-inch 2048x1536 screen, the two couldn't be more different. Yes, both run on ARM processors, but the Apple A10 Fusion has been around the block more times than the mysterious OP1 (branded by Google, made by Rockchip). Yes, the 2018 iPad has half the RAM of the Acer Chromebook Tab 10, 2 GB versus 4 GB, but Apple has been known for being able to squeeze as much performance from constrained devices as it can. The Chromebook's one advantage is its microSD card slot, something no Apple device is going to have.
Winner: 2018 iPad. The A10 has been tried and tested over the years, though we have yet to see if the OP1 in this incarnation can stand up to par.
Software
It isn't your usual iOS versus Android battle. This time, it's iOS versus Android and Chrome OS. It's two for the price of one. Three or four even if you count how you may be able to run other operating systems on Chrome OS these days. Apple does have the advantage of having more high-quality apps, both for education and other things. You can't however, discount the allure of Google's suite and Android in one single, highly portable device.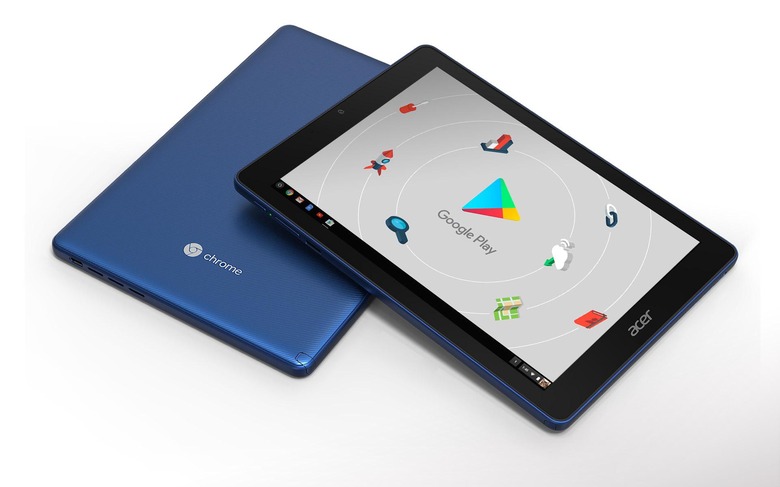 Winner: Acer Chromebook Tab 10. It's an Android and Chrome OS tandem that's hard to beat.
Tablet Usability
That said, you won't be using those apps in complete isolation. They will be used in the context of a larger platform and sometimes with other apps as well. This is where Google's joint forces fall apart. Android isn't good on tablets and Chrome OS has never been on one until last week. iOS, however, has matured to the point that the iOS of two or three years ago would seem almost alien.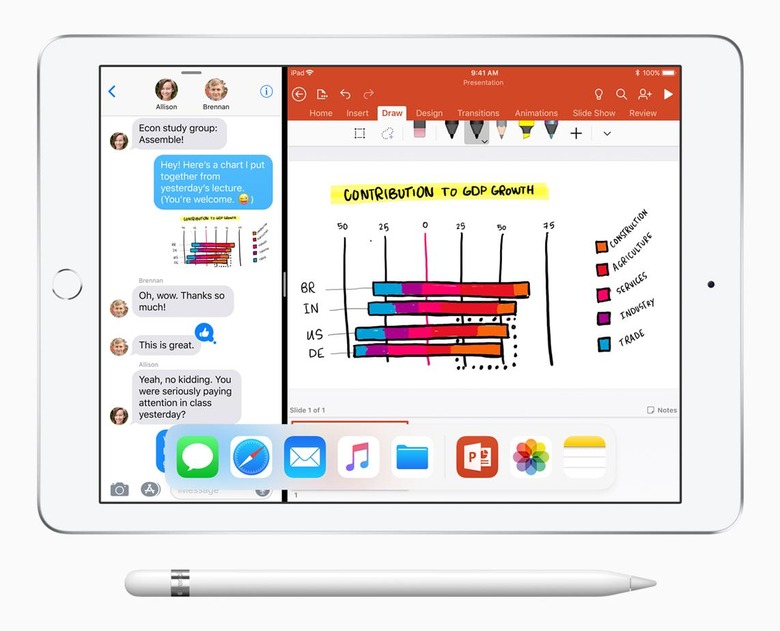 Winner: 2018 iPad. iOS just has a huge head start. It remains to be seen if Chrome OS will be able to catch up quickly.
Device Management
While the above considerations are things that would affect every user, there is one special factor that could make or break the decision to purchase either or both of these devices. Schools aren't just going to hand students a tablet and be done with it. They will want to be able to control and manage those devices as well. Here, Google is the one that has a lead on mobile device management (MDM). In addition to powerful web-based administrator controls, Chrome OS' cloud-centric ecosystem makes it easy to backup and restore student's configuration and data as needed.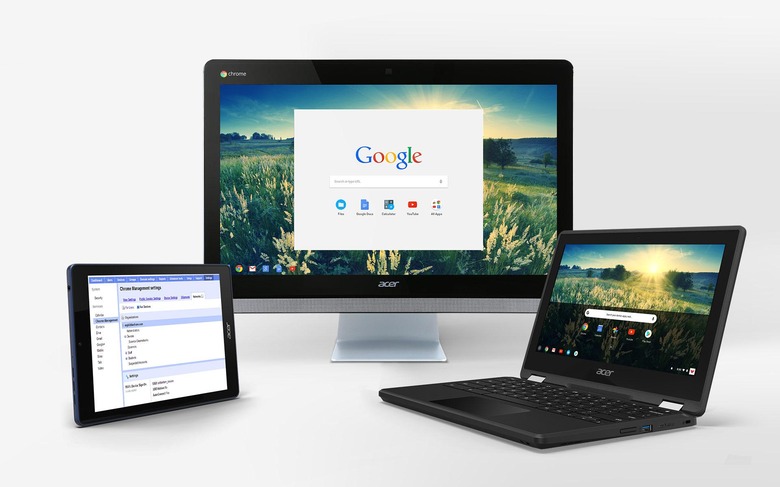 Winner: Acer Chromebook Tab 10. Breaking a Chromebook doesn't mean your data is lost forever.
Stylus
It is very reassuring that both devices have support for an active, pressure-sensitive stylus. This opens up the experience to more than just tapping and typing and leaves the door open not just for more creative pursuits but also for reinforcing the benefits of handwriting without having to go analog. That said, Acer's implementation has at least two things over the Apple Pencil. One, the stylus can be safely stowed inside the Chromebook Tab 10's body, reducing the chances of losing the stick. Second, it's based on Wacom's EMR technology, which means it is potentially compatible with some, but not all, Wacom EMR styluses.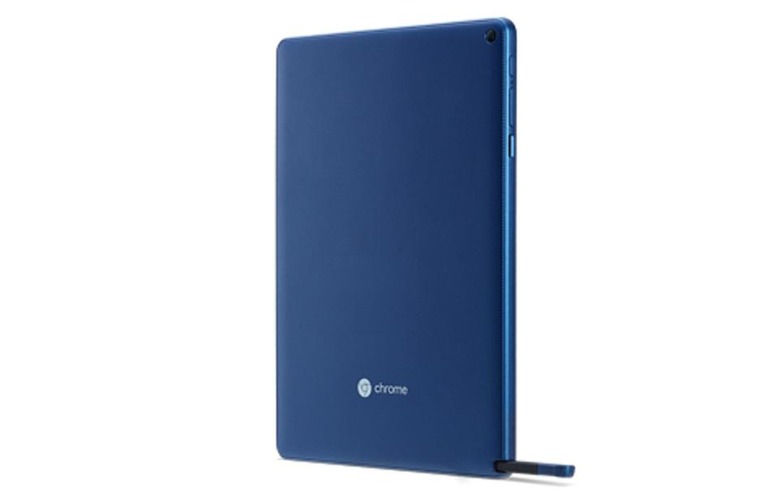 Winner: Acer Chromebook Tab 10. Acer took a page out of Samsung's tablet and found a way to keep the pen inside.
Keyboard
Ironically, both tablets fail on one important aspect: typing. It is, after all, one of the biggest uses cases for computers in schools. From a business point of view, it's understandable they had to cut corners somewhere. From a utility aspect, it's a tragedy.
Winner: Draw. No one has the upper hand and both disappoint greatly.
Price
Both the 2018 iPad and the Acer Chromebook Tab 10 retail for $329 but Apple's story is a bit more complex. For the iPad, that's only the starting price. And if you're an academic institution, you can even get price down to $299. But here's the catch. For $329, the Chromebook Tab 10 already includes the stylus and a silo for that stylus. With the iPad, you need to spend another $89 to $99 for the Apple Pencil. But without that Apple Pencil, there's almost very little reason to buy the new iPad anyway, despite the improvements of the last gen iPad.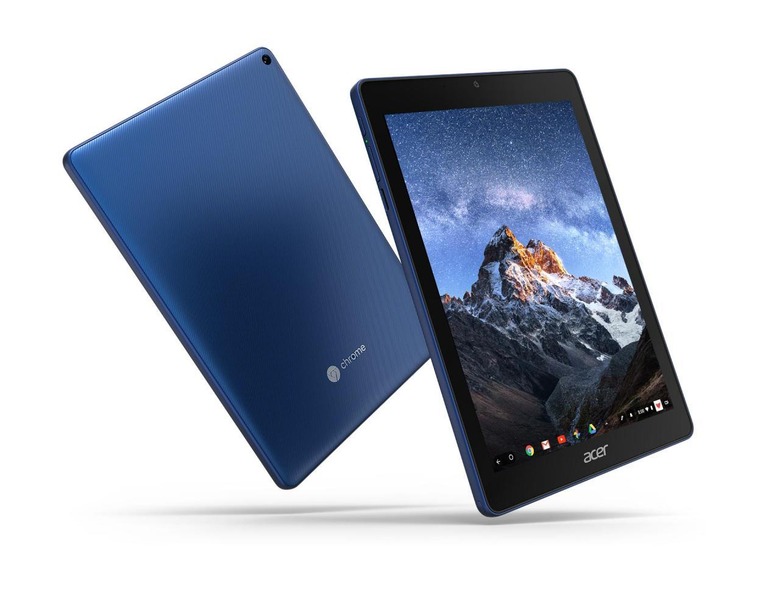 Winner: Acer Chromebook Tab 10. Everything comes in one package.
Wrap-up
And the winner is: Google! Now before you raise your eyebrows or your fists, here's why the search giant is ultimately the winner. Even if the Acer Chromebook Tab 10 loses in the end (it didn't).
The Chromebook Tab 10 wins on a lot of factors but, truth be told, that $329 price tag is only acceptable when compared to the 2018 iPad. In isolation, it might be too much to ask. There are, however, dozens of cheaper Chromebooks, some of which share the Chromebook Tab 10's benefits, though sacrifice the portability. It'll still be Chrome OS. And it'll still be a Google product.
And even if schools do choose iPads because they are knee-deep in Apple's ecosystem, sooner or later, they will be encountering Google apps and services, which, of course, work well on iOS. Almost ironically, Google's MDM can even manage Apple devices, but Apple's system is just for its own. In the end, Google wins. But for this first round, we can award the blue ribbon to the Acer Chromebook Tab 10.