2018 Ford Expedition promises towing capacity and best-in-class fuel economy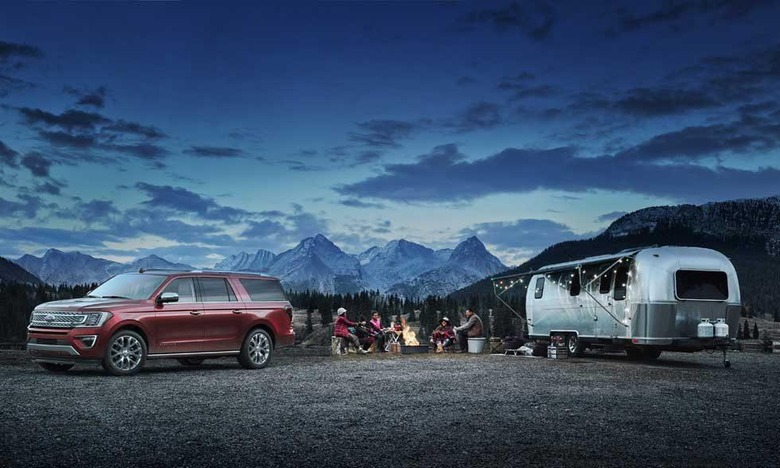 Ford has unveiled the 2018 Expedition SUV and it is positioning the Expedition as the perfect vacation vehicle for a family road trip, even if you are towing a camper across the country. The new Expedition has best-in-class fuel economy with an EPA-estimated economy rating of 17 mpg city, 24 mpg highway, and 20 mpg combined for the 4x2 version.
The Expedition has three rows of seating that promises to be comfortable for long drives. The Expedition has a large fuel tank and can drive for up to 538 miles per tank for the 4x2 Expedition Max. That means at freeway speeds you can roll on for over 7 hours before needing to stop.
Someone would certainly need to go to the bathroom before the tank ran dry. The engine powering the big SUV is a 3.5L EcoBoost paired with an all-new 10-speed transmission. If you opt for the 4x4 version, the fuel economy drops a bit to 17mpg city, 22 mpg highway, and 19 mpg combined.
Ford says that the Expedition 4x2 is the only full-size SUV that can hit 20mpg combined. The Expedition also has standard USB charge ports for gadgets, 4G LTE modem supporting 10 devices at once, and an available Sling Media entertainment system.
Ford also offers a 12-speaker B&O Play audio system. When properly equipped, the all-new 2018 Expedition can tow 9,300 pounds. It will be at dealerships soon and while an exact date isn't offered, Ford says it will land in time to plan holiday road trips.
SOURCE: Ford