2018 Dodge Challenger SRT Demon is your drag car for the street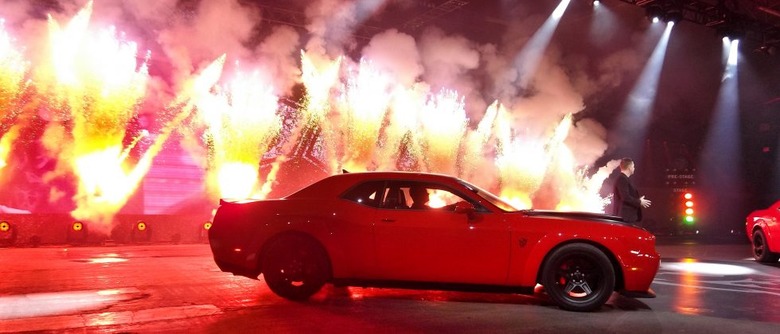 The 2018 Dodge Challenger SRT Demon is here, it's every bit as crazy as we were lead to believe by the months-long publicity campaign leading up to the 2017 New York International Auto Show. Chrysler claims that the SRT Demon is the most powerful V8 production car to have ever been sold to the public, and it backs up that assertion with some wild numbers.
Specifically, the Challenger SRT Demon makes use of a similar 6.2-liter eight-cylinder engine found in the SRT Hellcat, albeit one that has had 50 percent of its parts swapped out for enhanced durability. It has also been fitted with a larger 2.7-liter supercharger that increases boost by 2.9 psi to 14.5 psi. Combined with a higher redline of 6,500 rpm, a liquid-to-air intercooler fed by several cold air sources (hood, headlight, wheel liner inlet), and an optional tune that allows the car to be run on 100 octane race fuel (from the Demon Crate performance parts series), Dodge has been able to squeeze 840 horsepower out of the unit.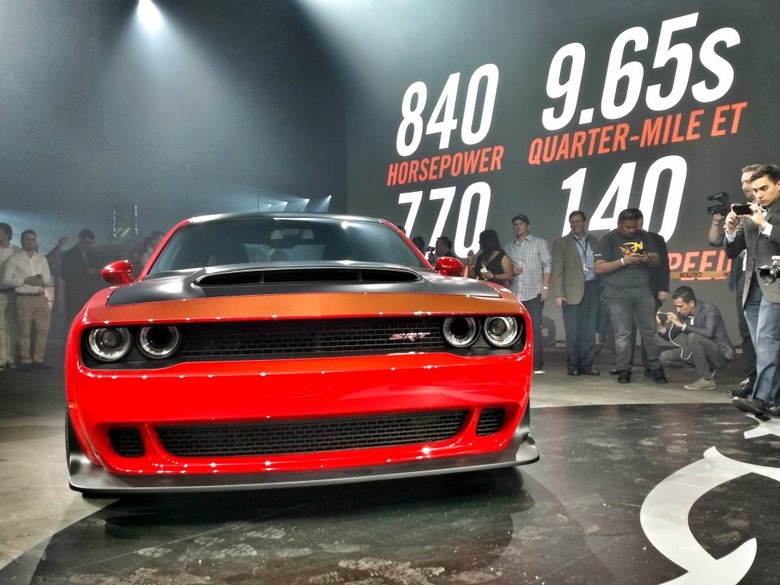 That obscene amount of power is only part of the story. In order to achieve what Chrysler is calling the world's fasts 0-60 time of 2.3 seconds (along with the fastest production quarter mile time on the market of 9.65 seconds), the Dodge Challenger SRT Demon relies on a transbrake, 315/40/R18 drag radial rear tires from Nitto, and a unique suspension setup that is designed to maximize rearward weight transfer (and is softer than that found in the Hellcat). A 'Launch Assist' feature is also present to reduce wheel hop without arresting forward momentum, which should save more than a few pumpkins from grenading on the starting line. The move from a 38-spline to a 41-spline rear end, and the strengthening of the prop shaft, differential housing, and half shafts will also go a long way towards preserving driveline longevity.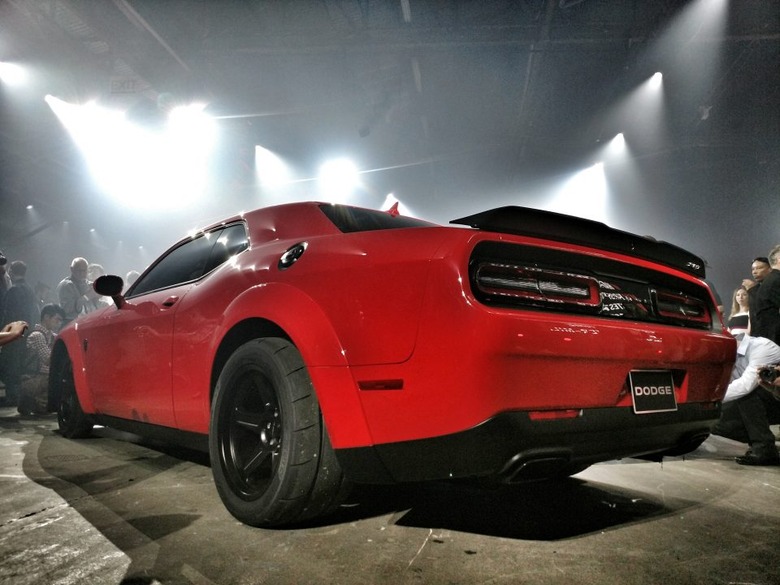 This solves what was the biggest issue associated with the Demon's Hellcat predecessor: the inability to put power down on the street without serious wheel spin. Chrysler is claiming that the Demon's grip has been improved to the point where it's now the only factory showroom car that will lift the front wheels on a perfect launch, a fact verified by Guinness, which is apparently now doing that, too.
Only 3,300 of these cars will be offered in North America this fall, but they will all come with a full factory warranty for what is essentially an out-of-the box drag car (that is fully emissions legal). That last bit is an important difference when comparing the Chevrolet COPO Camaro and the Ford Cobra Jet Mustang, with the latter two aimed not so much at retail customers but rather professional race teams capable of maintaining their own vehicles. How many Dodge Challenger SRT Demons actually end up prowling boulevards rather than terrorizing the 1320 remains to be seen, as it takes a very specific buyer to prioritize straight-line speed over everything else out on the street.