2017 Subaru Forester 2.5i Premium Review: Everyone's SUV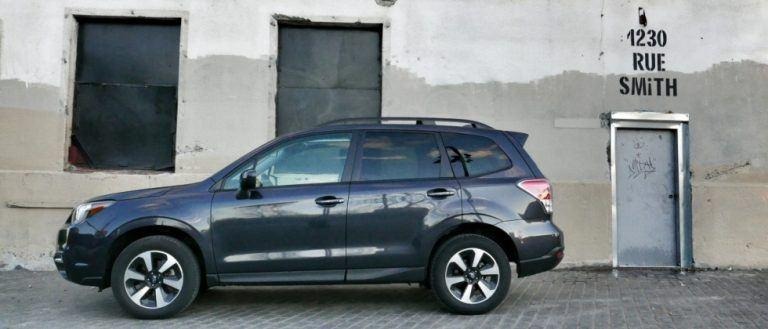 The 2017 Subaru Forester is perhaps the perfect encapsulation of why this tiny Japanese automaker has been able to boast year-after-year growth that would shame industry heavyweights like Toyota, Honda, and Ford. The current generation Forester's 2014 redesign coincided perfectly with the surging demand for small SUVs that were both affordable and ultra-practical, with the Subaru's boxy shape smoothed out by a fresh-look exterior design and a range of more efficient drivetrains.
That the Forester's sales almost doubled – and stayed doubled – in the ensuing years is no surprise to anyone familiar with the brand, which has spent much of the last two decades further refining the crossover sport-utility segment that it helped define in the mid-90s. For 2017, the Subaru Forester carries forward all of the character that has made it a hit, while simultaneously introducing a handful of styling changes and cabin upgrades alongside a meaningful fuel mileage bump.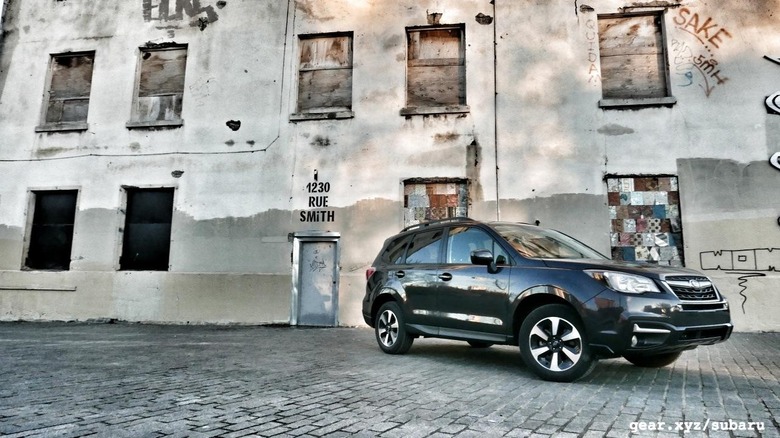 The model I drove for a week was a the Subaru Forester 2.5i Premium, which is notable for being one of the few compact SUVs out there that is still offered with a manual transmission on the order sheet. There's nothing phenomenal about the six-speed gearbox that comes standard with the 2.5i Premium – throws can be a little vague, as it's not intended to offer a sports car-level connection to the drivetrain – but it's a fine alternative to the continuously-variable automatic transmission that is also available with the model (and included free of charge on higher trim editions of the vehicle).
The '2.5i' appended to my tester's name refers to the 2.5-liter horizontally-opposed four-cylinder engine under its hood. It's rated at 170 horsepower and 174 lb-ft of torque – exactly the same numbers it boasted the year before – but when paired with the tweaked CVT it gains 2-mpg in stop and go driving, bringing its rating to 26-mpg city and 32-mpg highway. The manual box that I drove doesn't enjoy the same efficiency improvement, but 23-mpg around town and 27-mpg on the highway are respectable numbers for an SUV that features standard all-wheel drive, (as does every Subaru save the BRZ coupe).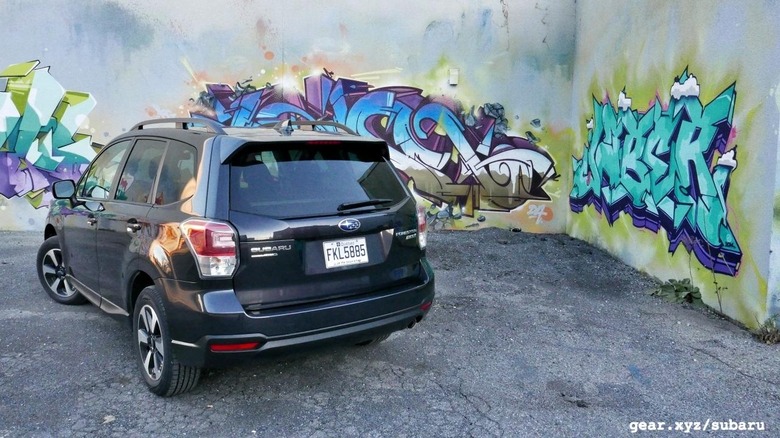 I had ample opportunity to sample the Forester's four-wheel traction during my time behind the wheel as Montreal found itself dealing with the initial throes of winter weather including, cold and slippery pavement combined with the occasional snow flurry. Surefooted, with handling somewhat better than what one would expect from an inexpensive people mover, the Subaru Forester's 170 horses were enough to keep the vehicle moving with the flow of traffic, albeit not with as much gusto as the WRX-sourced turbocharged drivetrain that's available in the Forester XT.
While underway, the Forester also exhibited a quieter character than I had come to expect from the sport-utility, a testament to the thicker glass, extra insulation, and improved weather-stripping around ingress and egress points that has been installed throughout the cabin in a renewed effort to block out road noise for 2017 editions. This, alongside the revised grille, front fascia, and headlights, are the most overt indications of the mild refresh that the Subaru has undergone. Other updates include lane departure assistance for the EyeSight active safety system (which uses a set of stereoscopic cameras to also provide a blind spot monitor, forward collision warning and mitigation via automatic braking, and lane departure warning), as well as adaptive LED headlights and automatic reverse braking (at low speeds) on certain versions of the SUV.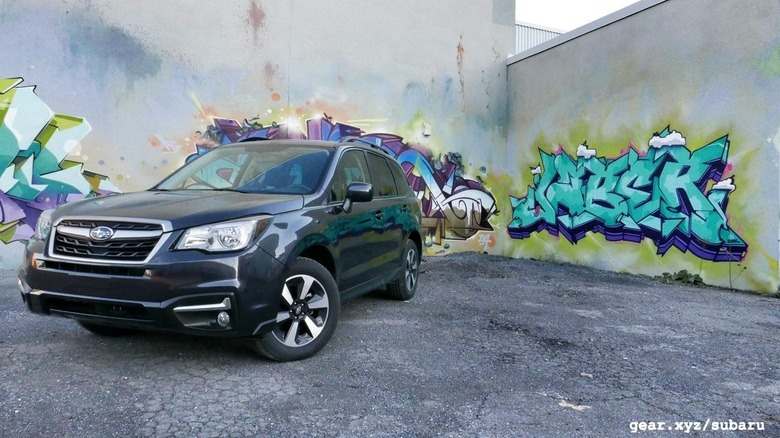 Although less noisy than before, don't expect any other real changes inside the Subaru Forester. The brand's function-first esthetic continues to call the shots when it comes to switchgear, materials, and fabrics, which translates into a passenger compartment that is roomy and pleasant, but not at all flashy (and, truth be told, a bit plasticky). Subaru's Starlink infotainment system also stands out for being less intuitive to use than similar touchscreen designs offered by its competitors, and I would have appreciated a few more hard buttons for accessing radio presets and other functions.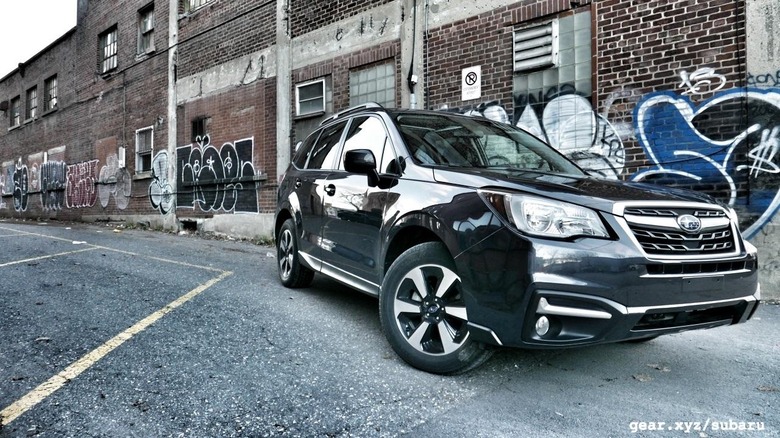 Still, those are minor issues compared to just how useful the 2017 Subaru Forester truly is. The secret of its square shape is what allows it to feel even larger than the (class-leading) 74.7 cubic feet of interior storage space in the base model suggest, as all those right angles make it easy to take advantage of every inch of available room. Folding down the rear seats is a snap when you need to lug around larger-than-average gear, but even with a full load of passengers there's 34.4 cubes waiting to be filled. My 2.5i Premium unfortunately came with a standard panoramic moonroof option that cuts significantly into the Subaru's hauling capacity, as the lower ceiling slices nearly six cubic feet off of the total measure – still strong, but no longer ahead of the pack when it comes to cargo.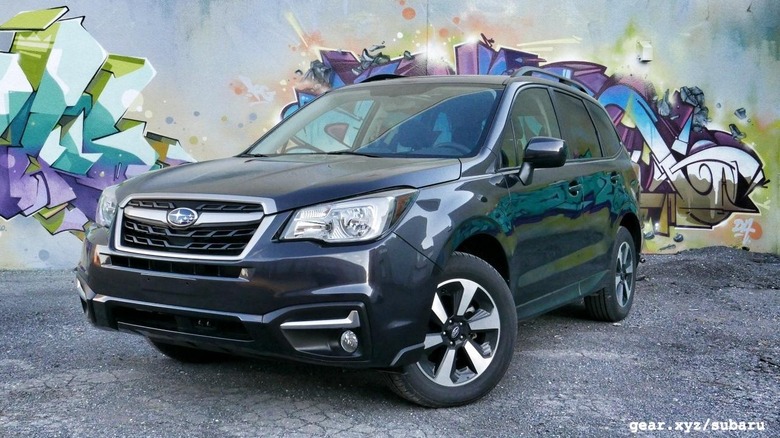 If the ultimate in inexpensive utility is what you're looking for, then the entry-level, all-wheel drive 2017 Subaru Forester 2.5i is a major score at $22,595. If you want a few more comforts on hand to help ease the pain of commuting, and don't mind losing a bit of trunk in favor of an enormous glass roof, then the extra $3k required to step up to the 2.5i Premium is far from onerous – and in fact even the top-tier 2.0XT Touring model, with its turbocharged engine and long list of equipment prices out at $34,295. In between there are no less than three additional flavors of SUV to choose from in the showroom, for a grand total of six iterations. The Forester line-up's massive success relies in large part on its versatility, and it's that ability to duck and weave with changing customer tastes that has helped Subaru ride the crest of a wave that some car companies are still paddling like mad to catch up with.