2017 Porsche 911 Carrera S Cabriolet and 4S first drive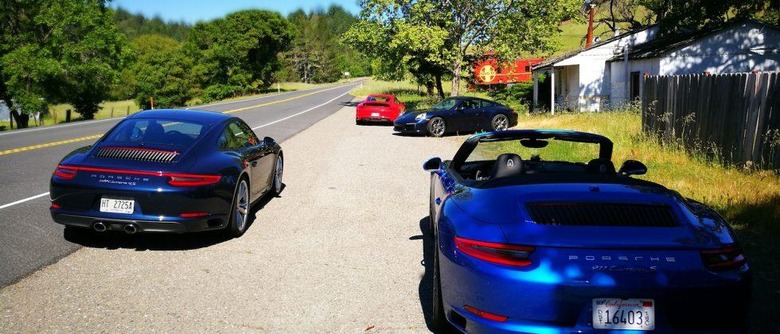 The Porsche 911 is not the car for everyone, whether it's the design or the price, but Porsche is okay with that. A mainstay of the sports segment for decades, it's the benchmark by which serious drivers – and the automakers trying to sell them similarly seriously-driving cars – judge on-road experience. That means big boots to fill when it comes to a new model, something Porsche knows all too well as it launches the 2017 Carrera S Cabriolet and Carrera 4S Coupe.
New Twin-Turbo Engine
The 2017 911 Carrera S' engine is the 6,000-pound gorilla in the room. When Porsche announced the replacement of the naturally-aspirated engine, fear spread far and wide. Welcome to a new age of turbochargers, and Porsche has finally jumped on the bandwagon – primarily due to government requirement for lowering CO2 emissions as well as improving fuel economy. The first 911 on the 991 platform replaced the 997 back in 2012, and moving forward, all modern 911s on the second gen 991 platform (991.2) are turbocharged. That being said, there's a reason turbochargers have found favor: the new, rear-mounted 3.0-liter twin turbocharged flat-six is more powerful than the old powerplant, making it quicker while also being more fuel-efficient.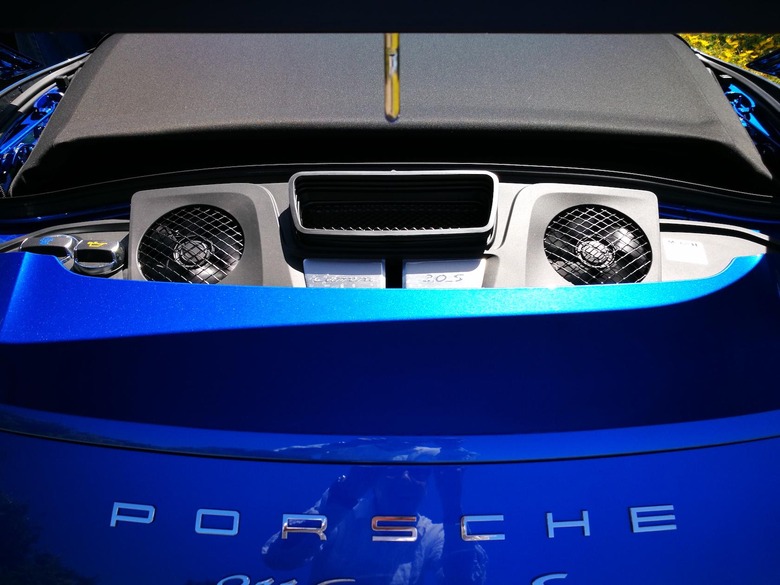 At your disposal is 370 HP and 332 lb-ft in the 911 Carrera 4 and 420 HP, 370 lb-ft in the 4S, a 20 HP, 45-lb-ft increase from their predecessors. Peak torque starts at 1,700 rpm and keeps kicking to 5,000 rpm, but it's also capable of redlining at 7,500 rpm, which is something many of us love to do with a naturally-aspirated engine. All 911 Carrera and 911 Carrera S models come standard with a 7-speed manual transmission.
There's no artificial or digitized sound piped into the cabin – the purists can only take so much, after all – so while you still hear the high-pitched whine of the spinning turbo there's also the underlying grunt from the 3.0-liter itself. Long-time Porsche aficionados will of course notice the difference, but it sounds great to my ears, and there's no lag before the turbo power kicks in.
All this power, you'd expect – and hope – you could stop on a dime too, and Porsche takes no chances on that front. For 2017 you get new, larger four piston calipers and 13-inch front rotors for the base model; the S model comes equipped with 13.8-inch discs or optional carbon ceramic brakes sized at 16.1-inches in the front and 15.4-inches in the rear. My test 911 Carrera 4 Cab was outfitted with handsome 20-inch RS Spyder design wheels, a $2,370 option.
It's not the only way to kick the sticker price up a notch. Also available as an option is Porsche Doppelkupplung, the company's dual-clutch transmission or PDK, which adds $3,200. Fitted in both the 911 Carrera S Cab and Carrera 4S I tested, I couldn't help but be impressed with its ability to deliver instantaneous gear-shifts. Porsche actually began developing it back in 1970, but it took until the 2009 model-year 911 and Boxster/Cayman before it made it to production cars.
The biggest advantage of the PDK dual-clutch setup is that, when one gear is selected, the ratios below and above it are already preselected. It gives the car a feeling a near-prescience: shifting up or down only takes milliseconds, with minimal interruption of power flow as the transmission switches clutches.
There's an old belief that soft-tops are the softer option on the road, but the gorgeous convertible Sapphire Blue Metallic 911 Carrera S Cabriolet belied such accusations. It has a base price of $115,700, a $12,300 premium over the similarly-specified coupe. However, for a typical Porsche buyer, loading up on options is a way of life; with a few ticks down the order sheet, this particular model came out at $144,805.
The costliest option – and also, ironically, my favorite – is the rear-axle steering, though with its $6,810tag Porsche will also throw in a Sport exhaust system. It's available for all S models, having once been reserved exclusively for the 911 Turbo and 911 GT3 models.
At low speed, the system steers the rear wheels in the opposite direction to the front wheels, essentially cutting down on the turning circle. That helps when squeezing in and out of a tight parking spot, or generally maneuvering in places you really, really wouldn't want to scratch your car; the overall feel is like you're driving a shorter vehicle.
During more spirited or sporty driving, however, the rear wheels steer in the same direction as those at the front, mimicking a longer wheelbase for greater agility and improved overall stability.
Pushing the car hard – perhaps, in retrospect, at times a little harder than I should've -I found that a significant improvement in cornering turn-in around tight bends. That's welcome on back country roads, where a lot of the time you have just moments to react to a tight apex. Unlike the 4S I drove later, I didn't once experience understeer.
I get it, it's an expensive option. It's also rare and only available on the S model, so I think you'd be remiss if you bought the car but didn't check this particular box.
Another option worth ticking is the Front Axle Lift System ($2,590), which raises the front lip 2-inches to help climb over driveway bumps or speed bumps.
Refined design inside and out
Visually, the 911 will never get mistaken for another sports car on the market. The appearance has been a mainstay of the segment for decades, while the driving dynamics are those which other car manufacturers benchmark against.
For the 2017 exterior changes, the front grilles are larger and more pronounced. Other minor tweaks include replacing the body-colored traverse with black longitudinal strakes on the spoiler, and standard LED lights for the front and back, including the new highly-distinctive four-dots signature daytime running lights.
The $3,970 Premium Package Plus includes 14-way power sport seats, and certainly makes the cabin feel as premium as the name promises, but I suspect the purist could do without. In fact, the $800 four-way sport seats with manual adjustment are, in my opinion, the better option: they have better shoulder and hip support, compared to the premium upgrade seats.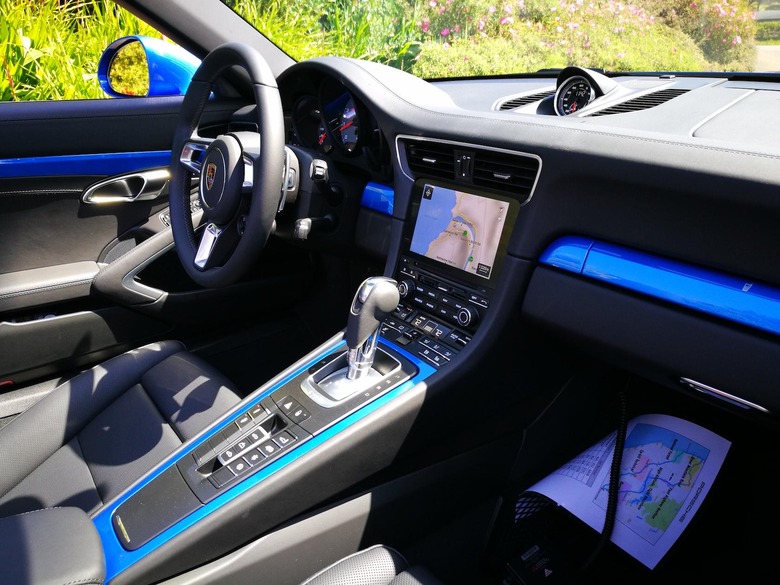 Even with the various changes, some things will always stay the same. There are really no sharp touch-points anywhere, all of the surfaces flowing smoothly from one to the other. The flush glass over the new multi-gesture touch display in the center stack is another improvement: move your finger toward the display, and digital buttons appear. Move away, and they disappear.
For those needing real buttons, Porsche didn't forget about you, and they're located below. Porsche's smartphone app for Android and iPhone is also available for the first time, with vehicle tracking along with other remote operations.
As for cup holders – yes, even in a Porsche, we still need cup holders – the pop-out positioning on the passenger-side of the dash almost seems like an afterthought. Still, though they're a bit of a reach for the driver, they do at least hide out of sight when not needed, and most importantly they kept a 16oz coffee upright. Like I said, priorities.
Overall driving experience
In the all-wheel drive models, power distribution to all four wheels is now handled by Porsche Traction Management (PTM) with electrohydraulic control, similar to what's found on the 911 Turbo. Power delivery is instantaneous, and never once in either the S or 4S did I felt lag, or yearn for more power.
Once an option but now standard on all 911s is Porsche's Active Suspension Management System (PASM). Now adaptable, it's roughly a half-inch lower than the last gen-Carrera – and another half-inch drop on the S model. The PASM drive mode selector is neatly situated at about 4 o'clock, a dial for individual modes, sport and sport plus.
The new 911s are a lot of fun but, with a skilled driver behind the wheels, they're also ridiculously precise: it's a cliche, but think scalpel in the hands of a seasoned surgeon. Pair up PASM with the rear wheel steering and I felt like I was in total control at all times.
Meanwhile, Porsche wouldn't be Porsche if they didn't give us a new toy to play with, and for 2017 that's a push-to-get-instant-power button. Stab it and, for 20 seconds, all the settings are set to full sport so you get all the power needed to pass a car, or go bonkers down the road just for the sheer hell of it. It shuts off after the time limit, or you can push the button again to turn it off.
Electromechanical steering might be a sore point among sports car purists, but I suspect Porsche's system could silence even the most virulent complaints. The ratio speeds up around tight corners, and as the roads get more and more challenging, and you continue to push harder, it'll understeer ever so slightly, making way for predictable oversteer if you're too liberal with the throttle exiting a corner. If anything, it feels like the harder you push, the more the car sticks to the bends, with just the right amount of road feel coming through the wheel.
I wish I could say the same for road noise. Possibly a side-effect of Porsche's weight savings for improved performance, you're going to find road noise on unkept roads makes it into the cabin more than – for the price tag – I was expecting it to. Nowhere near a deal-breaker, no, but something to bear in mind if casual cruising is more your status quo.
In fact, other than a little more noise than expected, the 2017 car makes an even better cruiser. The new dampers offer a broader range of settings, spanning from a sportier ride through to more comfort than the outgoing model. If you're up for feeling every crack and bump on the road, switch to sport to stiffen up the coil springs and anti-roll bars; in comfort, you still get a firm ride, but it's noticeably easier on your behind and back. Even pushed hard, though, there's little to zero body roll thanks to the new rebound buffer springs.
Do I like it?
I love it. Why? I like cars that drive neatly, that don't hide their technical precision behind too many layers, and that's where the 2017 Porsche 911 Carrera S Cabriolet and 4S excel.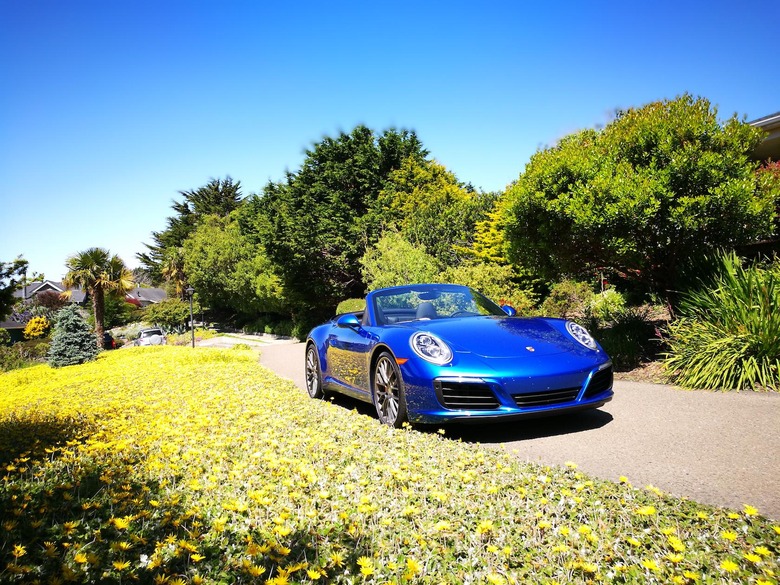 Admittedly, at the $100,000-150,000 price point, you'll probably want to consider a Mercedes AMG GTS, high-end Jaguar F-Type or, especially if you upgrade to the max, it might be worth checking out my all-time favorite, the 2017 Audi R8.
Even with one of those three in your drive, though, come face to face with a twisting mountain road and you might find yourself hearing echoes of that new turbocharged flat-six. The 911 is the benchmark for a reason, and the 2017 911 Carrera S Cabriolet and 4S only raise the bar that rivals must reach.