2017 Porsche 718 Cayman S Review: Brave New Turbocharged World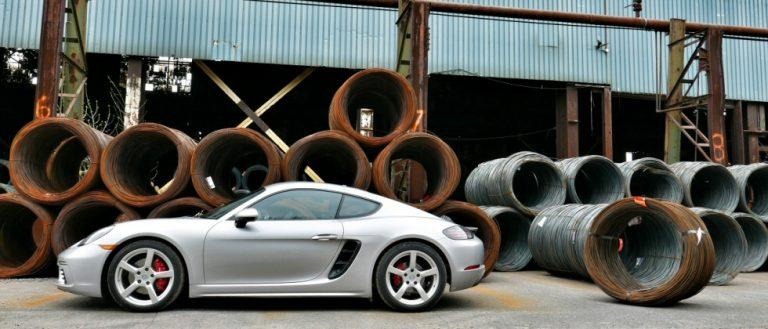 EDITORS' RATING: 9/10
In the world of sports car design the mid-engine layout is king, which makes the 2017 Porsche 718 Cayman S one of the reigning blue-bloods of the high performance niche. Perfectly balanced, and from a certain perspective affordably priced, the Cayman family of compact coupes has given Porsche a strong throne from which to command its sub-911 empire.
That's not to say that there haven't been changes afoot for Porsche's purebred. As concerned as the company is about heritage, it also possesses a very German capability for balancing tradition with its own evolution – particular as examined from an engineering perspective. This is, after all, an automaker that made the reluctant jump to water-cooled engines in the 911 while resolutely leaving them hanging out over the tail of the car to continue their taunting of the laws of physics.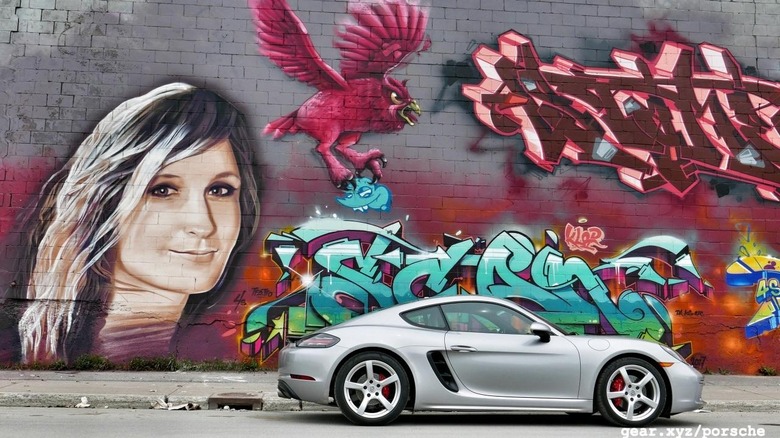 So it goes with the 2017 edition of the Porsche 718 Cayman, which has swapped the silky sewing machine sounds of its cadre of flat-six motors for the CAFE-pleasing brap of turbocharged four-cylinder units. This is one of those rare cases where less truly is more, at least from a power perspective, as the turbo engines boost their way past the original sixes both on paper and when objectively measured with a stopwatch. Still, the Cayman is widely considered – and I count myself as a holder of this opinion – to be a rare example of the 'perfect' sports car, so any alterations to the formula tend to be greeted with suspicion.
The Porsche 718 Cayman S displays two unmistakable tells that it's dropped a pair of cylinders in favor of a more efficient layout. The first is sound: turn the key and you're no longer greeted with a reassuring mechanical clatter directly behind your head, but rather the distinct sensation that you've just fired up a burbling Subaru WRX. Or is that a Volkswagen GTI? It's not so much an unpleasant sound, and Porsche has worked hard to massage its rougher edges with its pleasing sport exhaust feature, but it's definitely off-menu for longtime Porsche fans.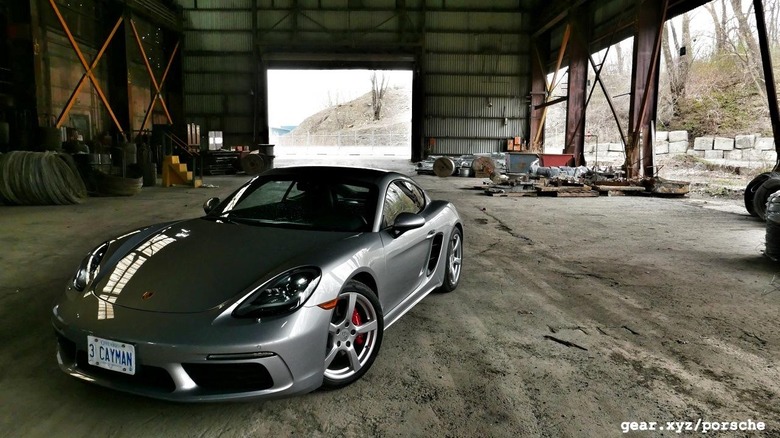 Then there's the power delivery of the Cayman S' 2.5-liter motor. With 350 horses and 309 lb-ft of torque on tap, the Porsche's 3.6-second 0-60-mph time is fantastic, and roughly a half-second quicker than it was the year before thanks to its newfound muscle. How you get there, however, is quite different, as the car asks you to wring the neck of its four-cyl mill in order to enjoy the full herd galloping at a lofty 6,500 rpm, contrasted against maximum twist being available from 1,900 rpm onwards to 4,500 rpm. The experience is not nearly the same as having the previous model's 6 pistons scream 700 rpm quicker to signal that it's time for a gear change (via a paddle tap on the seven-speed PDK dual-clutch automated manual gearbox optionally installed in my tester).
Again, 'different' does not always mean 'bad,' nor does it in this case signal 'worse,' especially when considering that Porsche has managed to achieve the seemingly disparate goals of building a mightier drivetrain while also improving fuel economy. Although the chassis has been given some attention to deal with the extra beef sitting amidships – springs, shocks, and steering have all been tweaked – the Cayman S' provides the same supernatural directional control and mastery of momentum that have been hallmarks of the car ever since it was first introduced. I experienced the same joy of machine in hurtling the Porsche through the nearest set of S curves as I did back when the Cayman was burdened with those now-jettisoned cylinders, and while I may prefer the engagement of the available clutch pedal versus the lightning rapidity of the PDK setup (despite the blistering 12-second quarter mile it makes available when equipped with Sport Chrono's launch control), it's really a question of how dark do you like your chocolate. Assuming your budget verges on unlimited, you can further complicate matters by way of options such as PASM adaptive suspension, torque vectoring, and larger wheels wrapped in stickier rubber, which sit alongside numerous interior improvements and infotainment selections on the order sheet.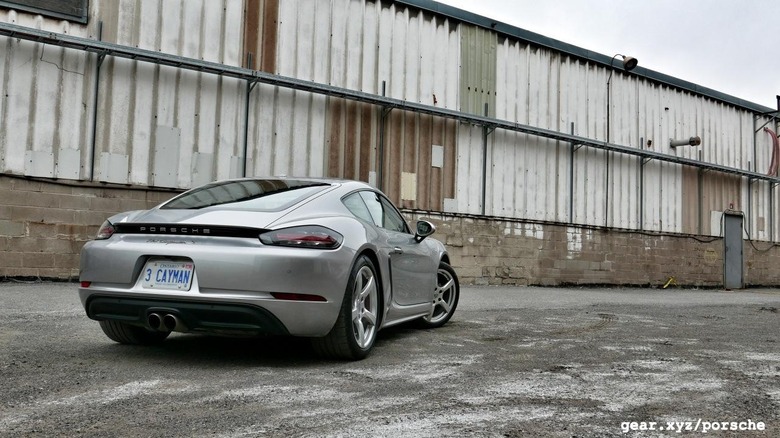 In some ways, the shift to turbocharging currently underway almost across the board at Porsche feels like a lateral move more than a let-down or improvement of the breed. While a substantial segment of the Porsche faithful is content to shop on spec alone, there's no question that the emotional element associated with purchasing a sports car plays a role for an almost equal number of would-be buyers, especially when spending the upwards of $67,700 (base MSRP for the S). That the Porsche 718 Cayman S is a truly excellent car is not up for debate. Whether the soundtrack it has to offer is on par with the blood-curdling roar of a Chevrolet Corvette Grand Sport's V8 or the carefully-autotuned chaos emitted by the tailpipes of the Jaguar F-Type S is another matter entirely. The Cayman S has certainly won my mind, but the 718 wasn't quite capable of dislodging last year's more visceral 3.4-liter model from my heart.