2016 Nissan Titan XD Review: Not-quite HD pickup makes cannonball splash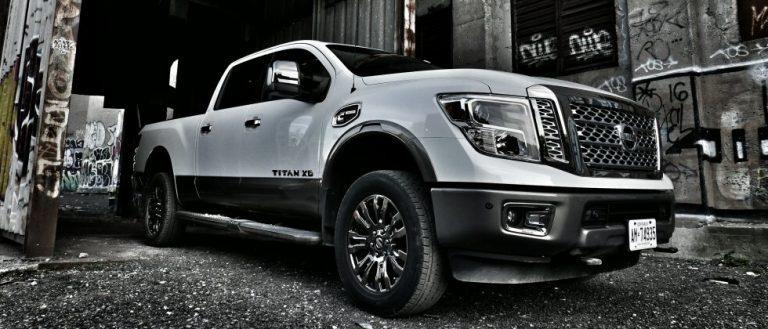 The 2016 Nissan Titan XD is a puzzling truck. Let me explain. I've been driving trucks since I was a teenager, learning the joys of parking a battleship in an urban environment after my transition from country mouse to city mouse for college. In the intervening years I've seen the full-size pickup market blossom into the behemoth-laden bastion of Big Three profits that it's become today, with ultra-luxury trucks now as common as BMW and Lexus sedans at country clubs across the nation.
For much of this renaissance, Nissan has found itself on the outside looking in. The original Titan was a good truck released roughly 10 years ago and then abandoned by the mothership. This forced it to do battle with a gang of bruisers from Ford, GMC, Chevrolet, and Ram that were engaged in a relentless game of one-upmanship that left the Japanese interloper in the dust.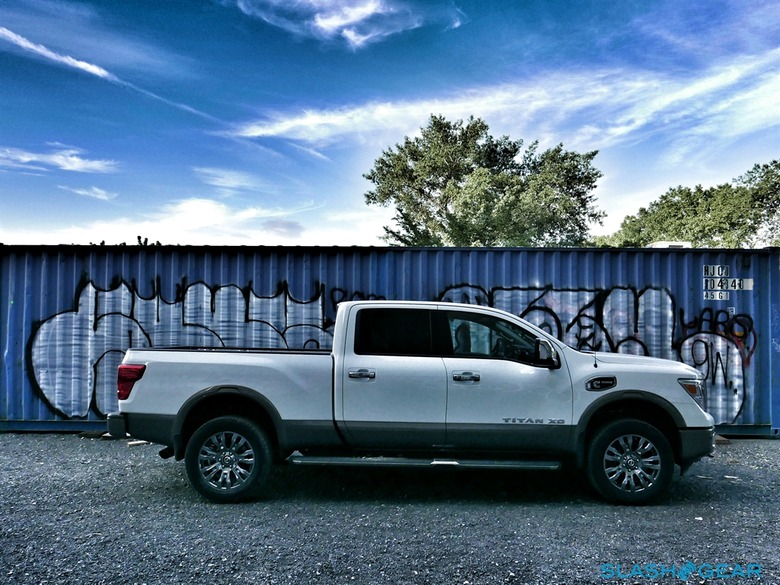 Fast-forward to the 2016 model year and Nissan has decided to give pickups another go – but this time, by walking a very unique path. Rather than follow established segment norms, the Titan XD rides on a platform that splits the difference between the half-ton trucks that are so popular as daily drivers and the heavy-duty models that are typically aimed at commercial buyers or individuals who are deeply committed to tow ratings and torque curves that could be expressed on the Richter scale.
The Nissan Titan XD's chassis is a total do-over compared to the previous model, but it does borrow its underpinnings from the company's series of NV cargo vans, with a much robotic welding, stretching, and reinforcing done to bolster things enough for hardcore hauling. Suspension for the truck is stiff similarly stiff, but not quite at the same level as a true HD truck, which means you don't suffer from much bed shake over rough road when cruising around unloaded.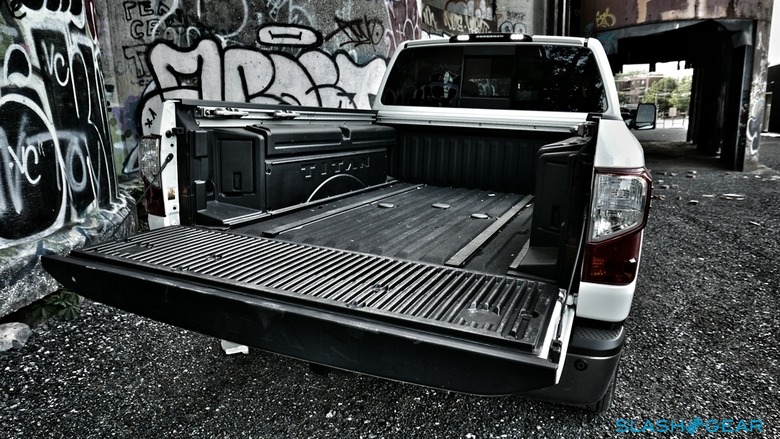 You wouldn't know that the Titan XD was a smoother customer than many of its industrial-grade rivals going by the sheer enormity of its styling, however. The Nissan truck is huge, huge, huge – and not just in terms of hood or bed height (the walls of which are effectively at my eye-level when standing alongside) but also overall length. Currently, the Titan XD is shipping exclusively in four-door crew cab form with a 6.5-foot box, and until more configurations become available, you'll be tasked with parking this automotive Gulliver's nearly 20-foot footprint in a world that suddenly feels Lilliputian.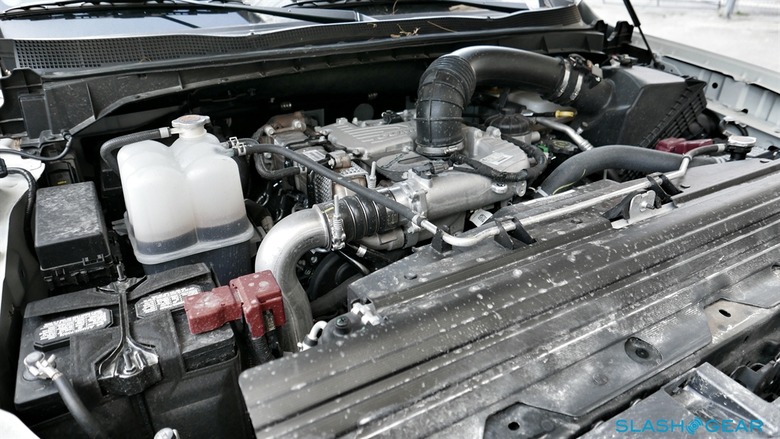 Some responsibility for the Nissan Titan XD's big-on-big brutality can be laid at the feet of its most compelling feature: the availability of a 5.0-liter Cummins turbodiesel V8 engine. This motor, which until a gasoline unit comes online later in the year is the only available power plant, was simply too tall to fit under the pickup's hood as originally designed. This led to a re-sketch of the entire truck, boosting the upper boundaries of its sheet metal to their current exaggerated altitude.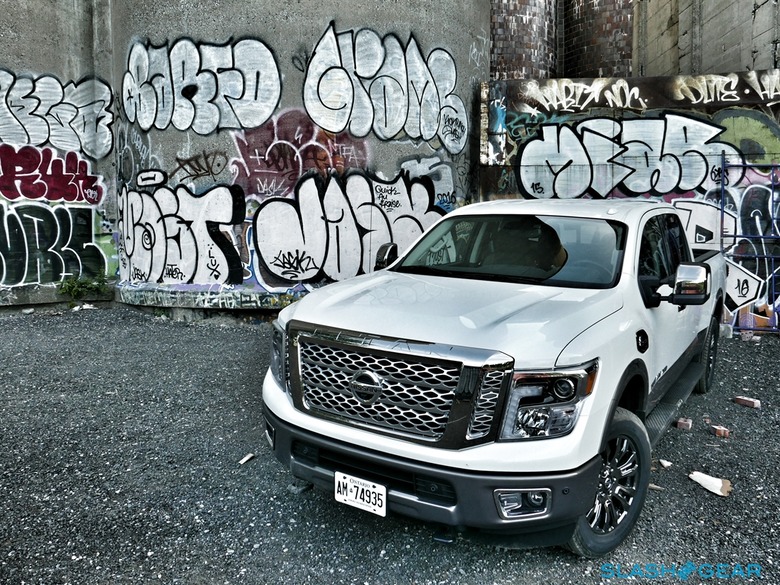 Of course, one could argue that it was a worthy effort, given the 310 horsepower and 550 lb-ft of torque produced by the Cummins monster that it accommodates. These figures place it fairly high above the 240 horses and 420 lb-ft of twist generated by the only other non-HD truck to offer diesel power, the Ram EcoDiesel, but the Titan XD is still 200-300 lb-ft shy of the truly outrageous oil-burners available in the heavy-duty segment.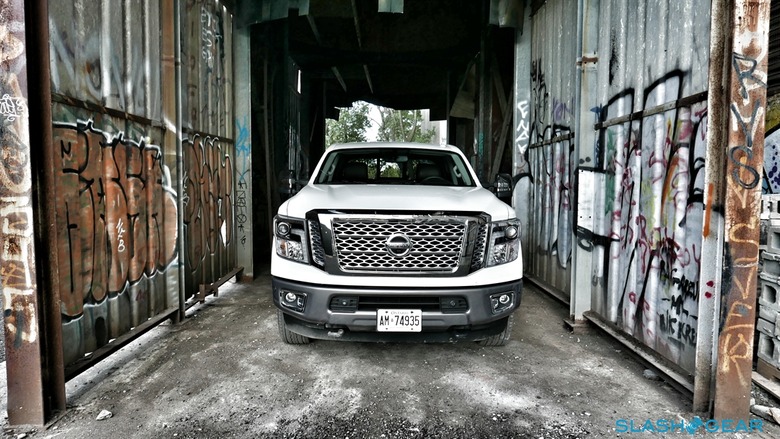 So what does all of this flexing actually land you in terms of real-world towing and hauling? Nissan publishes an in-bed capacity of 2,091 lbs, and a trailer rating of 12,314 lbs – but that's for the base two-wheel drive model. Step up to four-wheel drive and the high-end trappings of the Platinum Reserve edition (which is the version of the Titan XD that I drove for a week), and those figures are reduced to 1,470 lbs of payload and 10,610 lbs of towing – numbers that match, and in some cases are eclipsed by several light-duty pickups.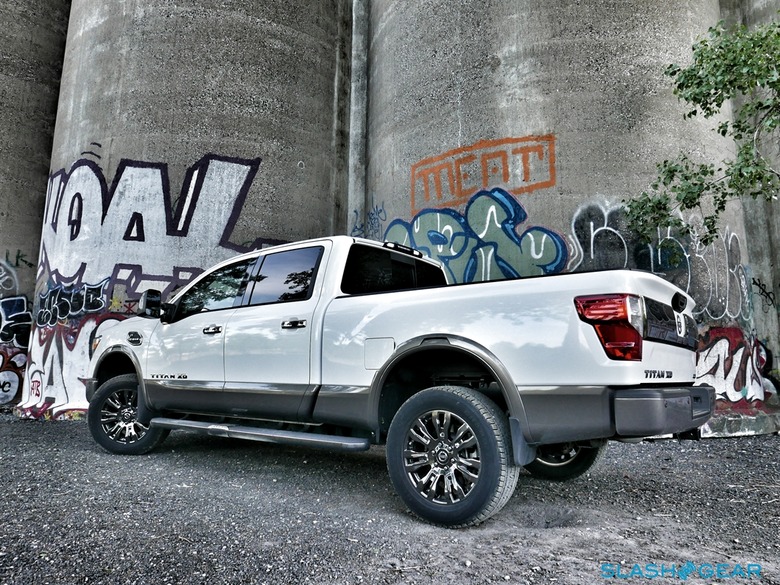 The reason for this discrepancy can be explained by the Nissan Titan XD's ponderous curb weight, which can top 7,000 lbs. This eats significantly into the truck's gross vehicle weight rating and has the consequence of dropping the amount of gear you can schlep along with you. That 1,470 lbs of payload shrinks further if you load the cab with four adults as their respective weights, taken together, could conceivably cut this number in half again.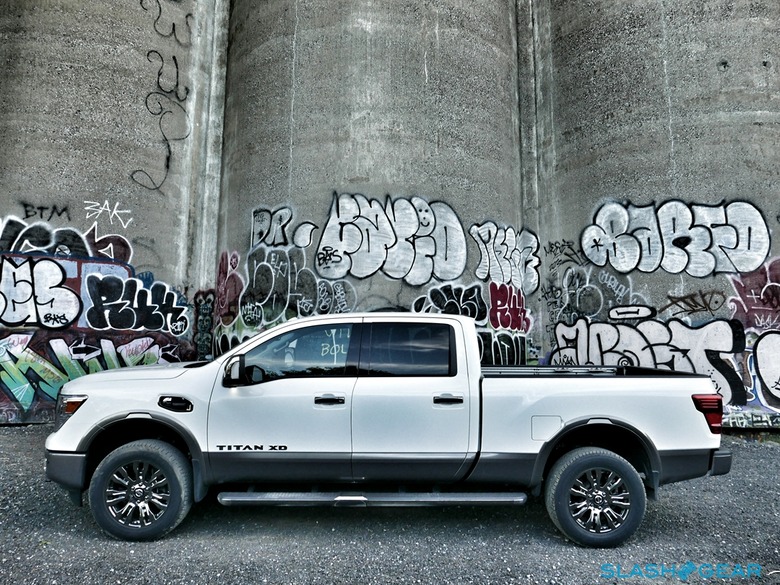 Still, the Cummins engine is a sweet one. Torque arrives with the finality of an eclipse, although as with most diesel motors you'll have to be patient when accelerating from a stop. The truck made short work of each of the loads I piled into its cargo bed, even when trucking the original suspension system from my Datsun (plus a brand new set of rims) away to be installed. Handling is as ponderous in a city environment as the XD's size would suggest, but it's considerably better than what you'd get from a true heavy-duty pickup.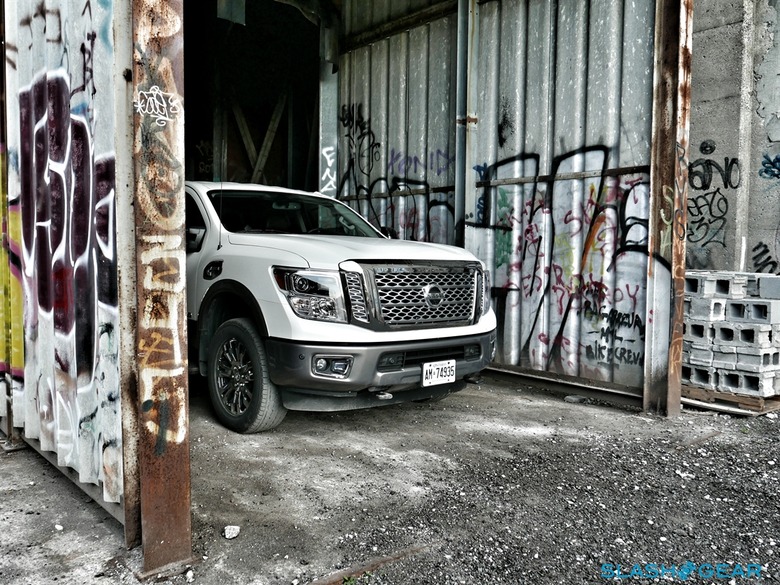 The EPA doesn't require that vehicles as heavy as the Titan XD undergo fuel efficiency testing, and therefore Nissan chooses not to publish its pickup's MPG, but you can expect low teens in stop and go driving and perhaps strive for 20-mpg on the highway, which is a fair distance away from what the (less capable, but more affordable) Ram EcoDiesel brings to the table.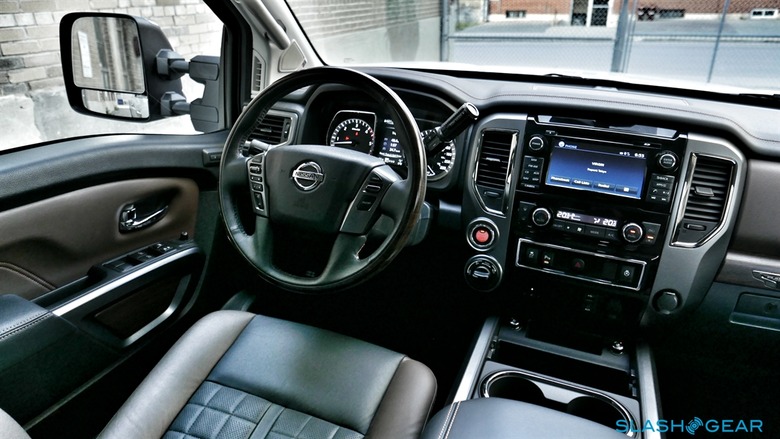 Then there's the question of the XD's interior: it's the definition of spacious, which is great, but the Platinum Reserve model that I drove wasn't quite at the level of luxury one would find in a similarly-priced Ford F-150 Platinum or a Ram 1500 Laramie Longhorn. This was surprising to me, given how the most recent Nissan Maxima sedan features a cabin that could shame a Lexus.
I'm not quite sure what customer the 2016 Nissan Titan XD is truly aimed at. The automaker claims that it's looking to scoop up a portion of the buyers who vacillate between light and heavy-duty ownership as they search for that utility sweet spot, but I don't know how many of these tweeners are actually out there.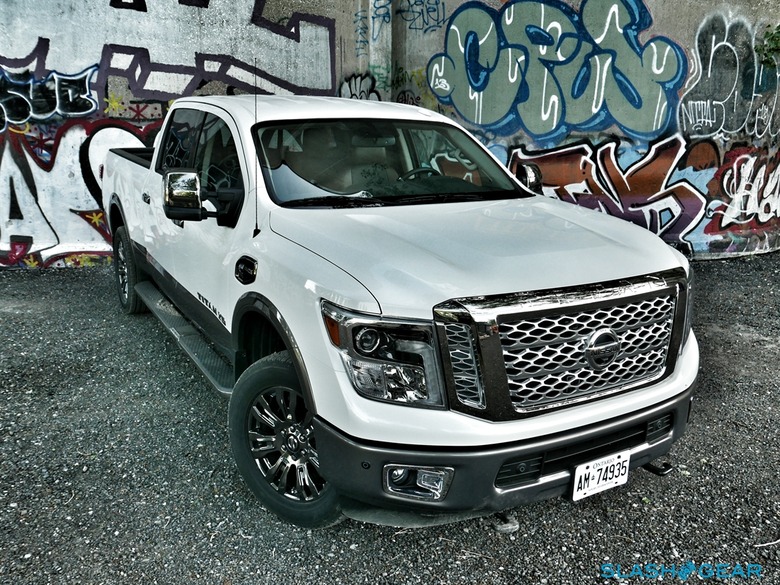 I can definitely see the appeal to towing enthusiasts looking to hitch up big boats and hefty gooseneck trailers (a factory gooseneck hitch is on the options sheet), and the diesel crowd has already cheered the arrival of another stump-puller to the party, but will bread-and-butter truck buyers – or premium pickup shoppers, for that matter – cotton to the Titan XD's unusual mix of attributes? This Nissan truck is quite good at some very specific things, but whether it presents the particular skill set you are looking for at a price and size that compares well with other full-size options is a question that will compel you to weigh your pickup options carefully.