2017 Mercedes-AMG SLC 43 Review: More modern, less muscle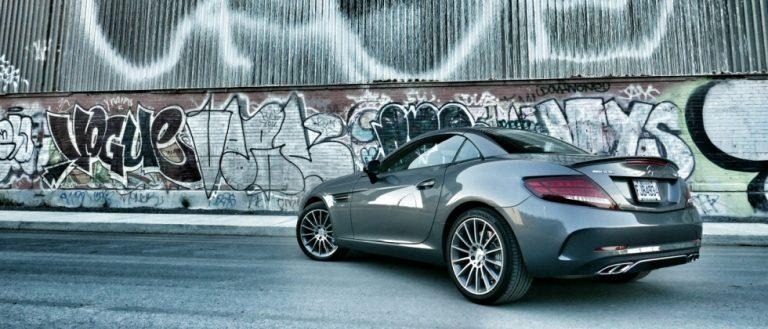 EDITORS' RATING: 7/10
If you're in the luxury game, the pressure to build high performance editions of almost every model in your line-up is a strong one. Most premium brands pursue volume as aggressively as possible, extending their reach into every conceivable niche to create a balance of both divine (Audi RS7) and strange (BMW X6 M) bedfellows. After replacing its longtime SLK nameplate with the new SLC roadster, Mercedes-Benz turns its hot rodding skills to the 2017 Mercedes-AMG SLC 43 and continues its tradition of dumping a big engine in a small car – with a few important twists.
The first being that the Mercedes-AMG SLC 43's motor is only big when it comes to power, because its down considerably in terms of cylinders and displacement when compared to its SLK55 AMG predecessor. Gone is the rambunctious V8 of years past and in its place is a biturbo 3.0-liter V6 that has been tuned to provide 362 horses and 384 lb-ft of torque. Nice numbers, and good enough to eclipse both the Porsche 718 Boxster S and the BMW Z4, but shy of the 415 ponies and 398 lb-ft twist provided by the 5.5-liter unit it replaces. Purists will also be disappointed to learn that the hand-built, one engineer / one engine philosophy that guided past AMG models is nowhere to be found with the SLC 43, as the drivetrain is pulled off the standard production line before being stuffed into the convertible.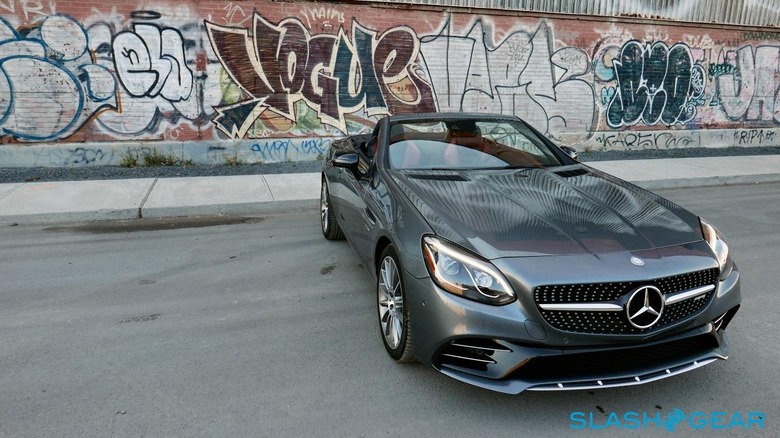 The step down in power and shift to mass-produced turbos over naturally-aspirated grunt is understandable in the wake of the shifting fuel mileage and emissions priorities at every major automaker, but it would be more forgivable if the Mercedes-AMG SLC 43 was quicker than the SLK 55 AMG. Unfortunately, it's not – you lose a tenth of a second in the sprint to 60-mph despite the car being somewhat lighter than the model it replaces. Does it really matter if it takes 4.5 seconds or 4.6 seconds to hit highway merging speeds? Not in the real world, no, but on paper, SLK owners might be a little nonplussed at trade-in time.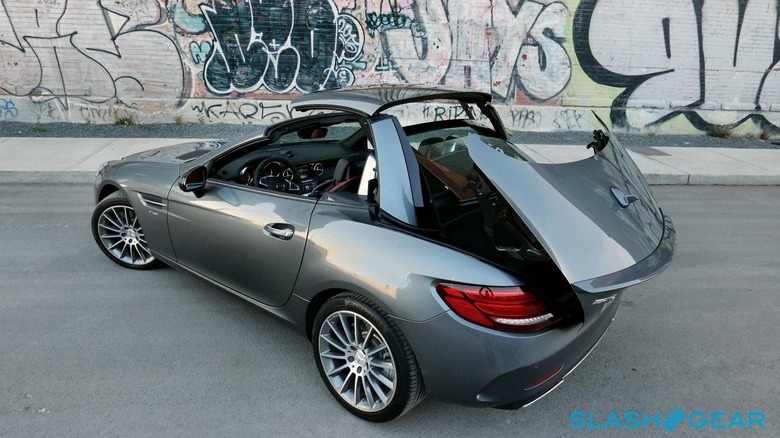 Along with its thoroughly revised chassis, the SLC 43 also gains a nine-speed automatic transmission to replace the previous AMG model's seven-speed unit. It's here that the subtle line dividing a grand tourer from a sports car starts to become more apparent, as the gearbox's behavior displays two distinct personalities depending on which drive mode you select. Comfort and Eco modes are smooth sailing, with the muted go-pedal in the latter coaxing a few more miles per gallon out of the car, but switch to Sport or Sport+ and you'll notice the transmission's character change from butter to bucking, especially as it bangs down into first gear when slowing to a stop. You can attenuate the roughness by paddle-shifting the car yourself, but even then it takes perfect timing to avoid a list-minute lurch.
Why bother with Sport+ at all if you're outside of a racetrack setting? One simple reason: it's here, and only here, that you'll be entertained by the full and throaty unfettered sport exhaust, burbling and crackling mere inches from your head with the top down. It's not possible to activate that particular feature using the Individual drive mode setting, which only allows you to toughen up the shifts and sharpened the throttle while deciding how heavy you want the steering to be, so Sport+ is a must for full aural enjoyment of the car.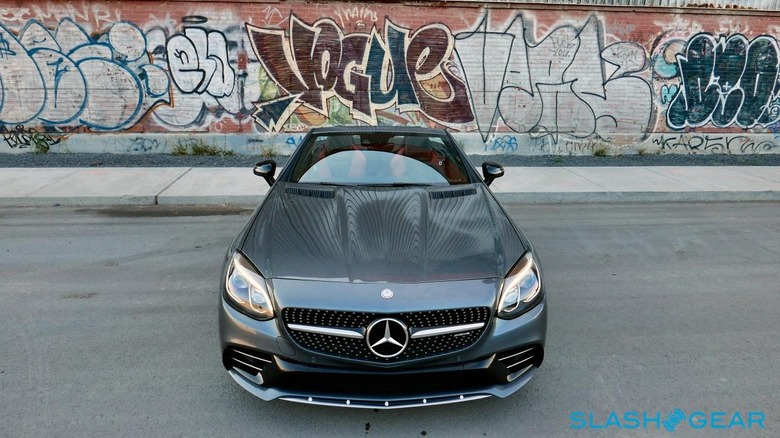 Truth be told, if you're an enthusiast looking for lap times you're most likely not shopping in a Mercedes-Benz showroom for roadster. With its baby SL-Class looks shining that much brighter after its recent redesign, its snug retractable hardtop offering four-season protection from the elements, and its nicely-appointed cabin tipping towards the luxury side of the equation, the SLC 43 has turned over a new leaf in terms of the customer that it's after. Whereas the SLK55 AMG was a raucous rabble rouser intent on throwing sand (and shredded rubber) in the face of Porsche, Audi, and BMW drop-tops, the new Mercedes-AMG model is more about stretching its long legs on the unrestricted autobahn and getting you to your destination as rapidly and as relaxed as possible.
Yes, to snag the extra 142 horsepower on offer by the SLC 43 (MSRP $60,300) as compared to the SLC 300 (MSRP $47,950) you'll have to be comfortable with a suspension setup that's somewhat harsher over broken pavement, as well as visual cues that skew towards 'racer' rather than 'racquet club,' but as long as you leave the Sport+ button alone you'll be hard pressed to call the AMG model a compromise in daily driving. The $12,000 jump between the two versions of the car is more than justified by much quicker acceleration and better handling, and to be fair represents one of the narrowest pricing gaps between standard and AMG editions of any given Mercedes-Benz automobile.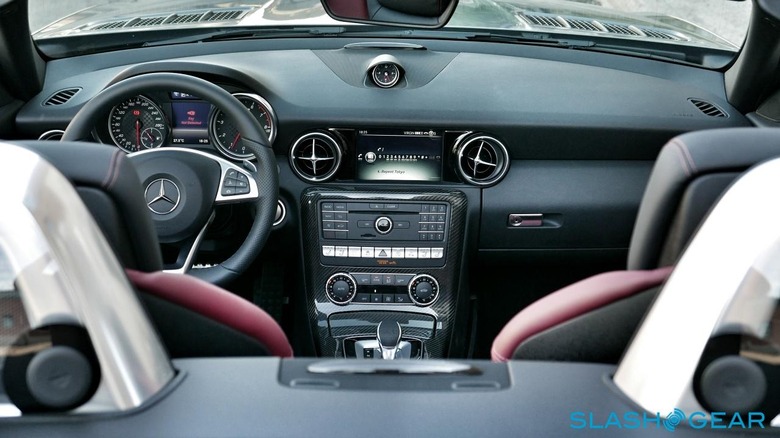 The times they are a changing, and so too is the focus at Mercedes-Benz when it comes to prioritizing the competing hydras of luxury, performance, and customer taste. The Mercedes-AMG SLC 43 might not be as clinical as the Boxster when sharpening an apex, nor as style-forward as the Audi TTS, but it does deliver a very big, velour-handled hammer under the hood to customers more interested in quick and comfortable A to B than a moving violation.