2017 Mazda CX-5: 5 Things You Need To Know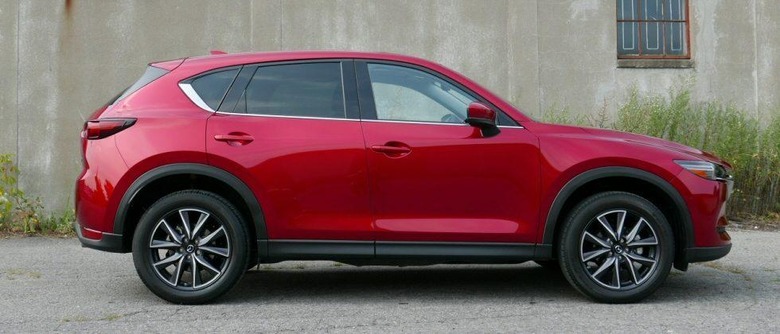 The 2017 Mazda CX-5 is a near-complete redesign of the brand's strong-selling compact crossover, and it comes hot on the heels of last year's unusual 2016.5 model year refresh. With striking looks, simplified drivetrain offerings, and a focus on answering the complaints lodged by previous owners as well as those from SUV shoppers who passed on Mazda's entry, the latest CX-5 manages to maintain much of its fun-to-drive edge over the competition in what has traditionally been a dynamically dull segment. Check out these 5 things you need to know about the 2017 Mazda CX-5 crossover.
1. Style-First, Without Much Practicality Compromise
There's no reason that an affordable people mover like the Mazda CX-5 can't feature the same detail-focused approach to style of a much more expensive rig, and for 2017 Mazda's designers went out of their way to prove this point. Of particular interest is the front of the vehicle, where the interplay between the grille, the headlights, and the leading edge of the hood presents a new high water mark in the compact class. It's a stunningly well-executed design that evolves the older CX-5 without throwing away the silhouette or form factor that was part of its charm.
Unlike other SUVs that have made style a priority, Mazda has been wise not to impede much on cargo capacity or passenger room with dipping rooflines and the like (although total cargo space is down by three cubic feet as a result of the new look). The automaker has attempted to address concerns about the CX-5's practicality by redesigning the rear door hinges to open wider, adding a power liftgate option that is a boon when your hands are full of grocery bags, and ensuring that the rear row now folds flat to maximize interior storage space.
2. Handling Is Segment-Best Among Crossovers
The Mazda CX-5's secret weapon has always been its engaging driving character, a feature that is all too often missing from other small crossovers more concentrated on fulfilling their role as transportation appliances than offering a sense that there's a soul in there, somewhere. While the demographic of buyers who want more than just reliable daily transportation from an SUV is no doubt a small one, the fact that the CX-5 makes any effort at all is no surprise given Mazda's continued devotion to driving enthusiasts.
Don't expect sports car-like handling from the CX-5, but do be prepared for a suspension setup that's keen to deliver actual, honest feedback about the road underneath the crossover's wheels. The Mazda CX-5 moves with confidence and does a solid job of keeping its superstructure from creaking or pitching during abrupt cornering maneuvers, but it's also compliant enough that you don't be complaining about bumps and rattles when cruising over rough pavement.
3. Refinement The Focus Of This Redesign
The absence of shakes and shudders in the 2017 Mazda CX-5 also has to do with the efforts made by the brand's engineers to address complaints regarding noise and vibration inside the previous model. As always, the key has been to pay closer attention to insulation and materials choice, with additional paneling added underneath the vehicle in a bid to deflect sound and improved sealing and foam included throughout the body to absorb whatever might make it through the vehicle's steel. The CX-5 isn't whisper quiet, but it's on par with its rivals in terms of providing a peaceful driving and riding environment, which is more than could be said for past iterations of the vehicle.
4. More Power Would Be Welcome
The good news for the 2017 Mazda CX-5, from a drivetrain perspective, is that it's no longer possible to order the compact crossover with last year's anemic 2.0-liter four-cylinder base engine. The not so good news? There's no option to push past the now-standard, mildly-revised 2.5-liter four-cylinder mill. With 187 horsepower and 185 lb-ft of torque available the CX-5 is able to get out of its own way, but a full load of passengers and gear quickly reminds you that Mazda has yet to match the turbocharged output available from a wide range of similarly-priced compact SUVs targeting the same set of buyers.
A six-speed automatic transmission is the only gearbox offered for 2017, and an available front-biased all-wheel drive system continues to deliver additional traction should the weather turn nasty. Fuel economy for the Mazda CX-5 is rated at 23-mpg city and 29-mpg highway.
5. Infotainment Remains Adequate, But Revised HUD Is A Blessing
The 2017 Mazda CX-5 features a revised interior presentation that kicks things up a notch compared to the somewhat bargain-oriented materials that could be found in the most affordable editions of the previous model. My favorite improvement to the vehicle is the inclusion of a genuine head-up display that actually projects vehicle information out over the hood rather than faking it by way of a dash-mounted transparent screen, as on other current Mazda models. That fold-up wedge of tinted plastic was located nowhere near the driver's line of sight, making it more of a distraction than anything else, and this problem has been completely corrected in the new crossover.
I wish I could be as enthusiastic about the CX-5's infotainment system. Mazda's LCD multi-function screen relies heavily on a rotary knob located on the center console, and the logic and flow of the menus and even features as simple as changing radio stations is more convoluted than it needs to be. Then there's the number of times I reached towards the dash for the volume knob, forgetting that it's actually located to the far right of that same console. I'd love a cleaner interface and a more intuitive way to navigate through the vehicle's various features.