2017 Kia Optima Hybrid brings fuel economy in a familiar body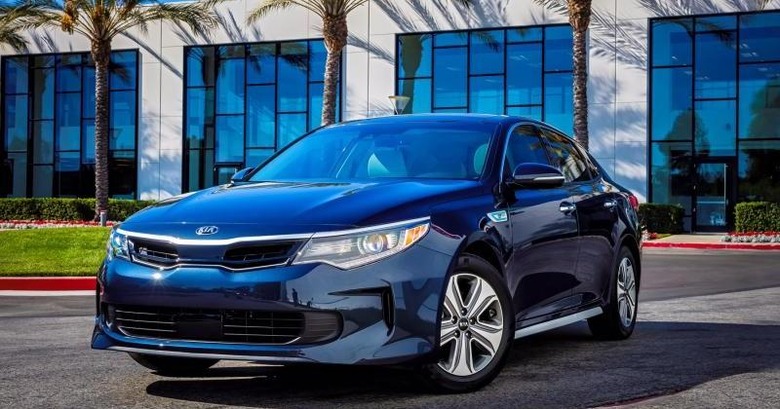 These days, cars aren't just designed to be powerful or sleek. They're also designed to be eco-friendly from the ground up. Especially with Volkswagen's epic blunder, car makers are putting even more emphasis on fuel efficiency and environment friendliness. At the Chicago Auto Show, Kia is unveiling its own on the trend, blending new and old in one package. With the 2017 Optima Hybrid, the car maker is putting forward its newest fuel efficient powertrain, top of the line intelligent systems, all wrapped in a body inspired by last year's gas-powered Optima sedan.
Kia's goal is to achieve 25% fuel efficiency by 2020 and every year it gets closer to that goal. The 2017 Kia Optima Hybrid isn't its first rodeo with hybrids but it is, so far, it best one yet, boasting of a 10% improvement in fuel economy. This is partly thanks to a new 2.0-liter GDI four cylinder engine with 154 horsepower that replaces the previous model's 2.4 liter engine. On the electric side, it has a 38 kW motor and clutch. Together, they produce a total of 193 horsepower at 6,000 rpm.
Add in a new electric water pump and new electric oil pump and you've got the makings of a very efficient hybrid setup. Power to the electric motor is provided by a lithium-polymer battery pack that is advertised to have 13% more capacity than the last one, capable of delivering 1.62 kWh of power. While more powerful, the battery is also more compact, enabling Kia to hide it under the trunk without taking up precious space.
The engine of the 2017 Optima Hybrid might be new, but its facade will be familiar, especially to those who have kept an eye on the 2016 Optima. At the same time, however, Kia also introduces subtle yet substantial changes to the design to further improve the aerodynamics of the hybrid electric vehicle. For example, there is an active grille that opens or closes automatically at high or low speeds to improve air flow and engine bay cooling. A rear diffuser also assists in that by covering the exhaust tip. Inside, the cabin also takes its cue from Kia's premium sedans, but also adds a few touches unique to the Hybrid line, like model-specific instrumentation panel gauges.
This 2017 model also features Kia's most advanced intelligent systems for assisting drivers and increasing safety. New to the gang is the Eco-DAS (Driver Assistance System) and its Coasting Guide, which gives visual cues of a blinking icon and one audible alert to tell the driver when to best coast and brake. This joins other staples like Autonomous Emergency Braking, Blind Spot Detection, Advanced Smart Cruise Control, Lane Departure Warning System, and Front Collision Warning System.
On the less serious side, the new Optima Hybrid is also an entertainment haven, with drivers and passengers able to connect their smartphones via Android Auto or Apple CarPlay integration with the latest UVO3 telematics. An equally upgraded AVN 4.0 Navigation hooks up with Harman Kardon's QuantumLogic premium surround sound system and 10 speakers and a 630-watt digital amplifier to provide the ultimate audio experience on the road.
Availability details of the 2017 Kia Optima Hybrid have not yet been announced.