2017 Fiat 124 Spider First Drive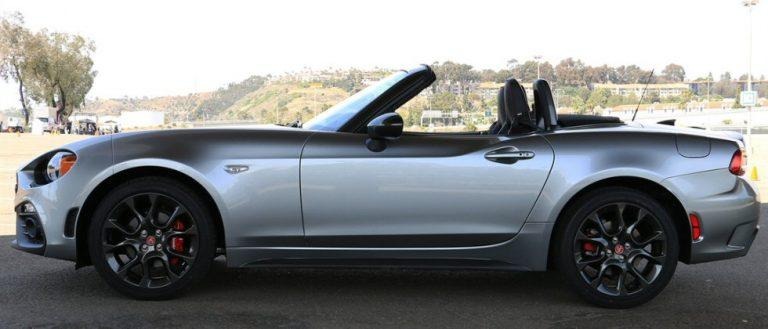 In recent years modern automotive enthusiasts have become a spoiled lot. It's hard to blame them though – we live in an era of unprecedented access to hair-raising performance, one in which 600 horsepower hardly raises an eyebrow and the prospect of a sub-four second dash to sixty miles per hour almost seems quaint. But amongst this output arms race, a contingent of sports car fans still yearn for a wholly different approach to driving bliss.
Colin Chapman, the founder of Lotus Cars, famously once summed up his company's approach to design with the statement, "Simplify, then add lightness." It's a philosophy that's often at odds with the mindset of automakers today, many of whom instead take an approach to performance that might be more accurately stated as, "Add complexity, and compensate for it with horsepower." While most fans of high performance aren't about to shun excess when it comes to engine output, those who subscribe to Lotus's approach have found themselves relatively underserved amongst the recent onslaught of chest-beating heavyweights.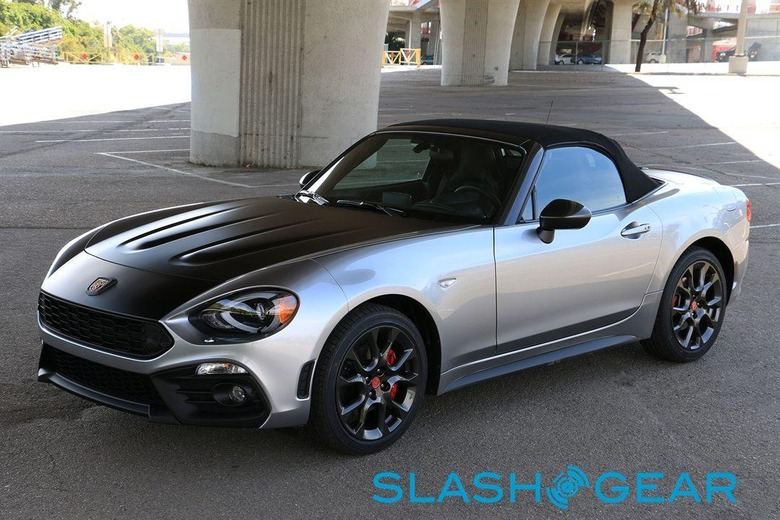 When the original Fiat 124 Spider debuted at the Turin Auto Show in 1966 it was a near-instant hit. The Pininfarina-styled roadster proved to be so popular in both Europe and America that throughout its 19-year production run the model was never extensively redesigned. Like the Lotus Elan, the 124 Spider was a front-engine, rear-drive roadster that leveraged its light weight to offer a thrilling driving experience without the necessity for an over-wrought power train.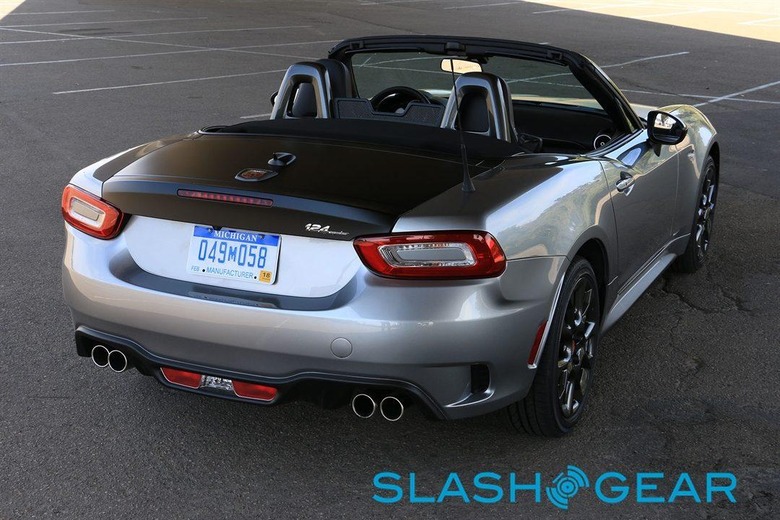 With the reintroduction of the 124 Spider – more than three decades after the last of the original cars rolled off the assembly line – Fiat sought to recapture those fundamentals again through a modern lens. I headed out to the sun-drenched back roads of Carlsbad, California with the new roadster to find out if they'd succeeded.
Rather than start from scratch with the 124 Spider's development, Fiat decided to team up with another automaker that's got a bit of experience building roadsters that draw inspiration from Chapman's approach to sports car design.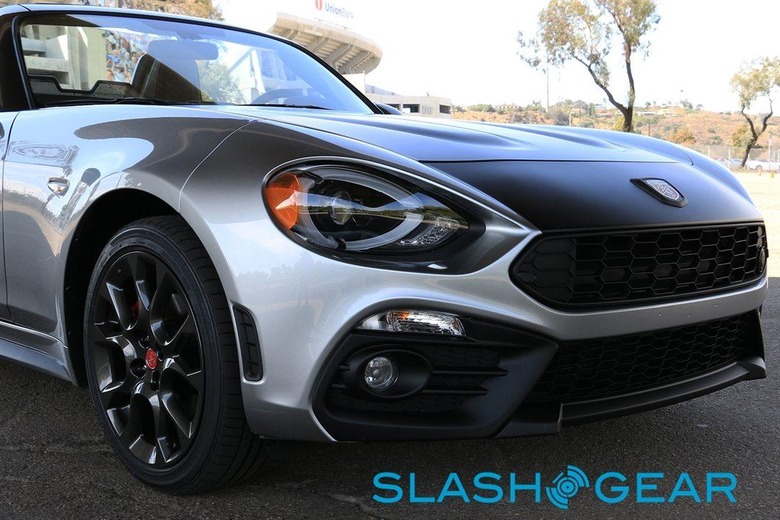 If this Fiat roadster looks oddly familiar, that's because it's built alongside the fourth generation MX-5 at Mazda's Hiroshima assembly plant in Japan. Like the Subaru BRZ and Scion FR-S, the Mazda and Fiat share a platform, essentially making the Fiat 124 Spider an Italian interpretation of Miata. But unlike the BRZ/FR-S twins, the differences here run deeper than just badging, content and minor engineering tweaks.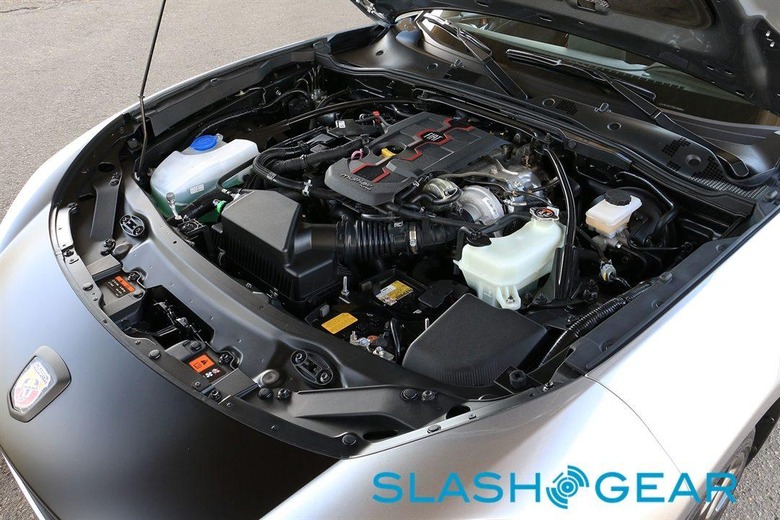 Along with the extensive visual rework, the 124 Spider is powered by a Fiat-sourced 1.4-liter turbocharged MultiAir engine which outputs 160 horsepower and 184 pound-feet of torque in the Classica and Lusso trims, while the performance-focused Abarth model gets a unique, quad-tipped exhaust system that bumps peak horsepower up to 164.
For all intents and purposes, this is a roadster derived from decades of Mazda's proven engineering prowess on the MX-5 that's been coupled with heart and soul of an Italian sports car, so it's not much of a leap in faith to say that the potential for greatness here is rather high.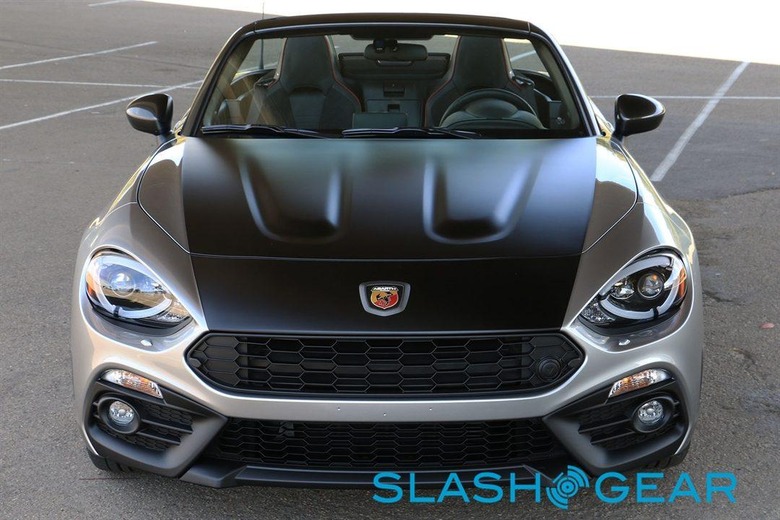 While it's easy to look at the Fiat 124 Spider as simply a rebadged Miata, the reality is that Fiat has put a substantial amount of effort into tweaking the platform to make it their own. For instance, all the body panels on the 124 Spider are bespoke and were designed by Fiat's Centro Stile division in Turin. While the similarities in proportion between the two cars is unavoidable, the Fiat cuts a decidedly more chiseled figure than the smooth, flowing design of the Mazda, and the 124 Spider's prominent bugeye-style headlamps and split grille help give the Fiat a unique visual identity.
Inside the resemblance between the two cars is more obvious, as the cabin layout and switchgear are essentially identical. But 124 Spider offers some European flare by way of Fiat-sourced gauges, material options, and internal seat construction.
Like the Miata, the 124 Spider's size might seem like a daunting proposition to taller drivers. But my 6'3" frame settled in comfortably, though I did note that headroom is a bit tight with the top up at my height. Yet with a top mechanism that can be opened or closed with one hand and secured down in about three seconds from start to finish, any potential onset of claustrophobia can be dealt with by a flick of the wrist at a stoplight.
The 124 Spider will initially be offered in three trim levels – Classica serves as the entry level offering, while Lusso offers more luxury and tech content and the Abarth model caters to enthusiasts with its focus on performance.
Fiat took strides to give the 124 Spider its own dynamic identity as well, but the fundamental ingredients that make the MX-5 such a joy on the road still remain intact – near 50/50 weight distribution, a remarkably rigid chassis, and light weight construction throughout.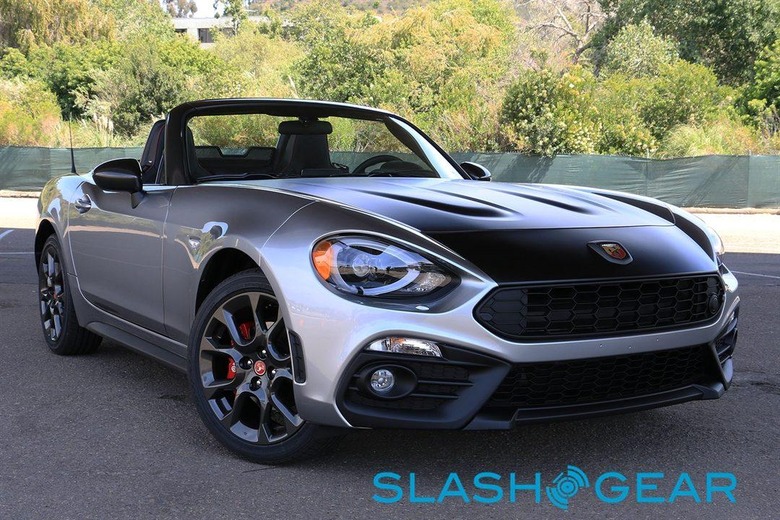 The 124 Spider does gain a bit of weight versus the MX-5 due in part to its turbocharged power plant, tipping the scales at about 2450 pounds. That turbocharged engine is perhaps the biggest culprit for the additional heft, and it's also the most obvious dynamic distinction between the two vehicles from behind the wheel. On paper the straight line performance is nearly identical at roughly six seconds flat to 60 mph. But how the power is dished out is substantially different, with the Fiat motor delivering noticeably more torque but relying heavily on the turbocharger to do so. By contrast, the MX-5's naturally aspirated 2.0-liter inline four cylinder's power delivery is far more linear, but requires every last rev wrung out of it to achieve its potential.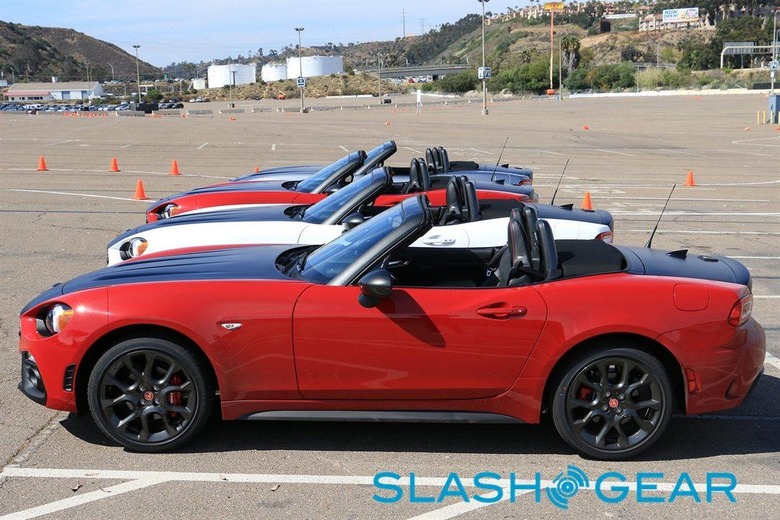 The 124 Spider's suspension tuning was another area of focus for Fiat engineers. While the ride is still quite supple by sports car standards, the Fiat's suspension is a bit stiffer than the Mazda's, achieved by unique shock, spring and anti-roll bar tuning. I spent some time with the Abarth model at an autocross course and noticed that body roll in this performance-minded variant is less prominent than in its MX-5 Club counterpart while still remaining neutral overall as I hustled it around, though the additional torque from the turbocharged power plant is more likely to induce some oversteer if you're too liberal with throttle inputs coming out of a slow corner.
Although they share the same bones, Fiat's efforts to distinguish the 124 Spider from its Japanese counterpart have resulted in a roadster that has its own distinct character while retaining the desirable characteristics of the platform.
Dismissing the 124 Spider as simply a Miata derivative would be a mistake, both for casual drop-top motorists and enthusiasts. For the former, the 124 Spider brings a genuine sense of occasion to the table, and at starting price of $24,995 for the Classica, it's now also the most affordable roadster in America according to Fiat. In terms of the latter, the Fiat motor provides the most powerful four cylinder in its class, one which is ripe for tuning if owners are so inclined.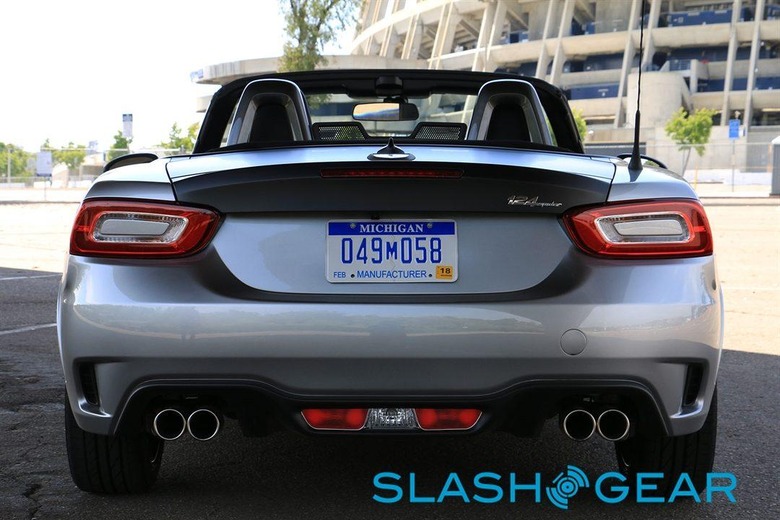 Regardless of which side of the equation you might find yourself in, the Fiat 124 Spider is a much-needed reminder that Chapman's sports car design mantra is still as relevant today as it was half a century ago. The fact that it's instilled in an affordable modern roadster with Italian style and Japanese engineering is a gift from the car gods.