2017 Chevrolet BOLT EV first drive: The first electric car truly for the everyman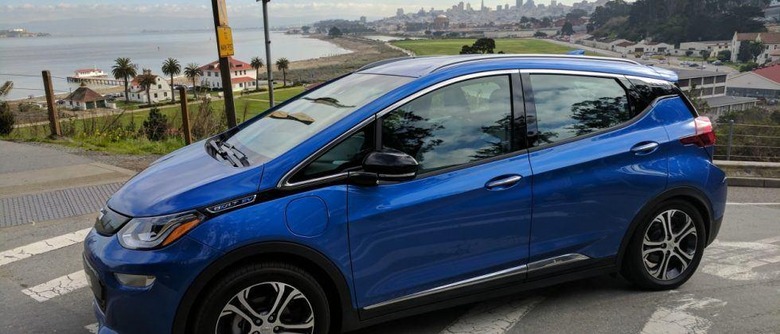 I'm not convinced with the new BOLT EV's tail-lights, but in just about every other way this all-electric car is a knock-out. A no compromise, zero-emissions vehicle capable of delivering up to an EPA-rated 238 miles on a full charge, it's fun and dynamic to drive, with plenty of interior space.
If you take nothing else away from this article, just know that for a family of four or five, you can't go wrong purchasing or leasing the Bolt EV as the family's daily hauler. In my opinion, for the first time in electrical vehicle history, this is the car for mass market. For the majority of buyers in this segment, the price is just right – especially after federal and state tax rebates.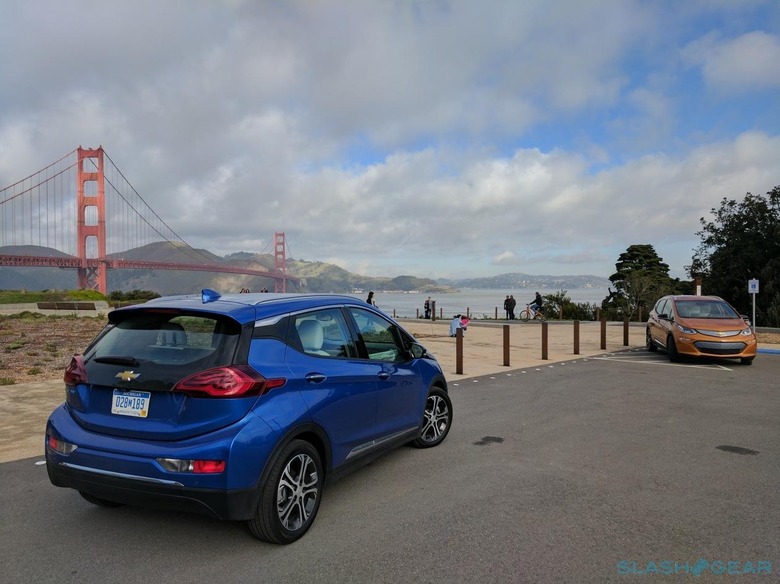 Gone are the days of weirdly-shaped EVs and, more importantly, cars that are simply priced to high for the average consumer. That the Bolt EV starts at $29,995 is frankly spectacular, considering we're talking about a car capable of delivering 238 miles from a 60kWh battery. This isn't hair shirt motoring, either, with the electric motor producing 200 horsepower and 266 lb.-ft. of torque.
That's a lot of torque for a car this size, though it's worth noting that it weighs more than your average hatchback. At 3,580 pounds, the battery alone makes up nearly 1,000 pounds; still, the additional weight isn't all bad. Chevrolet did a great job spreading the weight out toward all four corners, pushing the wheels right out as far as they can go. The result is a well-planted car that, even without all-wheel drive, doesn't struggle to put its instantaneous torque down to the road.
Depending on where you live and whether your state adds to the federal credits with its own incentives, you can expect to get a maximum of $7,500 from the government. I suspect those tax credits will encourage would-be owners to splash out on the mid-tier LT or top-tier Premium trims, which come in at $37,495 and $41,780 respectively before incentives. Having spent some time behind the wheel of the Bolt EV, I think both trims make a good case for upgrading.
Technology galore
If you're targeting the Silicon Valley market in which the Volt happens to be Chevrolet's best seller, it makes sense for the Bolt EV to come loaded up with the latest tech. One of the simplest, but most compelling for anyone forced into a regular commut, is "one foot driving". You can engage it by shifting the gear lever to low (L) driving mode or, for even more aggressive regen-braking, by pulling the left paddle behind the steering wheel.
Thanks to regenerative braking slowing the car down just as effectively as the brake pedal would, and once you've got the timing down, unless it's an emergency situation there should rarely be a scenario where the brake pedal is actually required.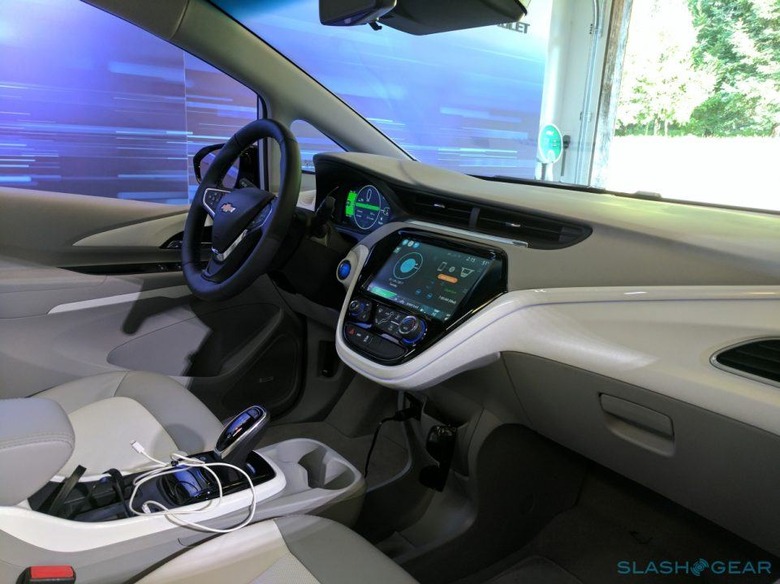 Cruising around San Francisco, and up and down the coast, was frankly delightful. There's no stop/hold feature when you're waiting at a light or stuck in traffic, but it will still "hold" you at a complete stop when going uphill. It works fine on moderate-incline streets, though steeper hills will still require you to use the brakes. Admittedly that's something you might encounter more frequently in a place like San Francisco.
Still, this drive was no easy spin around town, and Chevrolet struck home run after home run. The first was in proving to me that the Bolt EV's battery capacity and regenerative technology aren't just good enough for short range commutes. Honestly. I was eager to prove Chevrolet's big claims wrong, and I walked away defeated.
Our route consisted of both slow and higher cruising speeds where I found myself driving past 80+ mph – all in the name of testing, of course. Mix in drastic changes of elevation, and you have a set of circumstances that will trip up the typical EV. During our time with the Bolt EV, my co-driver Paul and I didn't treat the car any different from something with a gasoline engine. No nannying the charge levels; we kept the A/C on for most of the time in the late afternoon sun. Early morning, we used the windshield defroster in order to see out.
We started the day with the mileage indicator showing 228 miles available. By the time I arrived at the airport at the end of the day, the total distance driven was 95.2 miles. Doing the math, I'd have expected to see around 132 miles on the Bolt EV's estimate, but the mileage indicator still showed 136 miles remaining. It bears repeating, we didn't baby this car or try to hypermile it in anyway. How's that for performance?
When it inevitably comes time for charging, there are three options: the 120V household outlet yields 4 miles per hour, while moving up to the 7.2kW charger will give you 25 miles per hour when using a 240V outlet. Lastly, a DC fast charger option costs an additional $750, but it's capable of adding up to 90 miles of range in just 30 minutes via a charging station.
Information on all of the above rates and time-to-full is readily available on a massive 10.2-inch touch display, mounted in the center console so that it's a position reachable by the driver and passenger. For the geeks – myself included -there's also copious information on power flow, energy usage, driving report details, and more while you're on the move. The display is highly customizable: you can pare it back to the basics, or fill it up with everything from the radio, HVAC, a big quick-access button to pull up battery usage, and a dedicated section on the top right with a real-time readout of kWh usage and miles driven.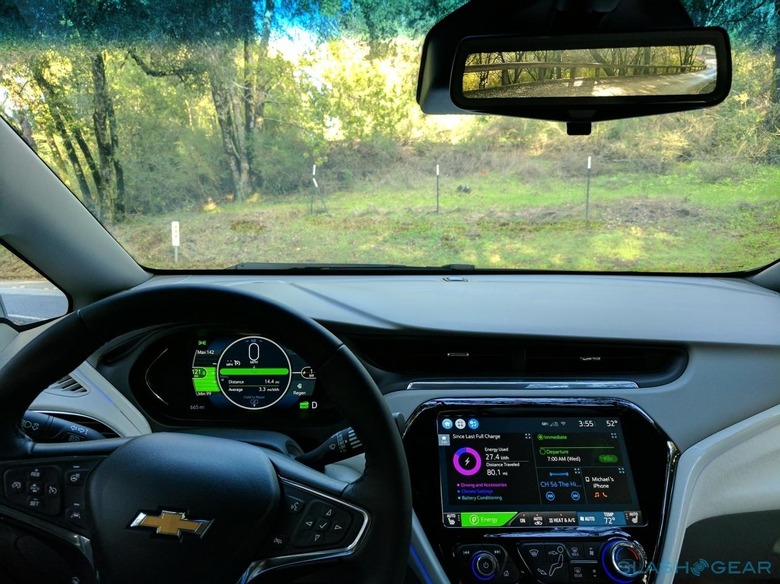 There are also heated seat controls for both the driver and passenger. Every button on the display serves a purpose and when clicked on, launches a sub menu. Furthermore, if you opt for the Premier trim, a surround-vision parking camera is added, as well as a rearview camera that's fully integrated into the rearview mirror: you can toggle between its feed and the regular mirror with the lever underneath.
Whether you're living in the northeast region, where temperatures can drop low in the winter, or dealing with scorching Phoenix summers, MyChevrolet Mobile's ability to remotely start the car is a boon. Even more useful for an EV, you can remotely adjust HVAC temperature or schedule it altogether, bringing the cabin temperature up or down without reducing range. The same app also shows current charge status.
Unusually, there's no navigation option: you can get directions using OnStar, but for anything more you'll have to rely on Apple CarPlay or Android Auto. Given the tech-savvy audience that probably makes sense, though neither system is perfect yet. CarPlay worked fine on my iPhone 7 and 7 Plus, but my co-driver had some issues connecting and, when CarPlay finally popped up on the display, it was frozen. As for Android Auto, the OS is so fragmented it can be a nightmare for automakers to ensure all Android-powered phones are supported. Unfortunately, the Google Pixel, Porsche Design Huawei Mate 9, and Moto Z I had on me didn't work. Chevrolet PR assures me that compatibility with these devices will get ironed out in the near future.
If I was being picky, I'd say that it's a missed opportunity for Chevrolet to omit adaptive cruise control as at least an option. Similarly absent is lane-keep assist, which means in slow-moving traffic it's still up to you to handle the accelerator and steering. At least you can add lane-drift alerts, which will warn you if you start to edge over the lines. It's extremely useful for long commutes, especially when you're driving by yourself late into the night.
Unlike some of the performance EVs we've seen recently, the Bolt EV is front-wheel drive. There's a sport mode but nobody is going to buy this car based on 0-60 performance. Still, 6.5 seconds is healthy for a compact hatchback. Personally, I think that for an all-electric vehicle; the first zero to 30-35 mph is the most critical measure, given the typical city driving it'll be expected to excel at. On that note, the Bolt EV delivers beyond my expectations. I'd doubt everyday drivers would notice the safe and predictable understeer when the car is pushed.
Exterior and interior design with mass appeal
Thank goodness, the Bolt EV doesn't look like it was designed inside a wind tunnel. More importantly the designers steered clear of the less-than-attractive appearance of the Prius. The design of both the exterior and interior looks and feels cohesive, most likely because they're both the handiwork of the same Chevrolet team based in South Korea.
It's a relatively tall car, compared to its competitors, but at no point in my drive did I experience body roll during regular driving. Indeed, the handling is extremely cohesive, even when you're slicing in and out of tight corners. I couldn't help but be impressed with how well-planted the car feels. Placing the Bolt EV on the road is made particularly straightforward because of the massive windshield, which means the overhang of the hood is practically nonexistent when you're looking out from behind the wheel.
Interior design, meanwhile, is more than elegant for this segment. Layout and material choice has been carefully thought out, and there are plenty of storage bins. By shaving thickness from the front seat-backs, there's much more legroom for rear passengers than you'd expect for a car with this footprint. I'm 6' 2" and, without adjusting the driver seat from my preferred position, I was more than comfortable sitting "behind myself", with plenty of room for my knees.
In the back, the rear seats completely fold down giving you 56.6 cubic feet of storage, with a 60/40 split for flexibility. Compact or maybe even borderline-midsize SUV cargo space makes the Bolt EV particularly versatile.
All in all, the Bolt EV is a worthy primary vehicle for your garage. While the range may not get you from Phoenix to Los Angeles without stopping, it's more than enough to get you around town, to the office, or to any errands you might have in a single day – and, vitally, without having to worry about topping up the batteries while you're out. That's a big mental block many still have about going all-in on all-electric.
Of course, the car the Bolt EV has been compared to from the start is the Tesla Model 3. The "cheapest Tesla" clearly has some early fans, with hundreds of thousands of people placing deposits to secure a spot on the production line. Still, that line won't swing into action until late this year, and supplies are likely to be constrained for some time after. At this point, you could feasibly sign up to a three-year lease on a Bolt EV and get through the vast majority of it before a Model 3 was even available to drive off the showroom floor.
One thing Chevrolet has no issues with is production scale. Factor in that performance is solid, and that it's a good looking car with plenty of space for a family of four, not to mention the competitive price – especially after incentives – and you can see why I argue the Bolt EV is the first truly competitive all-electric car for the mass market.