2017 BMW 5 Series displays the evolution of the iconic sedan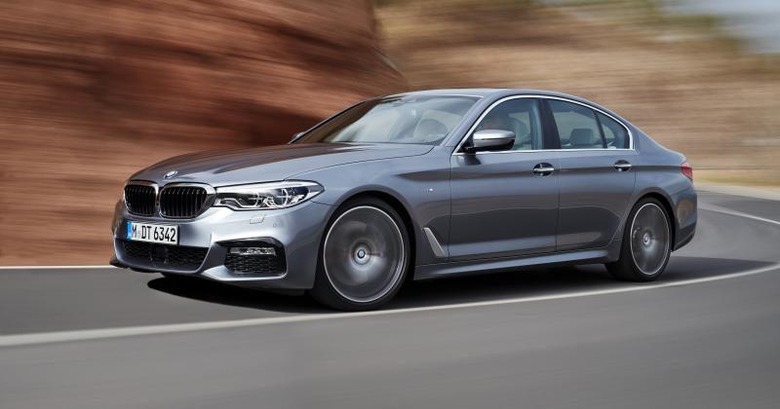 Not all new things need to be a big jump and break from the past. Sometimes, a winning formula needs only a few tweaks here, some new tings there. That seems to be the spirit of the latest generation of BMW's popular sedan, the 5 series. While calling it more an evolution than a revolution might sound like downplaying the automobile's progress, it only reflects how mature the BMW 5 has become and how very little needs to be added to make it even better than before.
BMW describes the new 2017 5 Series' design to be "mature" and "confident". And by that it means incorporating previously disparate elements from its other models, particularly the 7 Series. In particular, the 2017 BMW 5 takes elements from the 3 and 7 series, while still keeping familiar elements, like the Hofmeister kink that has become synonymous with BMW itself. The traditional kidney grille is also present, but different, with active slats improve aerodynamic efficiency.
The new BWM 5's larger size is deceptive. Longer, wider, and taller than its predecessor, it is also actually lighter than the previous model, as much as 137 lbs. BMW attributes this to judicious use of high-strength steel, aluminum, and magnesium.
Equally new are the engines, both coming from the car maker's new TwinPower Turbo line and both equipped with xDrive. The 2017 BMW 5 will come in two models. The BMW 530i sports a 2.0-liter 4-cylinder engine with a peak output of 248 hp. It can go from 0 to 60 mph in just 6 seconds, or 5.8 seconds even with the xDrive, reaching top speeds of 130 mph. The BMW 540i, on the other hand, boasts of a 3.0-liter 6-cylinder powertrain, sprinting from zero to 60 mph in 4.9 seconds. Of course, there is also an M Sport trim, available at launch, with an Aerodynamic kit, lower suspension, and 19-inch M Double-Spoke Wheels.
Now modern premium car today would be without the latest and greatest in both intelligent driver assistance technologies as well as hi-tech infotainment systems. The iDrive returns with its rotary control but also brings new friends along. A touch screen has been added but of greater interest perhaps are the new gesture controls, previously found only in the 7 Series. In addition to the standard Dynamic Cruise Controls, the 2017 BMW 5 also features an improved Active Cruise Control with Stop & Go, automatically braking or moving the car in stop & go traffic. Active Lane Departure Warning and Lane Keeping Assistant, as well as the new Evasion Aid, keeps driver and car safe, if and when lane changes are needed.
Subtle changes on the outside, massive intelligence upgrades on the inside. The 2017 BMW 5 is set to continue a heritage that goes as far back as 1972, with over 7.6 million 5 Series cars sold, and that's in the US alone. The new 5 Series will launch in the US February next year, with pricing details to be revealed closer to that date.
SOURCE: BMW