You've probably heard the automotive press expound exponentially on the concept of 'range anxiety' as it applies to electric cars, but what of the 'supercar sweats?' You know, that feeling that descends on almost every exotic owner when called upon to park, navigate traffic, or go on a drive that lasts longer than a quick jaunt to the local show 'n shine? After all, asphalt-scraping, bone-jarring suspension setups, blind spots the size of a refrigerator, and the constant danger of reckless drivers zooming from two lanes over to snap a photo while hanging inches off the bumper are hazards anyone who elects to daily drive their six-figure sports car regularly face.
Unless, of course, they're piloting the 2017 Audi R8 Spyder, perhaps the friendliest 200-mph drop-top on the planet. This all-wheel drive, ten-cylinder teardrop of aluminum and steel manages to circumvent standard supercar stress by applying a thick veneer of civility over top of its nimble, apex-predator bones – and that's not the only contextual sleight of hand performance by the R8, either. Underneath its Teutonic skin rides the same platform used by its Italian sibling, the Lamborghini Huracán, a car that is similarly easy-to-drive although not nearly as worry-free as the Audi for a number of reasons (in particular its ditch-digging chin and less-ergonomic cockpit and sight lines).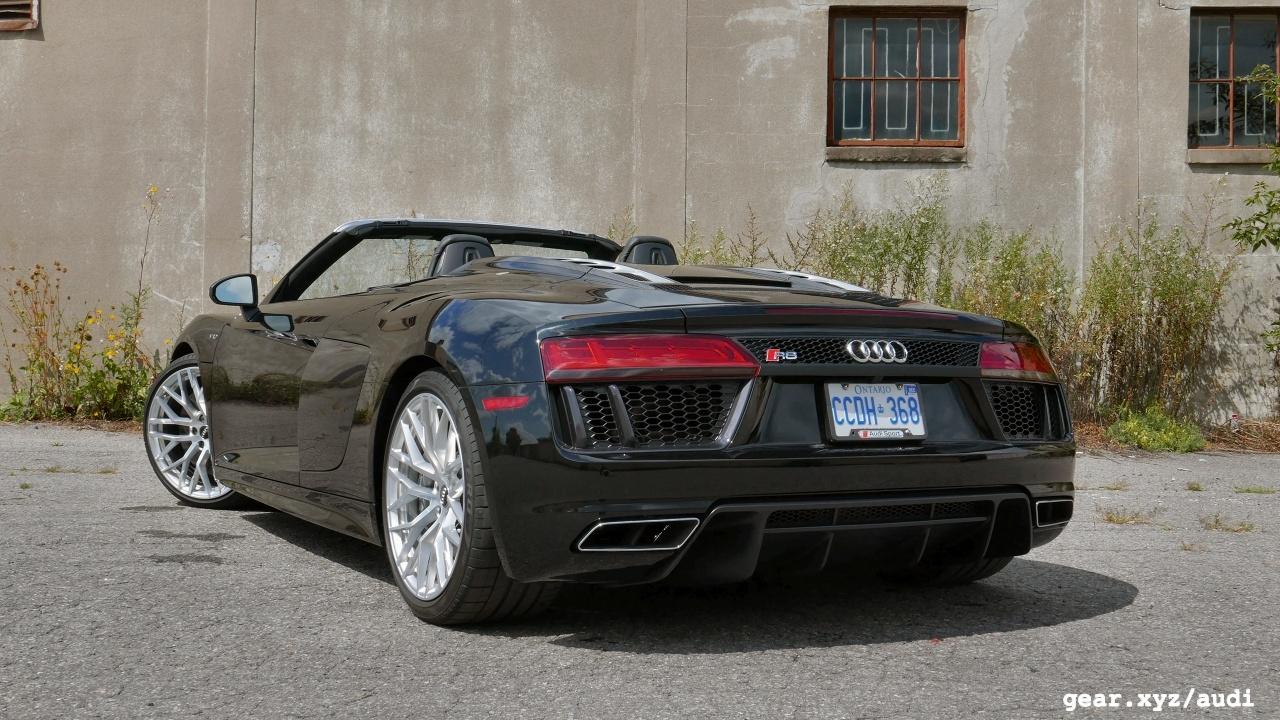 Lest you think that the R8 Spyder's primary attribute is being cuddly as a kitten out on the road, it's time to establish its brute force bona fides. Lurking under the two-seat roadster's expansive rear deck is a 5.2-liter V10 engine that pushes out 540 horsepower and 398 lb-ft of torque, a motor that can count the brand's successful GT3 race car program as part of its development lineage. Matched with a standard seven-speed dual-clutch automated manual transmission, the net effect is startling acceleration and a seemingly limitless top end.
With all four wheels scrambling for traction in a straight-line thrust the R8 launches to 60-mph in just 3.5 seconds, and its terminal velocity falls a mere six-mph short of the R8 Plus coupe's 205-mph (particularly noteworthy given that the Plus is gifted with an additional 50 ponies from the same ten-cylinder engine). Optional carbon ceramic brakes were surprisingly easy to modulate, which is not always the case when mashing these hardcore (and nearly $10,000) binders in a street setting.
Crinkle the map and the Audi R8 Spyder proves itself to be just as adept at handling the curves as it is blowing the hands off of your elegantly-crafted pocket stopwatch. I was fortunate enough to sample the Spyder's chassis tune through New Hampshire's White Mountains, flying low over freshly-paved sections of Route 26 with a frenetic grace typically reserved for ballerinas strapped in for a bobsled run. The car's mid-engine balance and unusual square wheelbase made for predictable cornering at speed, while its steering offered enough feedback to bolster confident decision-making about how hard the convertible could be pushed on two-lane blacktop. All the while, the V10's sonorous exhortations rang out immediately behind my head, adding extra tang to an already visceral top-down experience.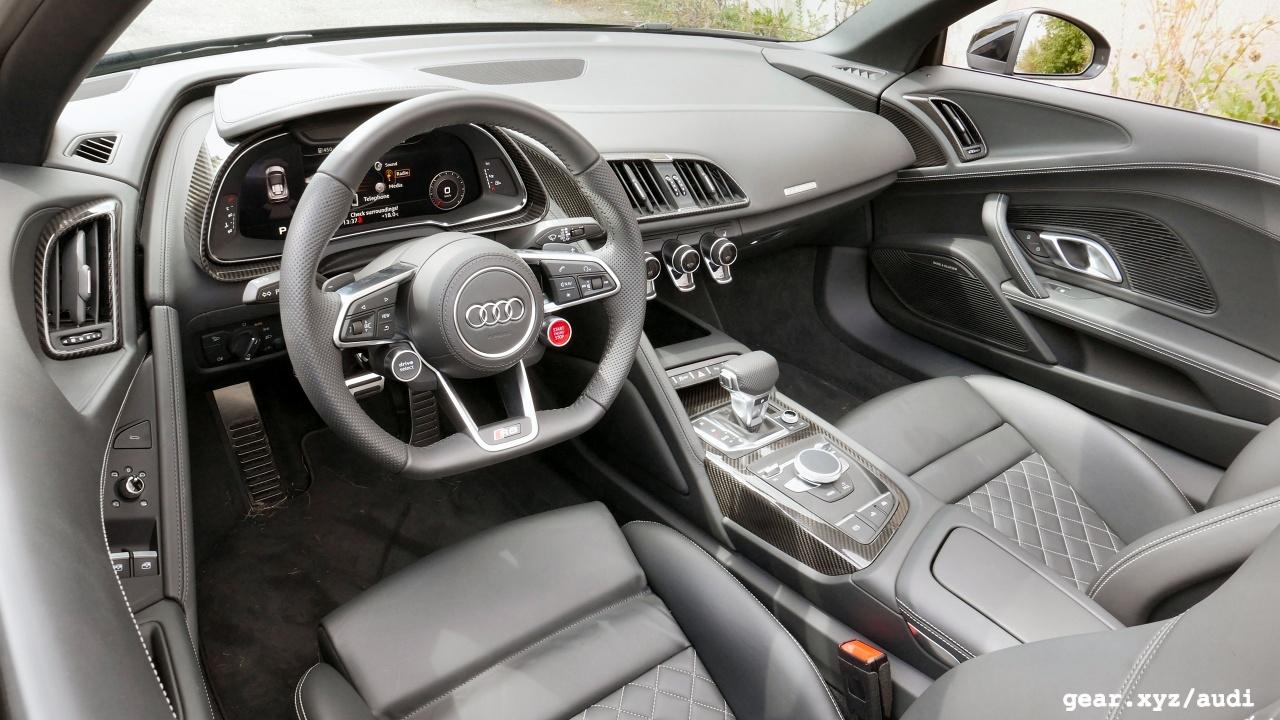 Still, as relentlessly quick and competent as the 2017 Audi R8 Spyder was during our time together, it was the fact that I was able to live with the car on an extended rural road trip that impressed me more than almost anything else. With hundreds of miles of open-air driving on the odometer, split fairly evenly between open interstate and sinuous secondary roads, I never left the driver's seat feeling as though I'd just gone 10 rounds as a sparring dummy. There are luxury sedans that don't have the same level of composure and comfort as the R8 (although they do beat its 4 cubic feet of trunk space), and while you might expect this kind of pampering from a car with a $177,000 starting price, it's definitely not the norm in the realm of exotics. Seats were both receptive to my long torso and heated to take some of the night time chill out of the air, and once you get used to the all-in-one-place display offered by Audi's Virtual Cockpit gauge cluster it quickly becomes second nature to keep tabs on navigation, entertainment, and mobile device settings.
The R8's Drive Select system also let me dial its magnetically-adjustable suspension system from Comfort to Auto to Dynamic anytime I pleased, but I found myself living almost exclusively in the stiffer, louder world of Dynamic, which also held each gear longer and amped up both exhaust volume and the explosiveness of each gear shift. Occasionally, I would vacation in Individual, which allowed me to set every feature to Auto while leaving the tailpipes in their loudest, and most boisterous setting (which should really be the default on all modern sports cars). Finally, Audi's engineering team got the R8's ride height exactly right, as I never had any uncomfortable encounters with speed bumps, driveway angles, or protruding curbs.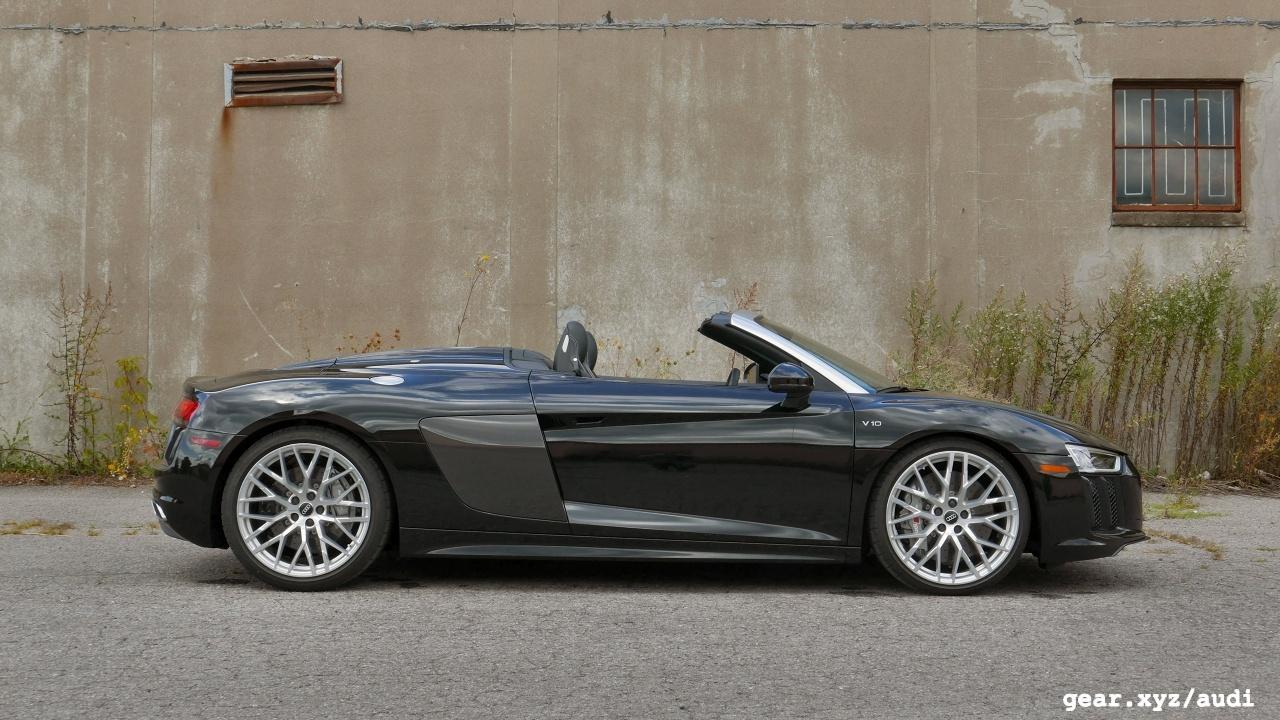 You're probably asking yourself at this point whether this really matters. After all, if you have the scratch to park a six-figure sports car in your garage, it's probably sitting alongside a gaggle of similarly-pricy luxury rides, one or two of which are likely to have a back seat and dampers tuned to a setting other than 'cement mixer.' All true, but as time marches on and technology renders world-class performance attainable to any automaker willing to make the investment, the margin that differentiates one supercar from the next becomes vanishingly small when measured by velocity metrics and grip levels alone. That the Audi R8 Spyder is able to offer exotic-level everything combined with the daily affability of an S5 cabriolet is an achievement few, if any, of its peers can claim.