2016 Lexus LX 570 Review - Sasquatch in a cummerbund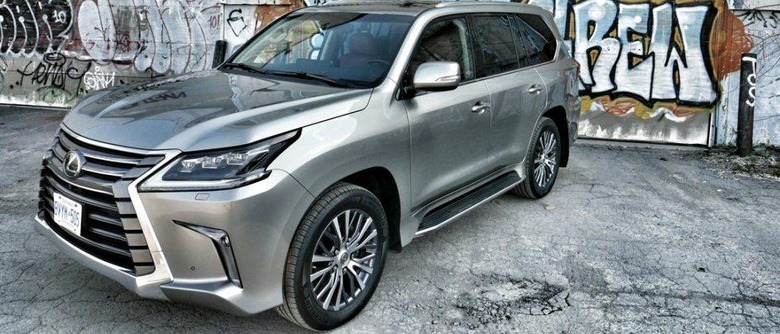 If the Lexus SUV credo has long been 'quiet luxury,' then the 2016 Lexus LX 570 is its incognito off-road assassin, Sasquatch in a cummerbund, Sir Edmund Hillary at a cocktail party surrounded by pretenders. This full-size, multi-ton beast is the inheritor of a legacy that includes countless crossings of the Serengeti mated with the penthouse-levels of charm and grace bred into its Land Cruiser-based platform by way of Lexus' ability to transcend badge-engineering and create something distinct from its Toyota truck roots. In other words, it's a people mover with few peers in a world where off-road credentials and stream-fording brass balls have largely been replaced by lumpen globs of metal and glass devoid of any personality.
It's precisely this collection of seemingly contradictory characteristics that have long set the Lexus LX 570 apart from the rest of the full-size luxury SUV field. Simply put, the LX is not for everyone. In some cases that statement could be taken for faint praise, or even a thinly-veiled warning, but with regard to the Lexus it's an indicator of exclusivity in a sphere where such currency often has more weight than a window sticker.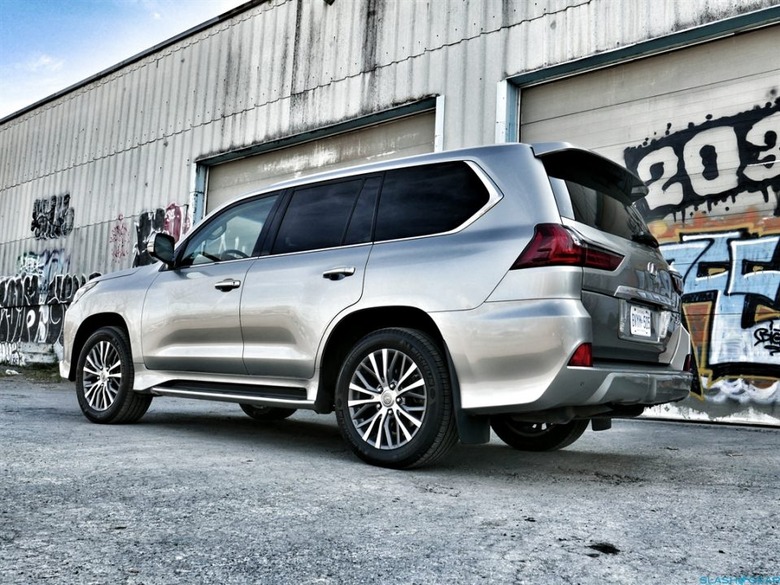 No, those who buy the Lexus LX 570 aren't simply trying to keep up with Joneses who recently parked a shiny new Cadillac Escalade or Mercedes-Benz GL-Class in garage bay five of their palatial estate. Rather, they are seeking to access the SUV's rugged, yet refined aesthetic which is honestly only available via one other brand: Land Rover.
Unlike its British peer, however, the LX 570 hasn't made its go-anywhere capabilities a key aspect of its marketing materials. Lexus doesn't shout about the LX's unstoppability – it simply offers it as a matter of course, which is perhaps even more old world than a Range Rover's subtle, yet distinct acknowledgement that it would rather you be commuting through 48 inches of water.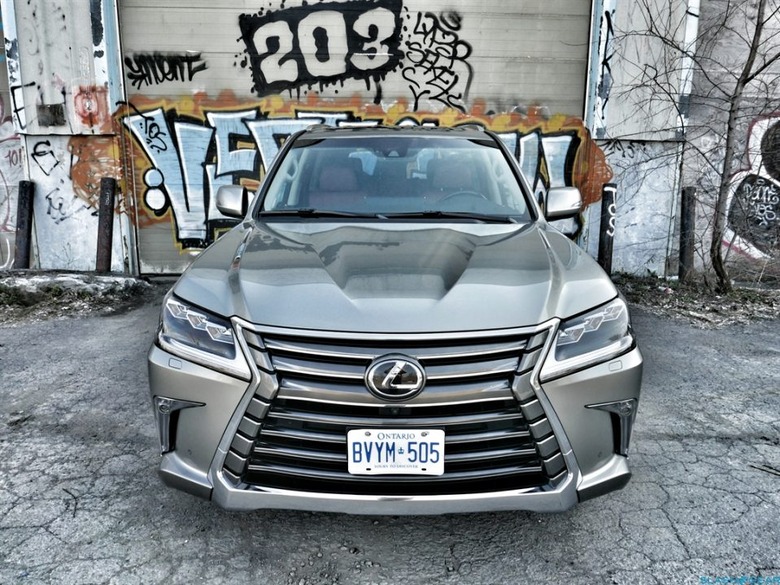 You get it all, and more, when it comes to the kind of world-beating versatility that's largely a relic of a time when sport-utility vehicles – even luxury models – were expected to hold their own through the most trying of terrain. The 2016 Lexus LX 570 features full-time four-wheel drive with low-range gearing and a panoply of electronic off-road assistance features such as forward crawl control, a sophisticated traction management system, hill start assist, and an air suspension system that can both raise and lower the vehicle as needed.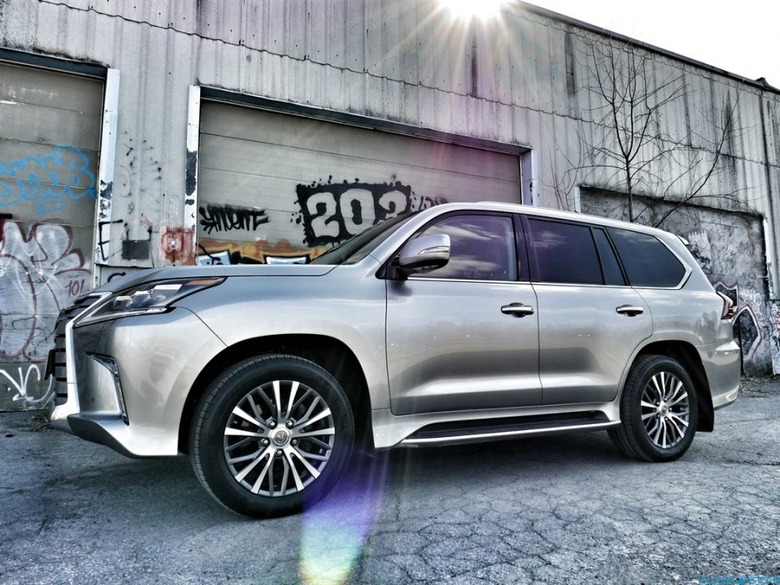 Its body-on-frame chassis is motivated by a 5.7-liter V8 engine that generates a smooth 383 horsepower and 403 lb-ft of torque – numbers that aren't class-leading, but which serve well enough to motivate the LX 570's not-inconsiderable bulk. On pavement, the Lexus sets sail in a most dignified manner, and although multiple drive modes are offered I preferred to leave the SUV in 'Comfort' and enjoy the extra steering assist and cushioned ride befitting the vehicle's stature.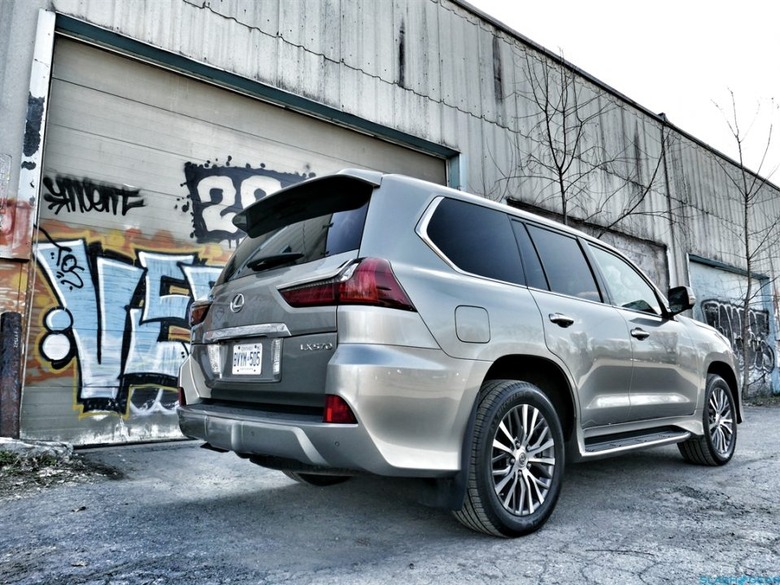 An eight-speed automatic transmission is new for 2016, adding two forward cogs to last year's box but doing little to improve the eight-cylinder's overwhelming thirst for premium fuel: you're looking at 13-mpg in stop and go driving and 18-mpg on the highway. These figures leave the Lexus trailing every single one of its luxury rivals at the gas pump.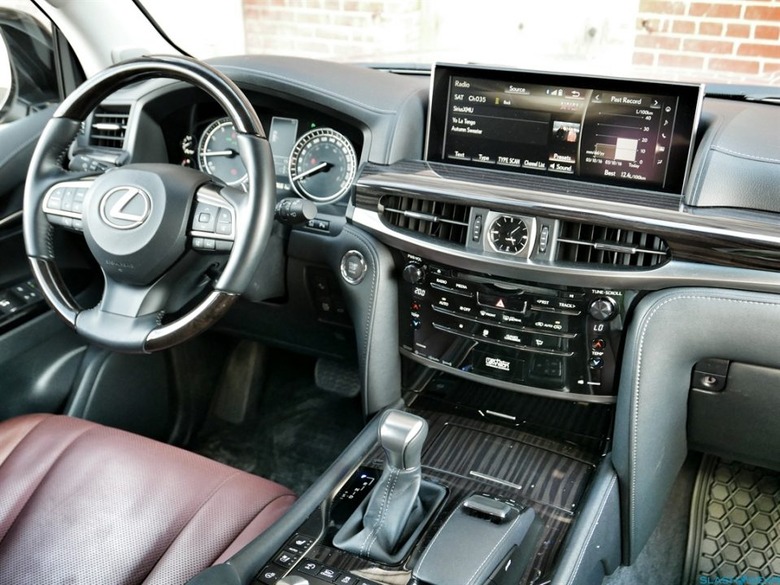 Also on deck for the current model year is a refresh both inside and out of the Lexus LX 570's sheet metal and cabin. It's a comprehensive makeover in the sense that only the door skins have been carried over, but aside from the somewhat-aggressive trapezoidal grille that is now a Lexus trademark the trucks' shape will be familiar to anyone who may have caught a rare glimpse of the previous-generation LX.
The Lexus' cabin is predictably swank, benefiting from an outstanding materials list that includes well-executed, genuine wood trim, the softest plastics, and some of the finest leather I've encountered in an SUV. An enormous LCD display panel sits at the center of the dash, but unfortunately you have to use the mouse-like controller that comes bundled with every Lexus product to access most infotainment functionality. It's the only real complaint I have to make about the LX's control surfaces, as its clunky, difficult-to-control character stands in stark contrast to the straightforward buttons and toggles found everywhere else inside the vehicle.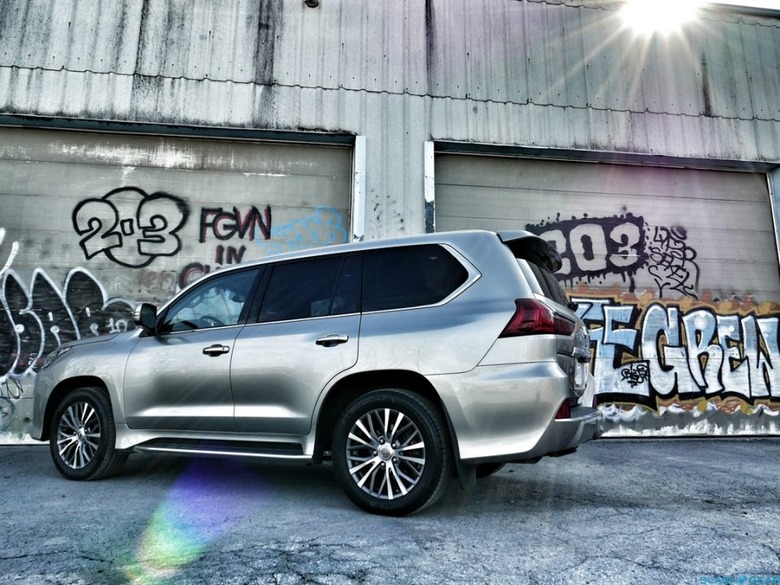 The mouse isn't the only quirk you'll discover within the 2016 Lexus LX 570. Although leg and shoulder room in the second row of seating is outstanding (and comes with a pair of appropriately gigantesque LCD entertainment screens to keep riders occupied on longer trips), the rearmost set of accommodations is decidedly different from those offered by its premium peers.
Instead of a back bench that disappears discretely into the floor, the LX maintains a split seat that folds up against either side of the cargo compartment, taking up valuable hauling space and offering child-friendly (at best) comfort when deployed. It's a setup that's borrowed directly from its Toyota Land Cruiser sibling, and it's the one area where the LX finds itself at a serious disadvantage when compared against similarly-sized sport-utility options.
Still, with a starting MSRP of $88,880, it's a little easier to overlook the 2016 Lexus LX 570's lack of third row passenger proficiency. That's a screaming bargain when approaching the lofty six-figure ask of other also-enormous luxury 'utes, especially considering that the LX comes loaded to the gills with standard equipment (with only a single, relatively inexpensive package on the options sheet available should you wish to add heated and ventilated seats for those riding behind the two front positions).
The LX 570 gives up very little compared to its contemporaries, and yet offers undercover off-road chops and very impressive levels of luxury that place it in the upper pantheon of plush four-wheelers. By walking its own distinct path, Lexus has give the LX the ability to surpass the expectations engendered by the sum of its parts and instead offer a legitimate, and appealing, alternative to the current crop of luxury SUVs.