2016 Lexus GS F In Super-Sedan Showdown With BMW, Audi, And Cadillac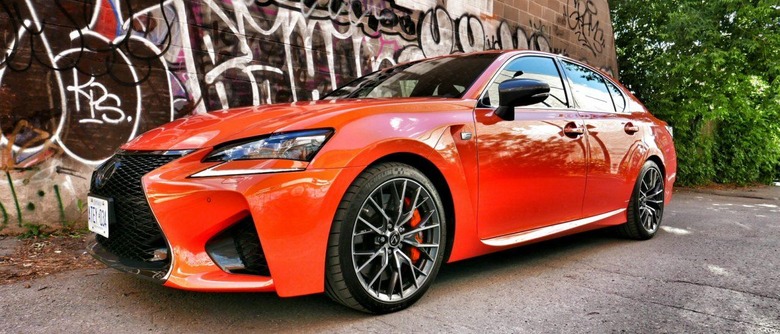 The 2016 Lexus GS F breaks new ground for the Japanese luxury brand, giving it its fire-breathing V8 mid-size sport sedan in a bid to contend with the European all-stars that have long dominated this corner of the automotive industry. At first glance, everything appears to be in order: 467 horsepower from a 5.0-liter eight-cylinder monster (shared with the RC F coupe), the ability to sprint to 60-mph in a quick 4.5 seconds, and the kind of extroverted good looks that do the companies trapezoidal grille justice (especially when ordered in eye-searing orange).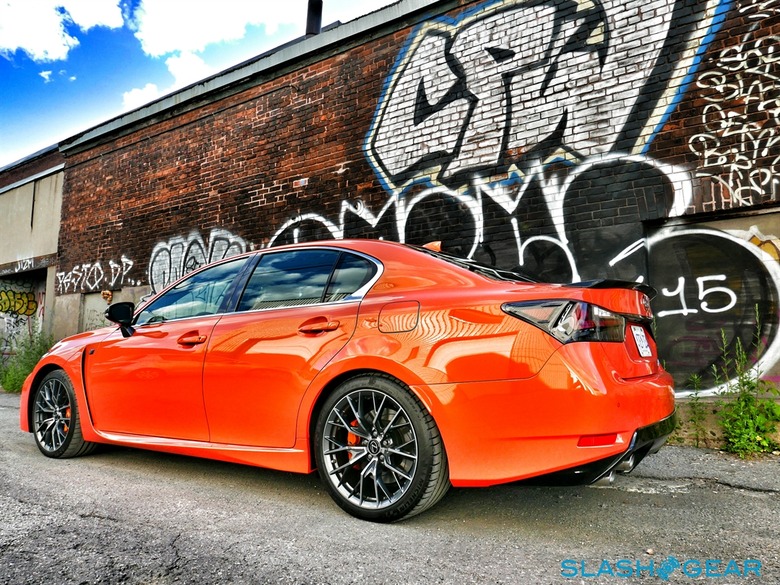 Park the Lexus beside any one of its spiritual competitors, however, and the gap between the GS F's charms and those of its various rivals can seem vast. It's telling that we live in an age where nearly 500 horsepower in a luxury car no longer pegs the needle toward the 'extreme' side of the dial but instead merely feels like a good start. Examining go-fast four-door options from BMW, Audi, and American interloper Cadillac reveals a world of excess where performance once reserved for one-off supercars is now available in a leather-swaddled cabin with an adult-friendly back-seat. This is especially true when you consider the $84,440 price tag of the Lexus, a number that puts it up against some of the scariest metal on the market.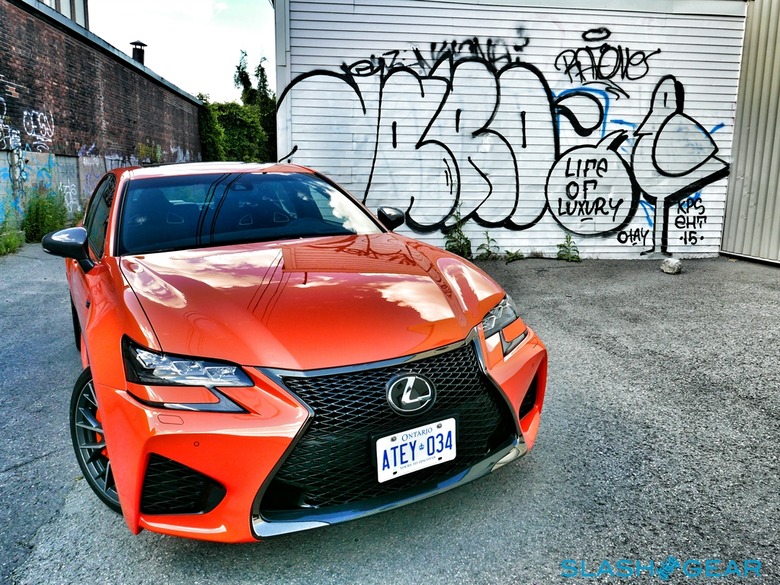 This is not to say that the Lexus GS F is not a good car. In fact, were it to be judged exclusively on its own merits, the comfortable and very quiet ride of the sedan would be lauded as a stand-out, as would the long list of standard safety equipment and high-end features (minus the frustrating-to-use infotainment system, of course). It's also a blast to step down on the gas pedal and feel the GS F's eight-speed automatic transmission call its naturally-aspirated V8 to action, absent any the lag or muffling that occasionally intrudes into the character of forced-induction automobiles that are increasingly the norm. In all honesty, with a $10k-$15k price adjustment, the Lexus would fare much better as a more natural competitor to other similarly-powerful options out there, even with the F badge on the fender.
How exactly does the 2016 Lexus GS F stack up against its premium peers? Check out our comparison that pits the sedan against three four-door luminaries in the high performance luxury world to find out.
2016 BMW M5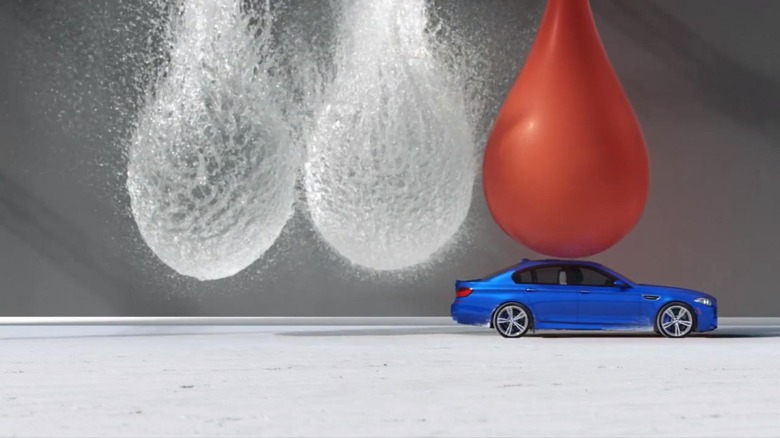 Killer Features: Although it's the oldest of mid-size hi-po four-door designs, the 2016 BMW M5 still stands tall when considering which spicy sedan should populate your garage. Key to its appeal is the twin-turbo 4.4-liter V8 under its hood, which pushes out between 560 and 600 horsepower, depending on which models or options are ordered. The car also comes with a spacious interior packed with BMW's comprehensive list of luxuries, although if you want to fully deck things out you're looking at a hefty surcharge. There's a six-speed manual transmission on the options sheet, too, which makes it the only vehicle in this comparison to boast a third pedal.
Better Than The Lexus GS F? With a minimum 100-horsepower bump over the Lexus (in addition to 500 lb-ft of torque versus the GS F's 389 lb-ft), it's clear that the BMW M5 will trounce it at a drag strip. This is borne out if you order the M5 with its available seven-speed dual-clutch automated manual transmission, which makes it almost a half-second faster to 60-mph (and nearly a full second if you can locate the limited-run 30th Anniversary edition car). Over the course of a full quarter mile, the gap is similar (11.9 to 12.8 seconds).
Worse Than The Lexus GS F? You won't be able to get behind the wheel of the BMW M5 unless you're willing to spend another $10k over the purchase price of the Lexus, but for those shopping in this segment that's not as big of a stretch as one might think – especially if you consider the significant boost in performance that comes with the additional outlay of cash.
2016 Audi S6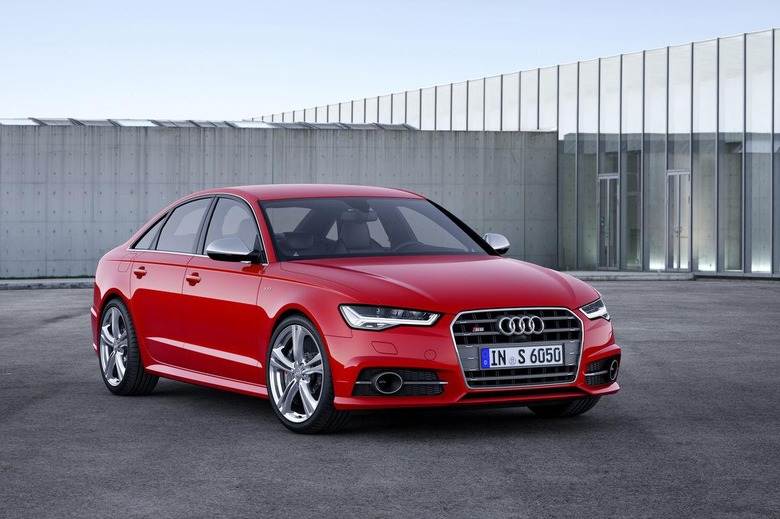 Killer Features: The 2016 Audi S6 enjoys standard all-wheel drive, which you can't get from Cadillac, BMW, or Lexus when parsing through their high performance alphabet soups. It also comes with an adaptive air suspension system and one of the best interiors in the business, making it the perfect all-weather option regardless of whether your are commuting or committing to two-lane blacktop on the weekend.
Better Than The Lexus GS F? The Audi S6 is a bit of an 'tweener' when it comes to output, what with 450 horsepower and 406 lb-ft of torque on tap from its 4.0-liter twin-turbo V8. Still, don't let the nearly $15,000 in savings fool you when comparing to the Lexus' window sticker, as its launch control system allows for a startling 4.1 second time in the race to 60-mph. That's nearly M5 performance in the straights at a serious discount over almost every car on this list.
Worse Than The Lexus GS F? The S6 might actually be a little too slick when it comes to exterior presentation, as there's not a whole lot going on stylistically to separate it from the standard A6. For some buyers that's ideal – Q ships do have immense appeal – but for those with bigger personalities, the carbon fiber trim and enormous air ducts found on the GS F (not to mention the available orange-painted brake calipers) offer more visual bounce.
2016 Cadillac CTS-V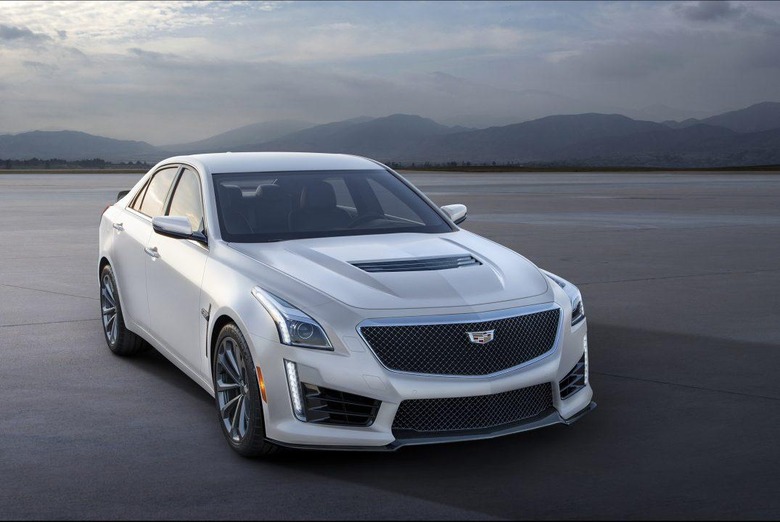 Killer Features: How about 640 horsepower? In a street-friendly, four-door luxury car? The 2016 Cadillac CTS-V shares its drivetrain with the Chevrolet Corvette Z06, which means in addition to its 640 ponies it also pushes 630 lb-ft of twist from a 6.2-liter supercharged V8. Insanity rains supreme once you shunt that power to the rear wheels by way of the car's eight-speed automatic transmission, with a 3.9 second 0-60-mph time available on the way to a top speed that nuzzles up against 200-mph.
Better Than The Lexus GS F? The GS F and the CTS-V are simply in different worlds when it comes to performance, especially once you consider the magnetically-adaptive suspension system that comes standard with the Cadillac. Its gets worse when you look at the price tag, too: the CTS-V is actually slightly cheaper with a sticker of $83,995.
Worse Than The Lexus GS F? We're drawing a blank – unless you really want an orange sedan.