2016 Kia Optima First Drive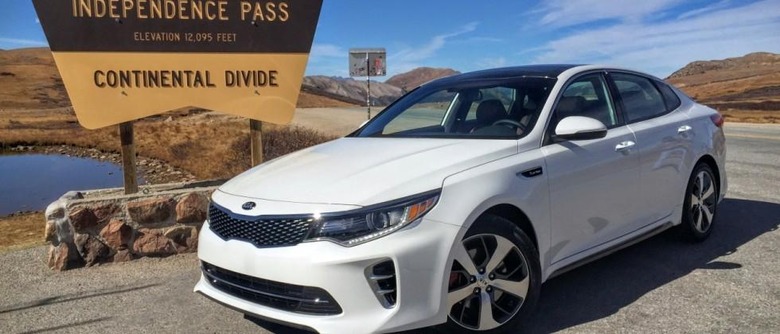 Fourteen years ago, Kia was last on J.D. Power's quality survey; today, it's second behind Porsche. That's a big deal, but what does it have to do with the new 2016 Optima? Turns out, pretty much everything, inside and out. It's Kia's best-selling vehicle for the past three consecutive years, not to mention its first model to top the 150,000 yearly sales mark, with demand up 480-percent versus 2010.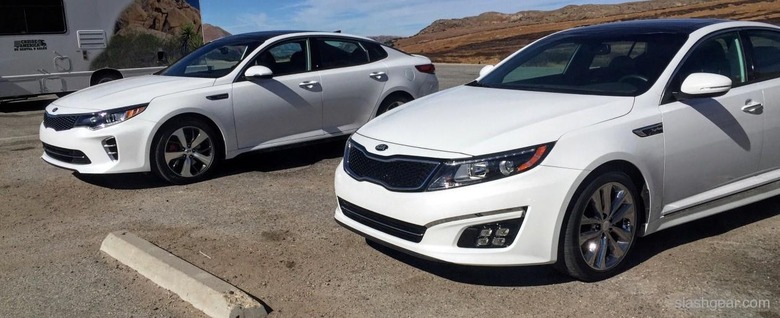 So, while there were a few jokes thrown around about whether the new Kia Optima really looks different from the last generation, all kidding aside the subtle changes are for the better. The designers have sensibly avoided change for the sake of change; as former Audi designer Peter Schreyer says of his work at Kia, the watch-words are to keep it clean, simple, and timeless. No need to mess with a formula that's working, right?
"Moving forward "change is an improvement not just for the sake of change," Scott McKee, Director of Corporate Communication, Kia
Starting with the exterior, the front "tiger nose" grille and cleaner sheet metal looks great, despite being clearly related to previous generations of Optima. The devil is in the details: the wider grille emphasizes the car's broader stance, wrapped with HID bi-xenon headlamps. While I didn't have the opportunity to test these new lights in nighttime driving, they articulate and follow corners – a feature that's not commonly found in this class of car.
Other nearly-unnoticeable changes include a slight increase in width, height, wheelbase and overall length. Kia tells me that, as a result, the cabin should feel more spacious; to be honest, it's already roomy as-is, so I could barely tell the difference. I'm not sure if an increase in 0.5 cubic-feet of trunk space will sway a potential buyer one way or another, though it's still worth mentioning.
More importantly, the interior got a significant upgrade in terms of materials. Kia invested a lot into the interior, raising the bar for other vehicles in the same class, and figuring that the best way to capture new buyers is to wow them inside.
It works, too. There's a stronger horizontal line across the dashboard, lending to the feeling of space but also helping to organize the controls. All of the buttons are now above that line, while anything in the touch zone is below.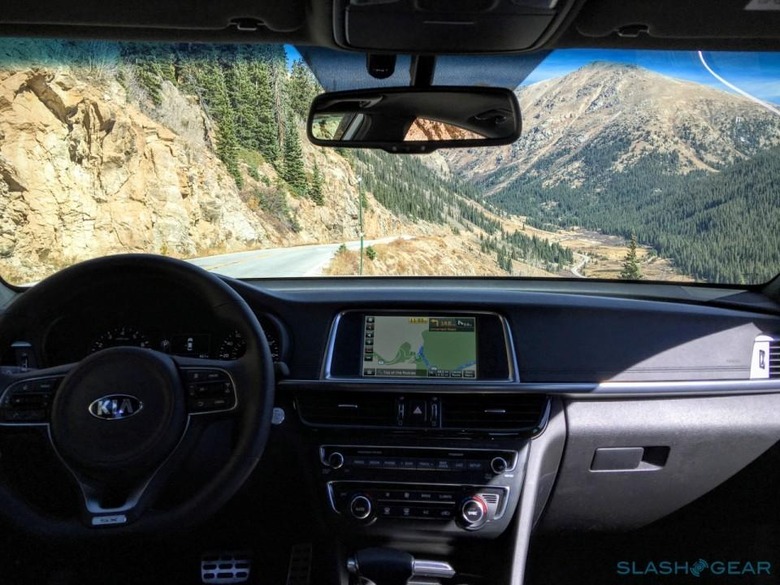 While still an affordable four-door sedan, the 2016 Optima feels more luxurious than any of the previous generations, not to mention when compared to competitors in the same segment. There's new, more premium materials with soft-touch finishes, eye-catching diamond stitch patterns, and small but collectively significant attention to detail that adds up to a car that's both more stylish but also more functional.
Both Android Auto and Apple CarPlay will be available when the 2016 Optima goes on sale. Other safety features, meanwhile, include intelligent cruise control with radar tracking of other cars, lane departure warning, and emergency braking.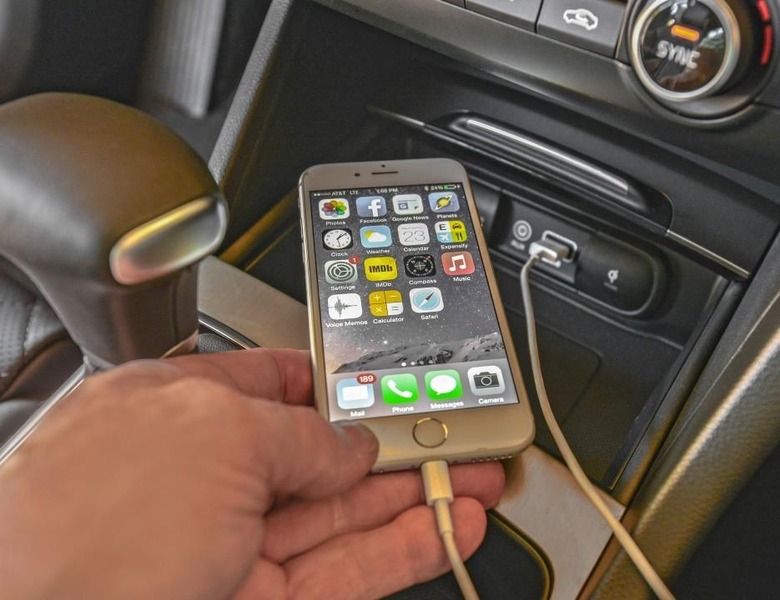 The improvements continue where you can't see them, too. An increased used of high-strength steel means about 50-percent of the body is constructed with the material, up 150-percent on the old car, for better protection in a crash along with improved driving dynamics and a quieter ride.
It means that the best way to feel the difference versus the old Optima is to drive the new model, since the most significant changes can't be seen with the naked eyes. My more spirited driving through the twists and turns in, around, and outside of Aspen was nothing short of fun, something you don't necessarily expect from a sedan in this class. Handling proved to be astonishingly good, especially when paired with Kia's 245 HP, 2.0-liter turbo with 260 lb-ft of torque available with the upper trim levels.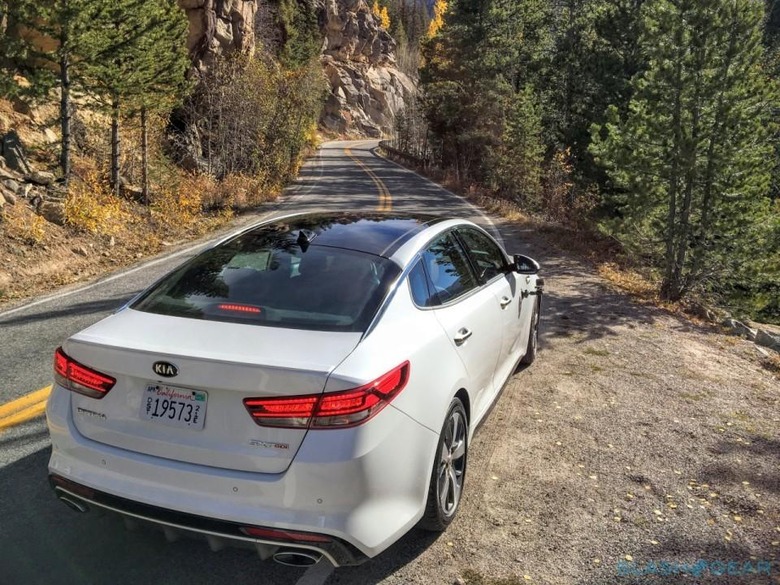 If you're thinking, hey, that's about 29 horsepower and 9 lb-ft. torque shy of the last gen-Optima, then you're absolutely right. However, peak torque now comes at around 1500 rpm, and that's a good thing because most of our driving is done on surface roads. Trust, me you won't miss those horses, but you will notice the better fuel economy.
Other engine choices include a 2.4-liter, naturally aspirated 4-cylinder with 185 horsepower and 178 lb-ft of torque, paired with a 6-speed automatic transmission, and a new-to-Optima 1.6-liter turbocharged 4-cylinder, with 178 horsepower and 195 lb-ft of torque, that's only available on the LX model and paired with a 7-speed dual clutch transmission.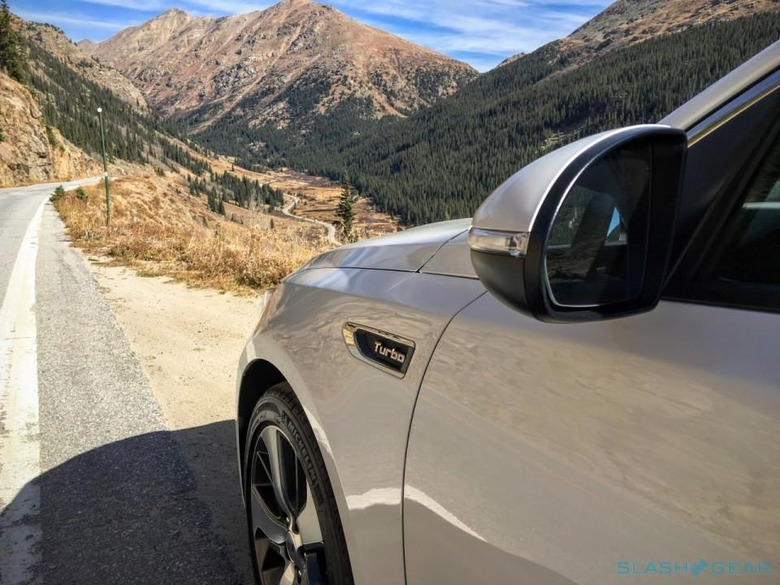 My only gripe with the latter option and its slick-shifting gearbox is the lack of paddle shifters. Kia told me that, in order to meet its cost requirements, something had to give and in this case, that meant the paddle shifters were omitted. To be fair, while I missed them, I highly doubt most buyers will care, particularly considering how much they're already getting from their $23,000 to $35,000 car.
It's that ambitious pricing, combined with a thoughtful selection of features and solid driving dynamics that single the 2016 Optima out. If Kia's rapid rise through the satisfaction charts hadn't already worried Toyota, Honda, and other mainstays of the automotive mass market, this new Optima should give them sleepless nights.
[gallerybanner p=413543]