2016 Jeep Wrangler Unlimited Willys Wheeler Review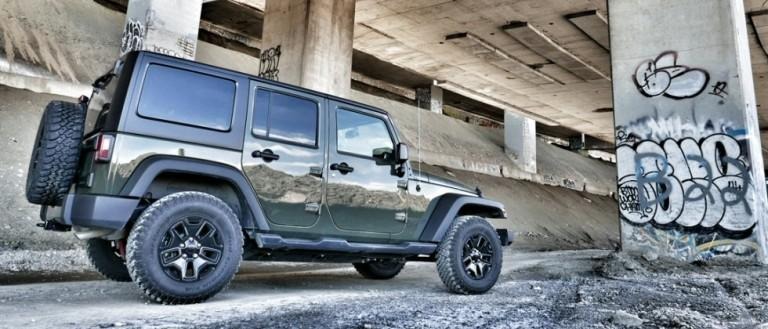 It's one of the most puzzling conundrums in the auto industry: how does an anachronism like the Jeep Wrangler rattle off ever-increasing sales numbers each and every year? By any rational measure, the Wrangler's old school platform lags behind its SUV competitors by at least several generations, and yet each year hundreds of thousands of customers look past the clunky steering, rough ride, and wince-inducing fuel mileage to embrace its rugged image and drive one home from the dealership.
The answer to the Wrangler question is even more startling. You see, it turns out that for all of its both-feet-in-the-past foibles, this heritage-heavy off-roader is actually really, really good. And it's not just a case of rose-tinted windshields, either – all one has to do is spend a couple of days behind the wheel of Jeep's SUV to become thoroughly indoctrinated into the cult of Wrangler.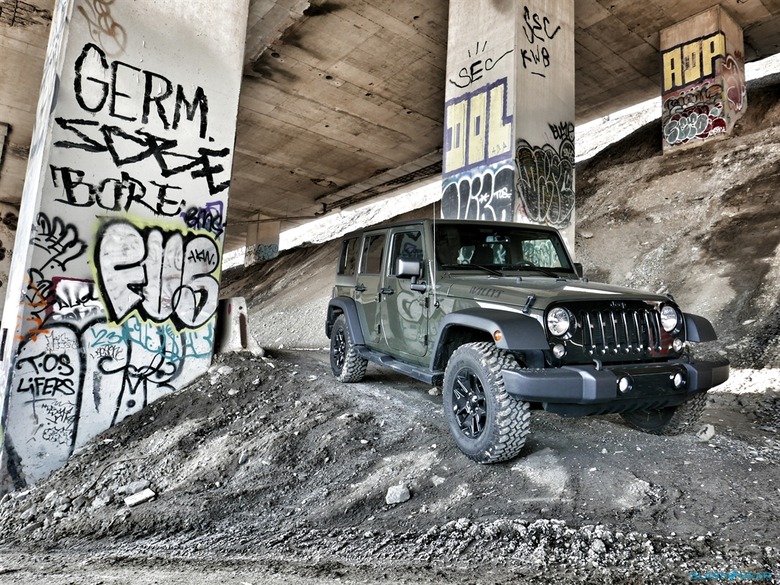 It starts with the image. The 2016 Jeep Wrangler is available in both standard and Unlimited versions, the latter being Jeep-speak for the four door body style. It wouldn't be hyperbole to suggest that this more practical version of the Wrangler was largely responsible for the surge in sales it has enjoyed over the past several years.
Finally, here was a version of the upright, squared-off Jeep that didn't just look like it had rolled in fresh and muddy from the Rubicon trail, but which could actually accommodate a child seat or two in its rear row (along with more than just a few grocery bags in the cargo area). Translation: the Wrangler, in Unlimited form, could now be more easily justified to a reluctant spouse more concerned with day-to-day utility than bouncing from rock to rock or blowing through deep pits of mud.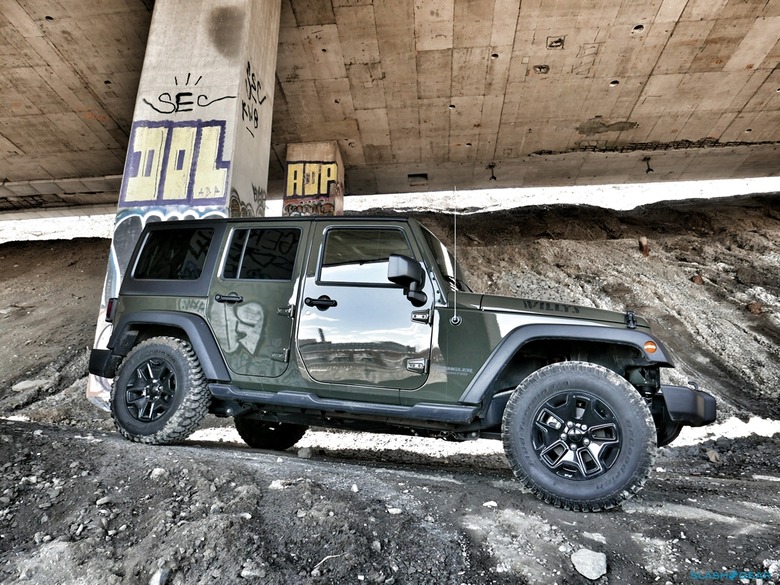 Of course, Jeep is overly aware of its legacy and the role it plays in driving dealership traffic, which is why we get 'special editions' like the Willys Wheeler I piloted for a week. Don't look for much in terms of extra equipment with the Willys – you get the entry-level Command-Trac four-wheel drive system, a locking differential as standard, rock rails, and 17-inch Rubicon wheels, but that's about it – but rather consider the genius drab olive green color scheme, the 'WILLYS' stenciled onto each side of the hood in a military-inspired font, and the option of half-doors that are a perfect fit for topless summertime cruising . It's a light-hearted throwback to the original Willys-manufactured Army-spec Jeep, or at least one that makes a few visual concessions to its ancestor and effectively turns heads out on the street.
The rest of the Willys Wheeler is status-quo Wrangler, which means a 3.6-liter V-6 engine producing 285 horsepower and 260 lb-ft of torque, backed up by a five-speed automatic transmission (a six-speed manual gearbox is standard). You get solid axles front and rear, body-on-frame construction similar to that of a modern pickup truck, and the kind of suspension tuning that's more at home traversing uneven ground than smooth pavement.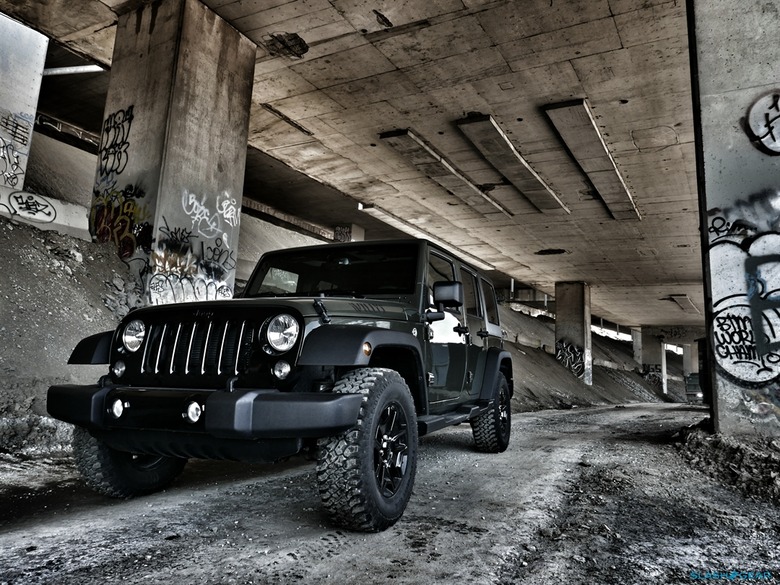 Inside, simplicity reigns. The Wrangler Unlimited that I piloted was outfitted with the most basic version of the Uconnect touchscreen infotainment interface available, a functional but unspectacular setup that trails the competition (and indeed the much more advanced Uconnect systems available in other Jeep products). Since the doors, roof, and windshield can all be removed from the vehicle, instrumentation and switchgear is concentrated on the dashboard, and door cards are plain and functional (my Willys Wheeler was actually a 'W' model which denoted air conditioning and power windows).
An easy-wash fabric hugged the Wrangler's five seating positions, with decent room front and back for adult riders, and although rear visibility is significantly compromised by the combination of tailgate-mounted spare tire and rectangular wiper motor block, once you open up the back and fold down the second row there's a respectable amount of interior storage available inside the Jeep.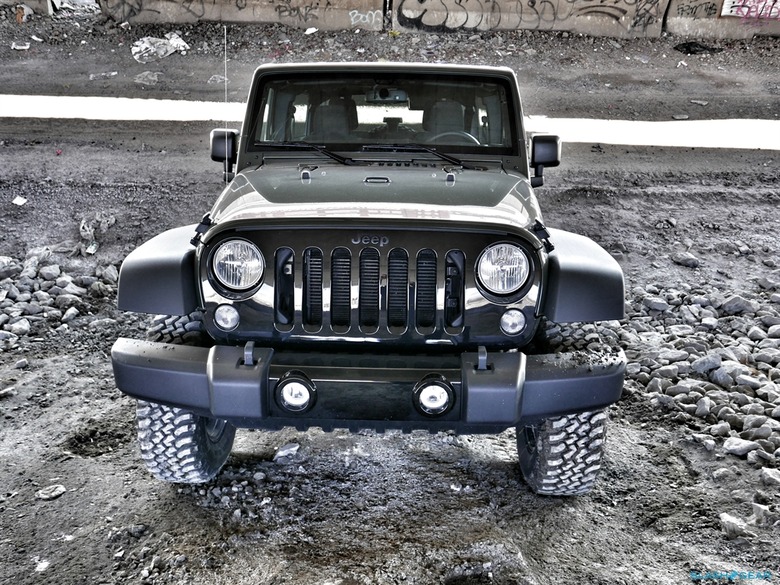 Driving the Jeep Wrangler Unlimited is a bit of a history lesson. Steering is less than precise as you try to corral the solid hunk of steel connecting the two front wheels, while the cabin's optional plastic hardtop is only moderately successful at insulating you from the outside world. Still, the ride is far more comfortable than one would expect from such a task-focused off-roader, and the pockmarked, pothole-laden Montreal streets that are my daily reality were swiftly dispatched by the Jeep's shocks and springs.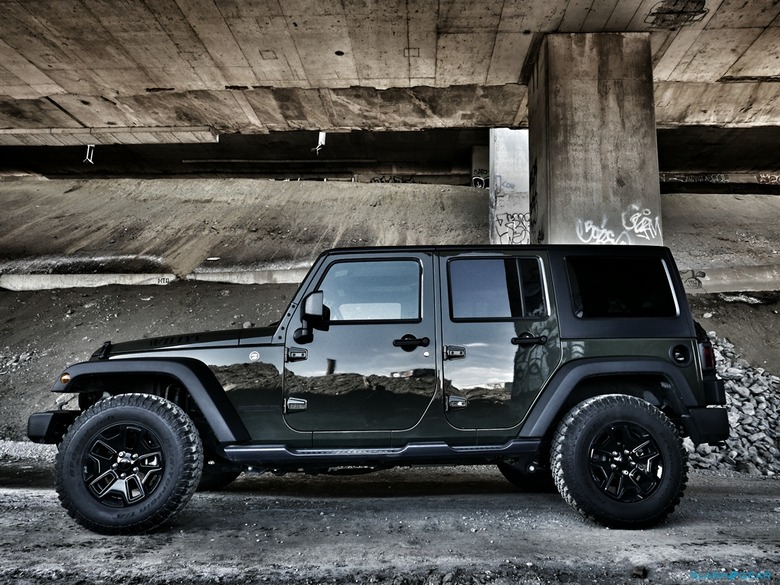 The truth of the matter is that it didn't take me long to feel a certain kinship with the Wrangler. In an era where almost ever interaction with modern automobiles is digitally metered and electronically softened, Jeep's SUV offers an immediacy and connection to the driving experience that is all too rare. I'm not trying to say that the Wrangler delivers the same horse-and-rider-as-one feeling as a classic sports car, but rather that it's as close to an honest experience as one is likely to get in an SUV.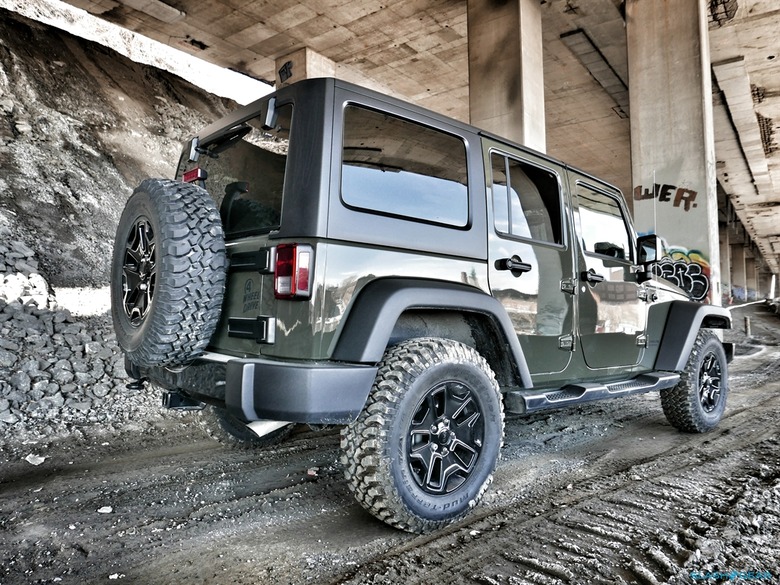 There are no pretensions surrounding the Wrangler Unlimited. It looks tough, drives the same, and offers no apologies for its lack of air conditioned, massaging seats. You could drop it off a cliff and most likely still get it home in one piece, but you can't watch a DVD in the back seat. Faced with a slalom, the Jeep's natural instinct is to just run over the pylons and never look back.
The base four-door Willys Wheeler starts at $31,995, and unless you opt for the stripped-down Wrangler Unlimited Sport you're not going to find a more capable off-road chariot without spending a significantly larger sum of money. More importantly, there are no other vehicles out there that more quickly communicates membership in a very special automotive subculture than this back-to-basics Jeep. For a brand that has traded on the strength of its character for more than 75 years, that's an accomplishment every bit as satisfying as towing a Range Rover out of the mud.