2016.5 Mazda CX-5 Review: A family SUV can be driver-friendly too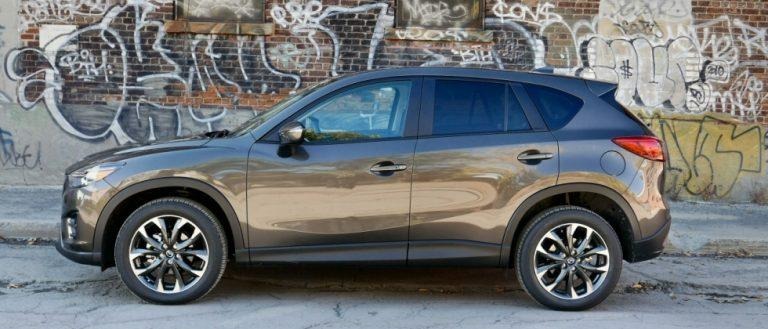 The 2016.5 Mazda CX-5 – yes, that half-model year is not a typo – just keeps on winning. Who would have thought that in the space of less than a decade, a company whose previous SUV efforts were limited to rebadged versions of the Ford Explorer and Ford Escape would be fielding such an enticing array of people movers? And that a compact hauler like the CX-5 would be leading the charge?
In retrospect, it shouldn't be too much of a surprise. Mazda is a company that is simply too small to make any serious mistakes on the global stage, and when it saw which way the sales winds were shifting – away from sedans and towards SUVs – it stepped up its game to bring its Skyactiv fuel efficiency program to a new family of carefully-researched and impeccably designed crossovers and sport-utilities.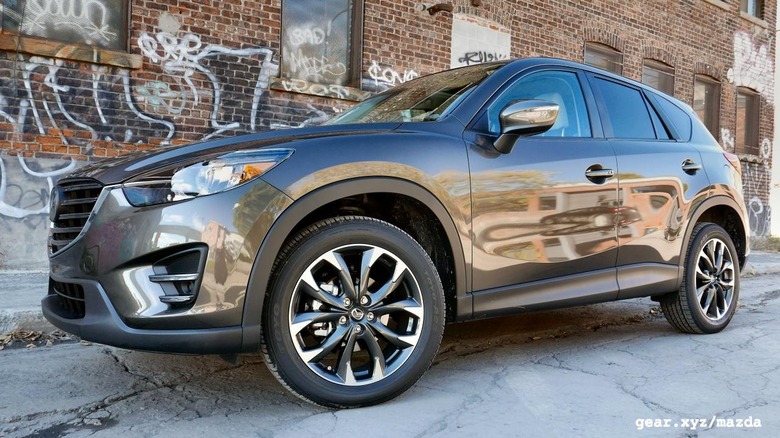 The Mazda CX-5 was the leading edge of the sword, and it's served the brand well as its standard-bearer among families looking for entry-level transportation that won't lull them back to sleep during the morning commute. Yes, that's right – Mazda has actually been able to bake in some of that fun-to-drive character that has long been a vital aspect of the brand's identity into even its most utilitarian designs, setting the CX-5 apart from other, less invigorating rivals.
First, however, it pays to examine the day-to-day details that position the Mazda CX-5 as a strong compact SUV contender. Above almost everything else an entry-level crossover needs to be both practical enough to handle family chores while at the same time remain affordable to buy and inexpensive to operate (to avoid comparison to larger fare). In both of these respects, the CX-5 shines through with an impressive performance.
It starts inside, where the Mazda's rear seat room stands tall alongside competitors like the Toyota RAV4 and the Honda CR-V, with no real penalty for second row occupants on longer trips (even if they happen to be full-size adults). In similar fashion, the CX-5 delivers 64.8 cubic feet of total cargo space when that same set of accommodations is folded forward, a number that keeps it within arm's reach of segment leaders while trouncing a number of other compact choices offered at a similar price point.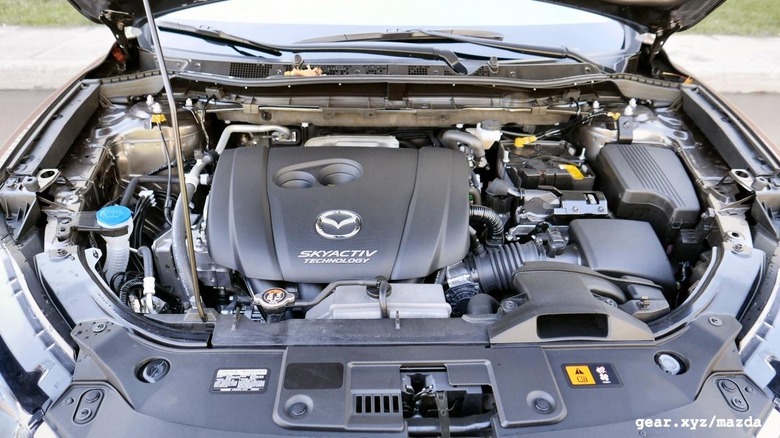 Frugality is also one of the 2016.5 Mazda CX-5's strong suits thanks to the pair of four-cylinder engine options it has on offer. The SUV's base motor displaces 2.0-liters and offers 155 horsepower and 150 lb-ft of torque, while the next-step-up 2.5-liter unit delivers 184 horses and 185 lb-ft of twist. Fuel economy is impressive: 29-mpg combined for both (with a 3-mpg penalty if you order all-wheel drive to go with the larger mill), a testament to the Skyactiv tech that Mazda has stuffed inside both drivetrains.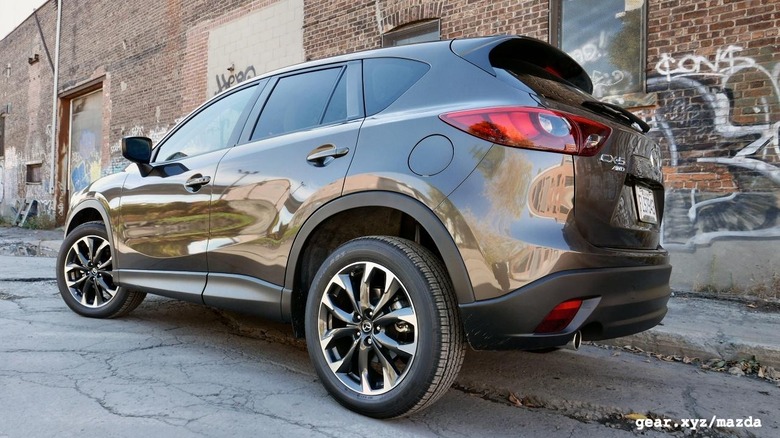 Is there a catch? Sure there is. The 2.0-liter engine feels a little underpowered for a vehicle the size of the CX-5, even when paired with its available six-speed manual gearbox. The more generously endowed versions of the Mazda have no such caveat, however, and that's what I spent the week with. Expect a respectable 0-60-mph time in the eight second range with your foot to the floor in the 2.5-liter model, with a six-speed automatic handling the gear change duties for you.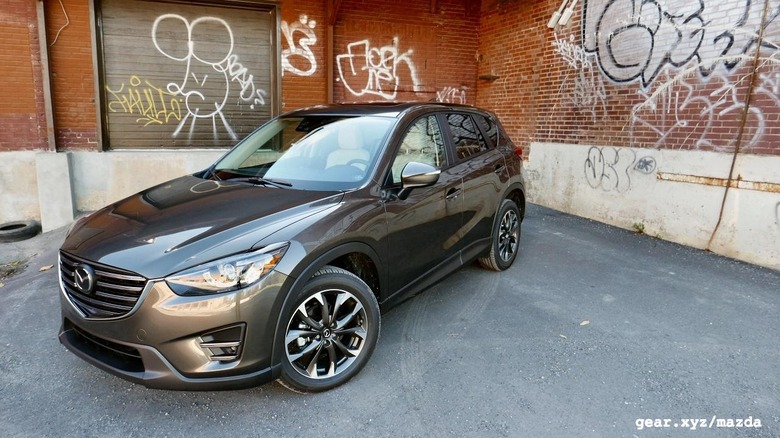 Past the added quickness offered by the top-tier four-cylinder engine, the Mazda CX-5 I piloted also offered the same fleet-of-foot reflexes that you'll find across the automaker's entire family of small crossovers. It's not so much that the CX-5 feels like a sports car, but more that it actually engages you as a driver in a way that few SUVs can claim. Steering input and suspension feedback aren't filtered out from the experience of being behind the wheel, which allows the Mazda to feel much smaller than it really is when tackling twisty sections of road. You'll actually enjoy the time you spend in the CX-5's cockpit rather than merely find it inoffensively bland, which is a huge accomplishment for an SUV of any size.
With the fundamentals down pat – affordability, fuel efficiency, and copious amounts of cargo and passenger space – I'm willing to give Mazda more of a pass when it comes to the other accoutrements of the modern driving experience. The CX-5 features Mazda Connect as its infotainment system, which employs the unusual combination of both a rotary controller and touchscreen interface – with the latter only available when the vehicle is stationary. It's a fairly basic system with graphics that are clear, if not particularly eye-catching, but it does offer access to some Internet-enabled apps over your phone's data connection (although Apple CarPlay and Android Auto are not available).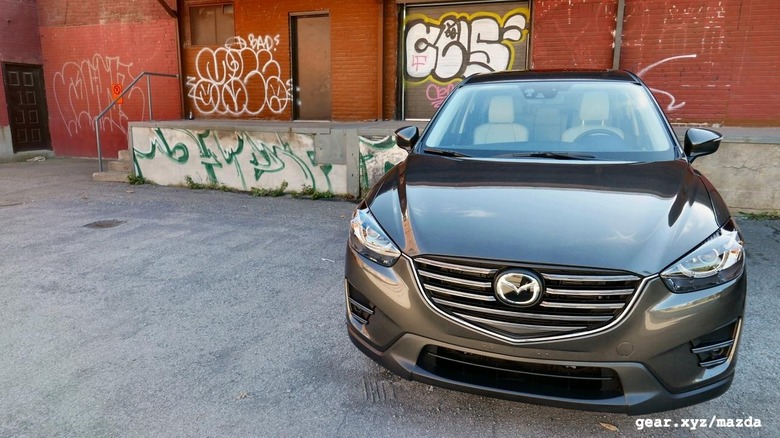 I was less impressed with the lane departure warning system's bizarre bass tone that it plays to let you know that you've strayed over the line, as it's easy to lose the sound in road noise or the music you are listening to. You can add forward collision warning with automatic braking to the CX-5's suite of advanced safety gear, too (which goes along with its blind spot warning system).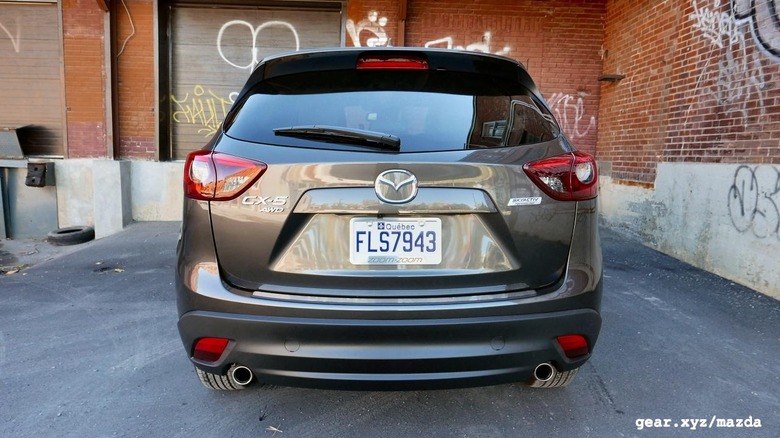 It's hard to go wrong when buying a compact SUV, as there are so many strong choices available that run the gamut from budget-friendly fuel sippers to luxed-out performance models. Still, if driving is an activity you enjoy, rather than a burden to be shouldered day-in, day-out, it's well worth test driving the 2016.5 Mazda CX-5 when it's time to replace your current ride with something a little more practical.