2015 Dodge Viper Is A 645 HP Beast, Will Strike Early Next Year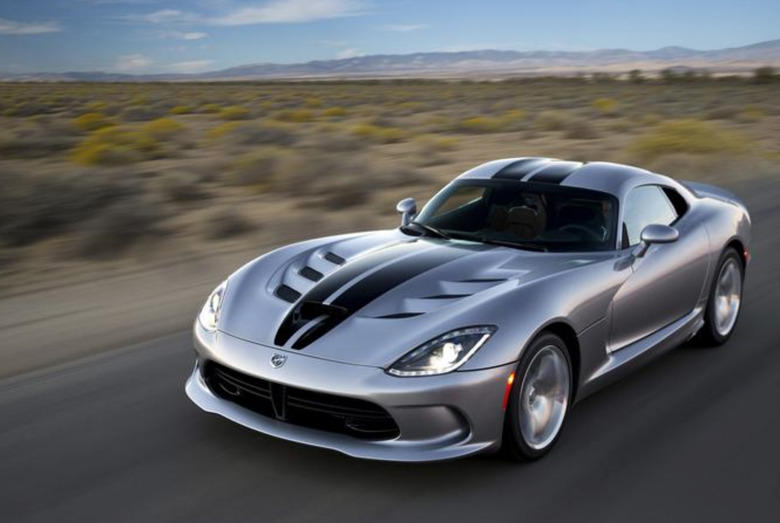 Detroit is alive and well, and ready to put some muscle behind its hustle. Today, Chrysler is announcing the 2015 Dodge Viper, a 600-plus horsepower monster of a vehicle. Though the newest Viper calls back through it's lineage, there's one major new feature that should have muscle-car enthusiasts excited.
The 2015 Viper will retail starting at $84,995 — a price Chrysler is quick to note is competitively similar to the original Viper, adjusting for inflation. In 1992, the Viper rolled off the production line, running right around $50,000, or about $86,000 in 2015 dollars, according to Chrysler.
For 2015, Dodge has re-worked the 8.4-liter V-10 engine to pump out 645 horsepower. Paired with the six-speed Tremec transmission, you'll still get 20 MPG highway. Tim Kuniskis, President and CEO of the Dodge and SRT Brands, says "The Gen 5 Viper maintains the purity of the original car, with its seductive design, perfect weight balance and all-aluminum V10 with an additional 245 horsepower. But the rawness has been tamed with state-of-the-art five-mode ESC, two-mode suspension, ABS, traction control, launch control and a lightweight structure comprised of carbon fiber, magnesium and aluminum. Despite the Gen 5's massive leap forward in technology and performance, we're pulling its starting price back to the equivalent of the original Gen 1 car."
Chrysler/Dodge also has an interesting new program for moving cars off the showroom floor. Starting today, all 2014 models will be reduced by $15,000. Current Viper owners will also be given a $15,000 voucher toward the purchase of a new Viper, and can be paired with the price reduction on the 2014 models, giving you $30,000 off.
Production of the 2015 Viper will happen in Detroit, starting later this year, and will arrive to dealers across the country in the first quarter of 2015.
Source: Chrysler