2014 Nissan NV200 "Taxi Of Tomorrow" Production Kicks Off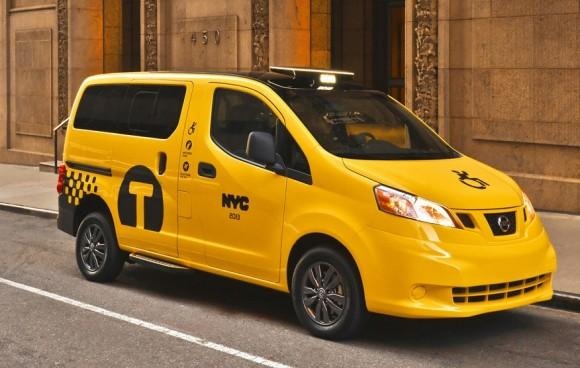 Nissan has announced that a taxi version of its NV200 compact cargo van model is now in production at a facility in Mexico. Being called the "Taxi of Tomorrow," the 2014 NV200 taxi is said to be designed specifically for the demands of New York City, with Nissan having gone so far as to set up a mock NYC road on its Arizona grounds for testing.
Says Nissan, back in 2011 the New York Taxi and Limousine Commission chose the NV200 as the City's exclusive taxi. Now the latest model is being produced presently in Cuernavaca, Mexico, with the auto maker saying that each unit comes off the line ready to go. Such required, among other things, some production line modifications and the addition of the taxi yellow paint color.
The 2014 taxi model is said to be the most specifically tailored among its offerings thus far, with the suspension having been tuned for New York City roads in particular, and with on-the-road data from NYC having been collected and implemented into the design. The data that was logged, says Nissan, was the equivalent of having driven on every street in Manhattan in excess of 300 times.
The NV200 taxi's standard features include spacing for four passengers and luggage from each individual, as well as grab handes and entry steps with the sliding door. The roof has a transparent roof panel that allows passengers to look up and see the city from a unique perspective, while the side window can be opened and the air conditioning in the back can be controlled independently.
Given the nature of a taxi, Nissan has implemented an active carbon headliner to help keep smells down, while the fabric is made of antimicrobial and easy-to-clean materials. There are charging ports in the back for those with USB and 12-volt charging cables. For the driver, there's an intercom system, a six-way adjustable seat, and optional partition.
SOURCE: AutoBlog