2014 Kia Sorento Justice League ebay auction exceeds $37,000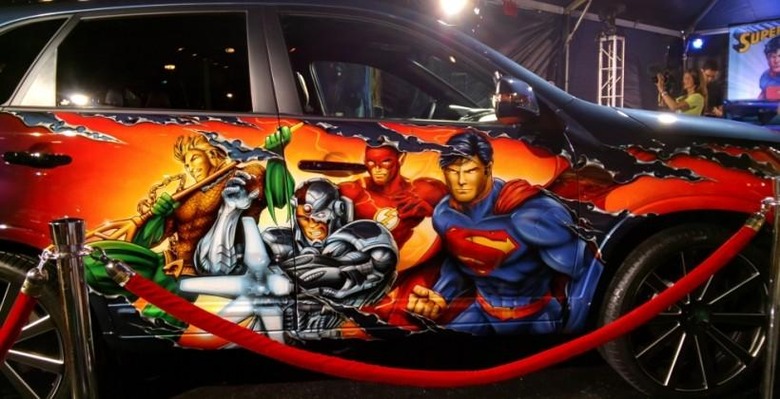 The Justice League might not normally show up to save the innocent in a crossover utility, but even Superman and Co. could be persuaded by a one-off Kia Sorento complete with custom Jim Lee artwork. The customized car is the eighth in a series of Justice League Super Heroes models Kia and DC Entertainment have produced. The first seven featured each of the seven heroes themselves – Superman, Batman, Wonder Woman, Green Lantern, The Flash, Aquaman, and Cyborg – while this final model brings all of them together.
While the Sorento might initially seem like an odd choice, it's actually one of the few cars in Kia's range that could accommodate the whole Justice League team; it, and the similarly 7-seat Sedona, in fact.
The custom artwork is the handiwork of famous comic book artist Jim Lee, and then hand-airbrushed by West Coast Customs. On the outside, the metallic blue CUV spreads its quote of superheroes on either side, with Justice League branding across the hood, and sits on some impressively oversized special black-finish alloy wheels.
Lee began the process by hand-drawing the design separately, coming up with eight different versions including the all-heroes car that will be auctioned off. West Coast Customs then powered up their airbrushes to splash that custom artwork across the Kia bodywork, a difficult process given there are 3D curves and cut-lines to take into account. Some of the earlier, individual hero cars have been even more outlandish, with Kia cutting Batman logos into the radiator grill, for instance, on the Caped Crusader's car.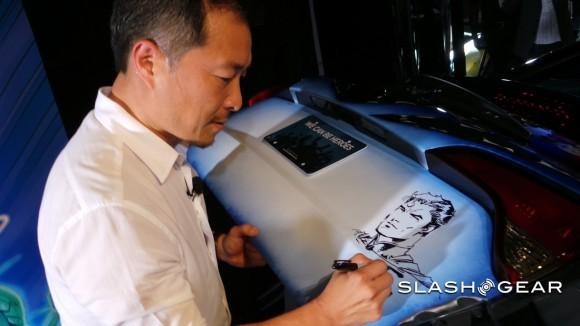 Inside, meanwhile, there's comic book artwork across the transmission tunnel and door trim, and – our favorite feature – each of the leather seats gets a hero's logo on the headrest, and matching piping. In case you're wondering, Superman is driving and Batman called shotgun.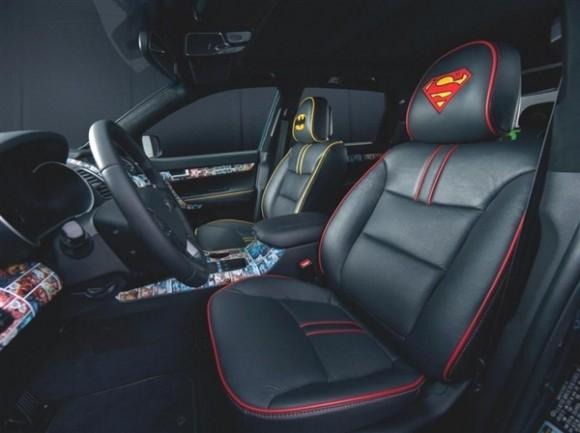 More normally, the Sorento starts off at just over $24k for the somewhat less ostentations LX 2.4L with a six-speed auto transmission. You still get the seven seats, though, as well as SiriusXM radio, Bluetooth streaming, power windows, air-con, and 17-inch alloy wheels. Both front-wheel drive and all-wheel drive versions are offered, with up to 26mpg possible depending on model and driving conditions.
"Kia and DC Entertainment are both global brands sharing a youthful and creative mindset" Michael Sprague, EVP of marketing & communications for Kia Motors America, said of the collaboration. "With Jim Lee's vision combined with the efforts of some of the best customizing shops in the business, it's going to be a lot of fun unveiling these cars around the country."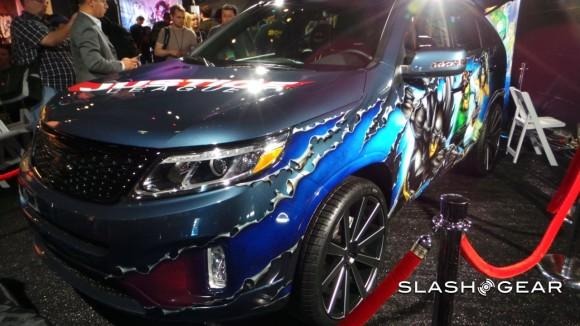 The limited edition Sorento has been shown off as part of a Kia collaboration with DC Entertainment at Comic-Con 2013, in association with the "We Can Be Heroes" campaign, as well as at other events through the year. Best of all, Kia is selling off the Justice League Sorento in a charity auction. Running until July 27, with a starting bid of $35,000, proceeds will go to Mercy Corps. [Limited edition Sorento auction on ebay]