2014 Corvette Stingray Convertible First-Drive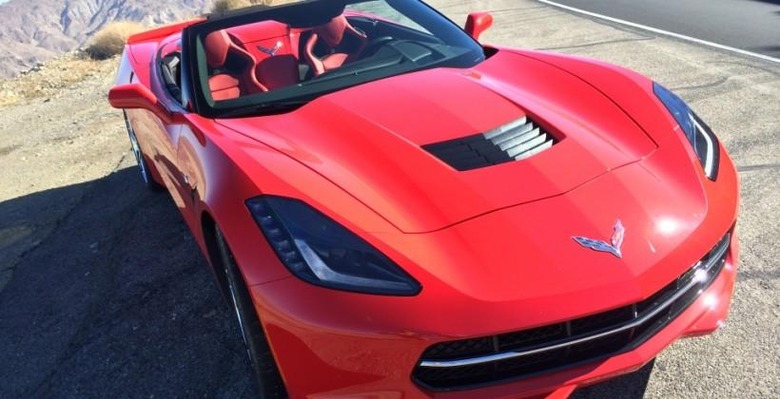 How do you reinvent an icon? The Corvette Stingray C7 brings the coveted Chevrolet into its seventh generation, facing perhaps its most challenging competition yet as engines get more powerful, electronics more finessed, and styling more aggressive. Chevrolet's decision to still aim for that all-American bargain price tag versus the German alternatives is ambitious too, even when you splash out a little extra on the eye-catching Stingray convertible we've had the keys to.
The Corvette Stingray is an icon, certainly, but icons aren't necessarily perfect, and the old convertible was good example of that. It looked the part, but shortcomings in torsional rigidity and underwhelming cabin quality in comparison to rivals from BMW, Mercedes, and other marques left it playing catch-up.
There's no way you could describe the 2014 Stingray as backward. For a start, there's that achingly sharp exterior design, with sharp crease lines, deep gouges out of the bodywork, jewel-like lamps, and aggressively proportioned arches and hips with a sharply pinched-in waist. It's low and sinuous, and looks particularly good if you're standing over it (or, better, looking down on it) when the design manages to be both reassuringly familiar and strikingly modern.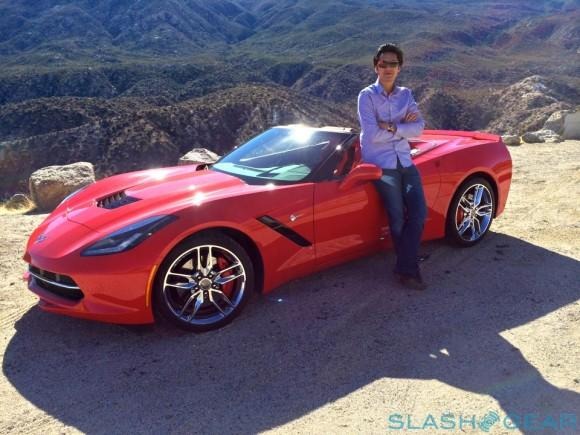 Our key concern about the drop-top had been body flex, but Chevrolet had got there before us and fixed it. Unlike the sometimes-wobbly C6, the seventh-gen car is effectively identical to its coupe sibling bar the simple soft hood. GM's designers specifically crafted an all-aluminum structure clad in carbon fiber and composite body panels that would be all but equally rigid whether it had a hard top or otherwise, considering not only the aesthetic of lopping off metal but the practicalities too. 
As for the hood itself, Chevrolet stuck with fabric rather than opting for metal: it's lighter, easier to store without consuming all the convertible's trunk space, and there's a little soft-top heritage to be considered, too. While it's fully electric it's also lightweight – around 60 pounds, Chevrolet says – despite having a proper glass rear window and extra insulation sandwiched between the layers. It'll disappear in 21 seconds, including while you're driving at up to 30mph, and you can trigger it from the key fob too. 
The result is a muscle car with polish. At first glance it's a bruiser, certainly, but allow your eyes to linger – and we've a feeling they will – and you start to notice the detailing. Sometimes it's on the outlandish side, like the quartet of shotgun-like chromed tailpipes, the Stealth Bomber-esque tail lamps, or the heavily vented hood. Others are more subtle, like the slick way the slope of the rear glass intermixes with the spoiler, or the functional vents atop the rear arches. Unmistakably a Stingray, yes, but obstinately modern with it.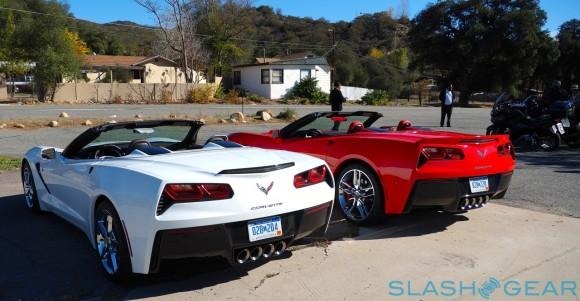 Chevrolet's reinvention continues inside, and the C7 cabin puts serious distance between it and the underwhelming interiors that came before it. Driver and passenger are each accommodated in their own curvaceous bubble, with the instrumentation cowl flowing down from the binnacle, around the center stack controls – hugging them in toward the driver in the process – and evolves into a grab-handle to echo the handle on the passenger side door. 
Corvettes haven't shied from molding before, of course, but what makes this 2014 Stingray different is the quality of each of the components. Gone is the oversized wheel, plasticky leather, unpleasantly hard dash plastics, and general lack of inspiration. In its place is a cabin that finally competes with the best of the German brands, Porsche included.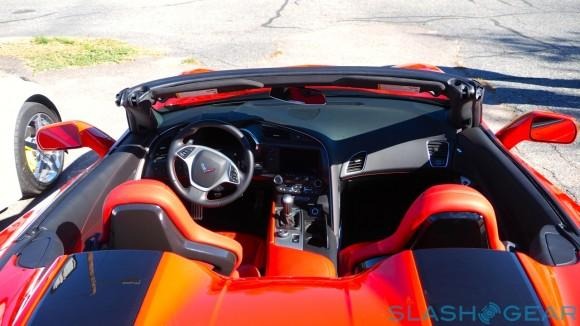 The seats – either the standard set or the $2,495 Competition Sport upgrades – are leather-clad and power adjustable, supportive where you need them to be, but still comfortable enough that we climbed out of the car after extended drives without feeling like we needed a massage. The wheel, smaller and more tactile than in previous cars, is electrically adjustable too, and through it you spy the new 8-inch driver information screen which can be notched through various different layouts ranging from retro, to minimal, to near-data-overload.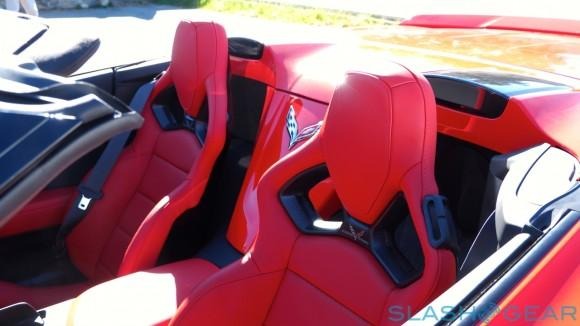 A second 8-inch screen lives in the center stack, a touchscreen hooked up to Bose audio as standard, and then there's a welcome spread of physical knobs and buttons for the common features. As standard you get a head-up display, OnStar, Sirius XM and MyLink connectivity, a reversing camera (useful given the aggressively small side mirrors and rear quarter windows) and keyless entry with a tactile starter button.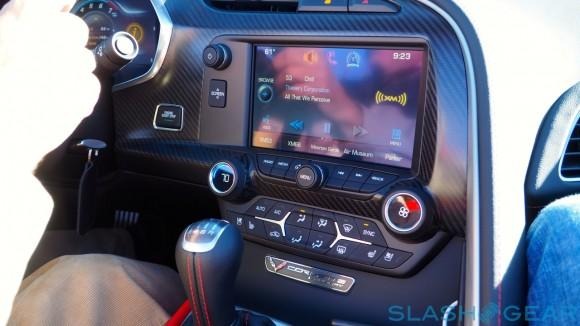 Best of all, it's all wrapped up in authentic materials, not plastic trying to make do: real carbon fiber, real aluminum, real leather. It makes a legitimate difference when you reach out and touch the dashboard, or grab a handle, and your fingers are telling you the same as your eyes. More than impressive when you consider the $56,995 starting price for the LT1 Stingray convertible.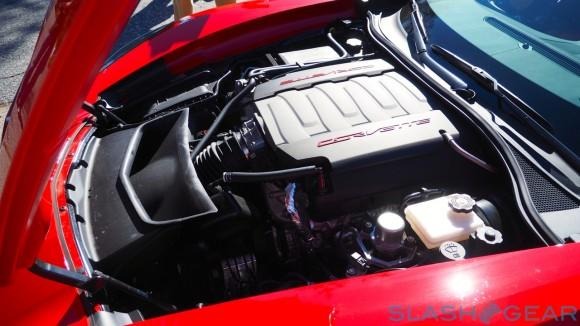 That gets you the 6.2L V8 VVT DI with Chevrolet's seven-speed manual gearbox, all new for 2014 and pushing out 450 HP and 450 lb-ft of torque. It's not only the most powerful standard Corvette engine ever, the company says, but the most efficient; if you're relying on the Stingray convertible as your daily driver, then you'll probably be interested in the 17 mpg city and 29 mpg highway estimates too. 
Chevrolet pairs the 6.2L with a mixture of electronic and mechanical magic. For a start there's 50/50 weight balance, with the engineers juggling different materials to keep front and rear leveled up, and all four wheels get disc brakes with four-channel ABS and tire pressure monitoring. The clutch is firm – there's a six-speed auto with paddle shifters if you'd prefer – but not out of keeping with the character of the car, and the electric power steering is nicely weighted and suits the smaller wheel well.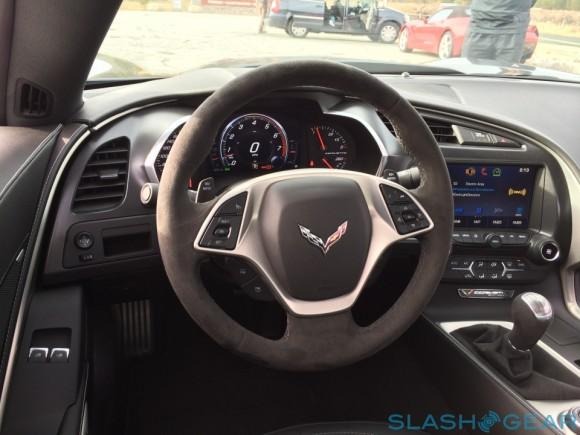 The other wheel of note is much smaller, but no less important. The five-position Drive Mode Selector flicks the Corvette through different settings to suit road conditions, with Chevrolet saying twelve different vehicle attributes are adjusted within each program. Weather, Eco, Tour, Sport, and Track are on offer, depending on whether you're cruising or pushing the Stingray hard; Chevrolet will also sell you an optional Z51 sport package, which for around $2,800 upgrades things like the brakes, differential, and shocks; shortens the gear ratios; and even slaps on a few aerodynamic changes. A $1,195 sport exhaust upgrade loosens up the horsepower a little, too, not to mention giving the car a little extra bellow.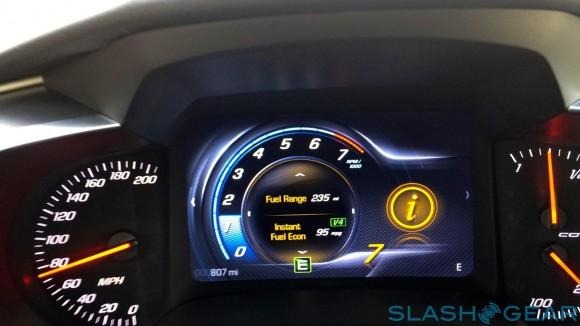 The result is a monster, in all the best ways. Of course it's fast in a straight line – Chevrolet says the Z51 variant will do 0-60 mph in 3.8 seconds and run a quarter-mile in 12 seconds – and the 6.2L engine does an excellent, addictive job of pressing you back into the leather buckets while the Brembo brakes haul you in with alacrity. However, it's also fast when faced with corners, the low center of gravity, precise steering, and grippy tires making it a case of simply pointing the Stingray where you want to go and then hurtling there.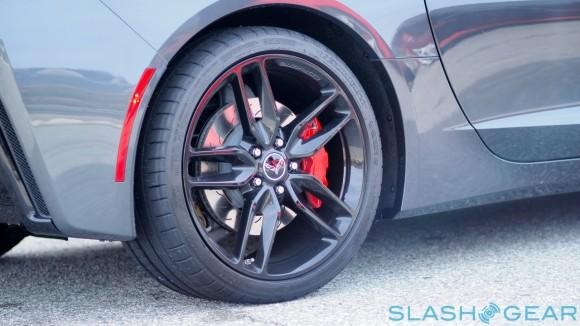 Feedback through the wheel and the pedals is as communicative and clean as you'd hope, and the 18/19 standard wheels front/rear (19/20 on the Z51) soak up bumps while at the same time reminding you they're there, leaving you informed but not bruised. We had the chance to test the optional Magnetic Ride Control suspension, a $1,975 add-on, which further broadens the Stingray's road-manners, taking it from super smooth long-distance tourer down to aggressive track-car and everything in-between.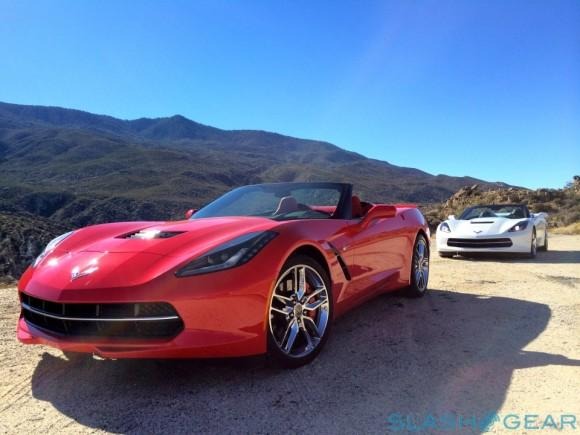 That multiple personality punctuates the whole 2014 Corvette experience, in fact. Roof down, Bose system singing, and Drive Mode set to Tour, and the car slips effortlessly through the roads: not blunted, but not demanding either. Waking things up, though, is a case of flicking the dial over to Sport and feeling the car tauten around you. You can still leave the top down and not worry about undue buffeting, but the whole experience has shifted over to Porsche and Jaguar F-TYPE territory.
It's no small achievement when you consider how far the C7 needed to come from its predecessors in order to claim that. Design, build quality, performance, chassis, brakes, and refinement: nothing has been left untouched for the new car. That the 2014 Corvette Stingray does it while still costing under $60,000 is, frankly, incredible. It's the car Chevrolet needed, and the car we hoped they'd make, and this all-American icon just keeps getting better.