2013 Nissan Leaf unveiled in Japan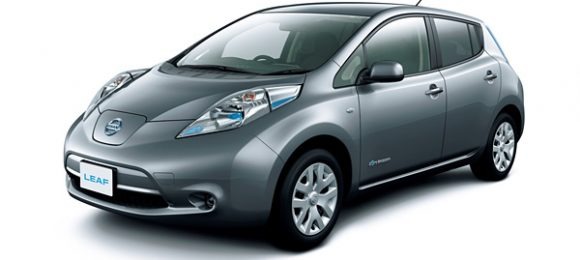 Today, Nissan has unveiled their 2013 model of the Leaf in Japan. The new model features a bevy of minor upgrades, as well as cheaper trim model for the budget-conscience crowd. Nissan says the new 2013 models will be aimed at those who haven't yet taken the plunge of purchasing a Leaf since the car's original launch in 2010.
The cheaper 'S' model will use steel rims and wheel trims instead of alloy, and a less distinctive black interior, as well as regular halogen headlamps, instead of the LED units in the current Leaf. However, Nissan confirmed that the Leaf S doesn't sacrifice any performance to the higher-spec models, and that MPG ratings are the same as well.
Nissan has also reduced the 2013 model's overall weight, and included more trunk space, providing 13 cu-ft. instead of 11.6 cu-ft. Nissan has used lighter parts throughout the car, and have also combined parts together in order to reduce weight. Along with an improved battery module and more integrated electronic units, the new model has lost over 170 lbs.
Along with a new motor, and between the weight reductions and a re-jig of the steering technology, the 2013 Leaf should accelerate and handle better than previous-gen Leafs. While the new 2013 Leaf will be making it's way to the US next year, Nissan has said that the US model might be different than the Japanese version.
[via Green Car Reports]