2013 Fiat 500 Cattiva unveiled with "devilish" design ahead of public debut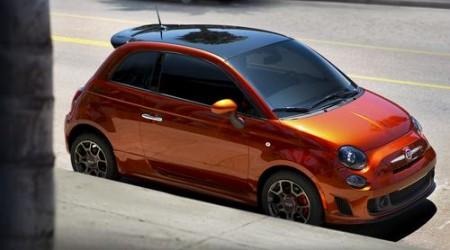 Chrysler has introduce a new 2013 Fiat 500 model, the Cattiva, which stands for "naughty but cool" in Italian. The name describes the auto maker's direction with the car's design, which it calls "devilish" and says has a "blacked-out" look. The car will also be available in a Turbo model, with both it and the non-Turbo edition making their debut later this week in California followed by arrival in showrooms.
The 2013 Fiat 500 Cattiva is a limited-production model that will be available in Rosso, Rame, Nero Puro, Argento, Granito Lucente, Bianco, and Luce Blue colors, with the interior being offered with black and gray seats and silver accents. The rear lights, headlights, and parking lights have blacked-out bezels, while the wheels are 16-inch Hyper Nero painted aluminum sets. The roof, meanwhile, is glossy black.
Under the hood, meanwhile, is a 1.4-liter MultiAir engine accompanying a C514 five-speed manual transmission. The EPA mileage rating sits at 31MPG in the city and 40MPG on the highway. There's a "Sport" mode the driver can select for a "more aggressive throttle map." For those who prefer it, there's also a six-speed auto transmission option. The Turbo model offers 34-percent more power than the non-Turbo model.
The newest Fiat will be available in the fourth quarter of 2013, and will start at $18,350 USD in addition to an $800 USD destination fee. For the Turbo mode, the pricing starts a bit higher at $20,350 in addition to the same destination fee. The car will be debuted at the Concorso Italiano this week at Laguna Seca Golf Ranch in Monterey, California.
Chrysler's head of FIAT in North America Jason Stoicevich said: "The FIAT brand is all about personalization and self-expression. Now, Fiat 500 customers have a chance to showcase a different side of their personalities with the special-edition 500 Cattiva exuding a devilish designed-for-the-streets look."
SOURCE: Chrysler