2012 Chevy Sonic Gets 40 MPG On Highway With 1.4L Turbo Power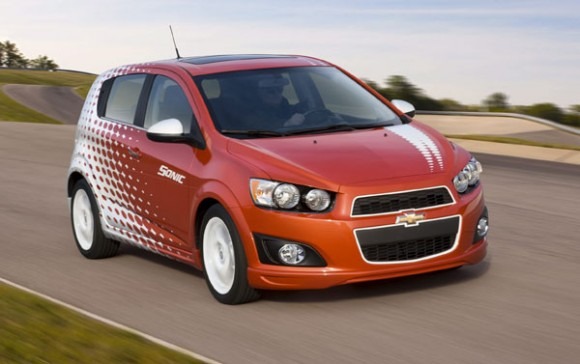 I am a fan of performance cars and it's great to see over the last year or so that the big automakers out there aren't abandoning the performance crowd even though they are pushing for more efficiency. The Ford Mustang with the 5.0 is one of the most powerful Mustangs in history and still gets good fuel mileage. Not everyone that likes sporty performance cars wants a big V8. There are lots of people that want smaller engines with turbos and better fuel economy.
Chevy has announced that the new small sporty car called the Sonic is getting 40 MPG on the highway using a 1.4L turbocharged 4-cylinder engine when mated with the 6-speed manual transmission. The car can go 0-60 in 8.2 seconds. The Ecotec turbo engine has 138 HP, giving it 18 HP more than the Ford Fiesta. The torque rating is 148 ft-lb between 2,500 and 4,900.
The engine uses a low-mass hollow-frame cast iron block, dual overhead cams with continuously variable valve timing, chain driven cams, roller finger camshaft followers, and piston cooling oil jets. The engine also has an integrated oil cooler, variable flow oil pump, and an electronic thermostat. The turbocharger is integrated into the exhaust manifold for less weight and the crank shaft and rods inside the engine are beefed up to live with the boost. I wonder if that integrated turbo and exhaust manifold will mean enthusiasts can do turbo swaps on the car. The base price for the Sonic is $14,495.