20 exotic supercars from Forza 4 Parked in one place!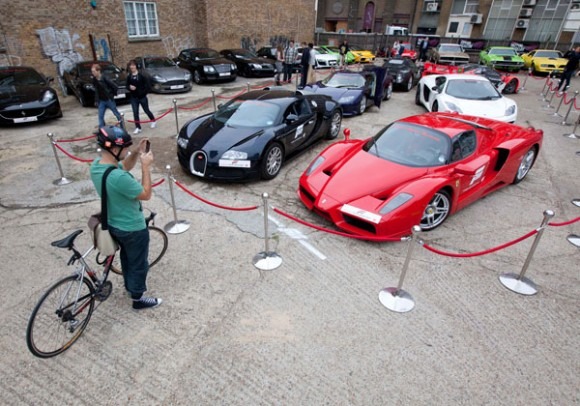 If you live in London you need to run, seriously run, down to the carpark called Shoreditch car park opposite the Holiday Inn on Old St, EC1V 9LN. To celebrate the pending launch of Forza 4 20 of the most famous and impressive cars for the Forza 4 game gather together at the car park after driving in as a convoy yesterday.
The cars are all there on display looking awesome and it appears The Stig is standing guard. Four of the cars in the pack are super exotics worth more than £1 million each. Those super exotic cars include the Bugatti Veyron, the carbon Pagani Zonda, McLaren F1, and a Ferrari Enzo. The cars were all provided by the London Motor Museum.
The outright purchase price of the cars would total £8 million pounds. The full list of cars on display is below.
• Aston Martin DBS Coupe
• Aston Martin Vanquish
• Audi R8
• Bentley Continental GT
• Bugatti Veyron
• Dodge Challenger 1970
• Dodge Charger 1969 (Hemi engine)
• Ferrari 458
• Ferrari California
• Ferrari Enzo
• Jaguar E Type 1961
• Koenigsegg CCX
• Lamborghini Galardo
• Lamborghini Murcielago
• McLaren F1
• McLaren Mercedes 2011 SLS AMG
• McLaren MP4 – 12C
• Mercedes SLS AMG
• Pagani Zonda (carbon edition)
• Pontiac Firebird Transam