13-Year-Old Researcher Finds Hand Dryers Are Harmful To Children's Hearing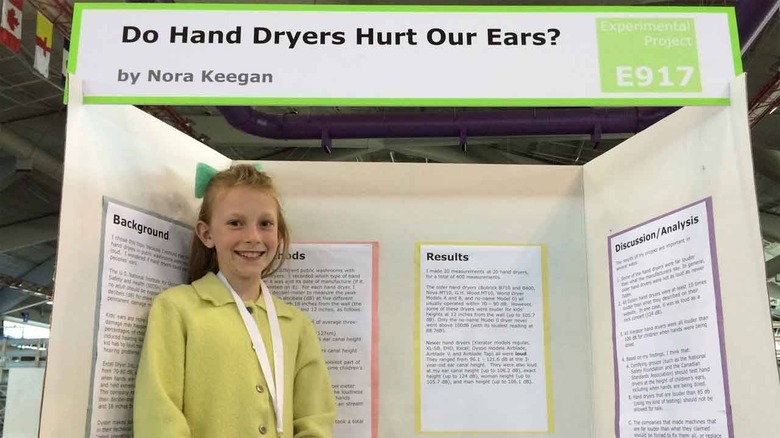 A 13-year-old Canadian girl named Nora Keegan set out in 2016 to determine if the blower type of hand dryers used in bathrooms around the world were harmful to the hearing of children. She said that sometimes after using hand dryers, her ears would start ringing. Keegan also noted that other children didn't want to use hand dryers and that the kids would cover their ears.
At 9-years-old Nora decided to test the volume of hairdryers and find out if they were harmful to children's hearing. The research that Keegan conducted was published in June after being conducted between 2015 and 2017. In her research, she visited more than 40 public washrooms in Alberta, Canada. She used a professional decibel meter to measure sound levels of hair dryers at different heights and distances.
She presented the results of her research at the Calgary Youth Science Fair earlier this year. She found that the common Xlerator hand dryers and two types of Dyson Airblade hand dryers posed the greatest threat to the hearing of children. Those types of hand dryers exceeded 100 decibels. Keegan pointed out that that volume can lead to learning disabilities, attention difficulties, and ruptured eardrums.
She says that her loudest measurement was 121 decibels measured from a Dyson Airblade. Health Canada doesn't allow children's toys to be sold that produce over 100 decibels, that range is known to damage hearing in children. Dyson has confirmed that an acoustics engineer would meet with Keegan to discuss her research.
Excel Dryer, the company that makes Xlerator hand dryers didn't respond to a request for comment, says the NPR. The research found that many hand dryers are louder at a child's ear height than at the height for adult ears. Keegan's research was published in the Journal of Paediatrics & Child Health.