Classic Harley-Davidson Motorcycles That Are Surprisingly Cheap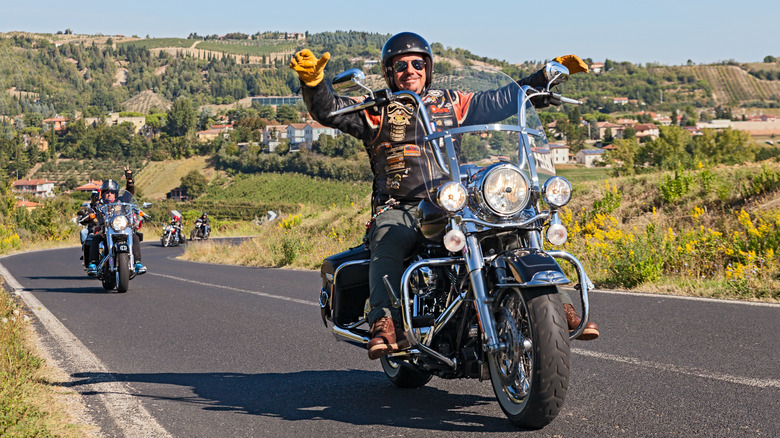 ermess/Shutterstock
Harley-Davidson needs no introduction among motorcycle enthusiasts. As a premium brand with a legendary status, its machines are known for being reassuringly expensive, especially when purchased new. However, some Harley fans might be surprised by their reasonable prices in used markets, with many models selling for less than $10,000 for a bike in good condition. For around the same money that you'd pay for a new mid-sized Japanese sports bike or a small second-hand car, you could find yourself cruising the freeways on a genuinely aspirational motorcycle.
As with all vehicles of a certain age, older Harley-Davidson bikes are not without their faults and quirks, but for those who love to tinker or are happy to put aside a little money for motorcycle maintenance, a used Harley is a labor of love that repays you in spades. So, let's don our leathers and fire up our hogs as we take a look at some of the best bargain bikes that left Harley-Davidson's Milwaukee production line.
Harley-Davidson Heritage Softail Classic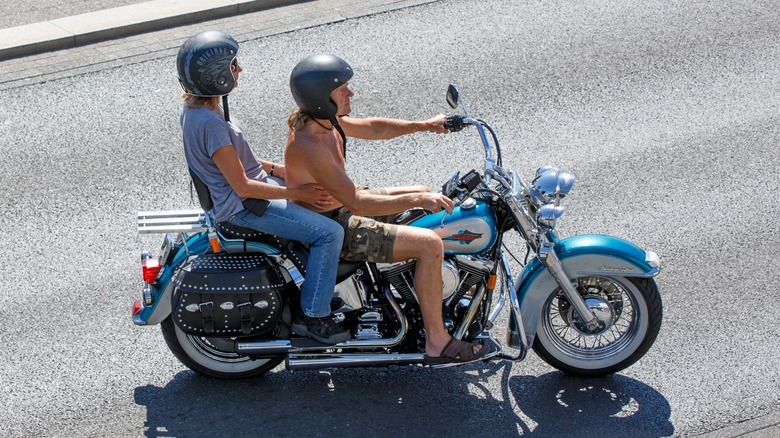 Daniel Bond/Shutterstock
In the 1980s, the Japanese ruled the motorcycle roost, with fiberglass-swaddled sports bikes such as the Suzuki GSSX R-750 and Kawasaki GPZ900R Ninja dominating much of the market. Harley Davidson reacted to this trend, not by delivering a similar fully-faired racing machine, but by going back to its roots with a modern classic that resembled the Harleys of the 1950s. Thus, the Heritage Softail was born.
With its full fenders, floorboards, and low riding position, the vintage styling of the Softail Classic belies its excellent modern engine. Riders of this 1,690cc V-twin are treated to the best of both worlds, as it offers them the performance, comfort, and touring capabilities of a modern motorcycle while making them look effortlessly cool. Still in production today, a new Heritage Softail Classic will cost upwards of $20,000, but if you're in luck, you can pick up a model in good condition from around 2011 for around half that price.
Harley-Davidson Sportster Iron 883
Despite being a little "clunky" for a street-oriented machine, this entry-level cruiser still looks and feels like a Harley, with its air-cooled V-twin engine and "bobber" styling. Rivals include the Indian Scout and the excellent Triumph T100 Bonneville, but for those fans of the H-D brand, there is no substitute. In many ways, it's a shame that the Sportster Iron 883's performance doesn't quite live up to its looks, with lackluster power in the higher rev range and vibrations that travel through the foot pegs and render the rearview mirrors useless.
But of course, none of these matters once you straddle the beast and take it for a cruise around town. For the Sportster Iron 883 is a thing of beauty, and most people looking for a practical motorcycle would opt for something else entirely. It's as if Harley placed performance far down their list of priorities for the 883 – something evidenced by the single front disc brake and stiff suspension with just 3.6 inches of travel. Still, if you want to impress your friends and save some dollars at the same time, you could pick up a 2015 model with low mileage for as little as $7,000.
Harley-Davidson Softail Evo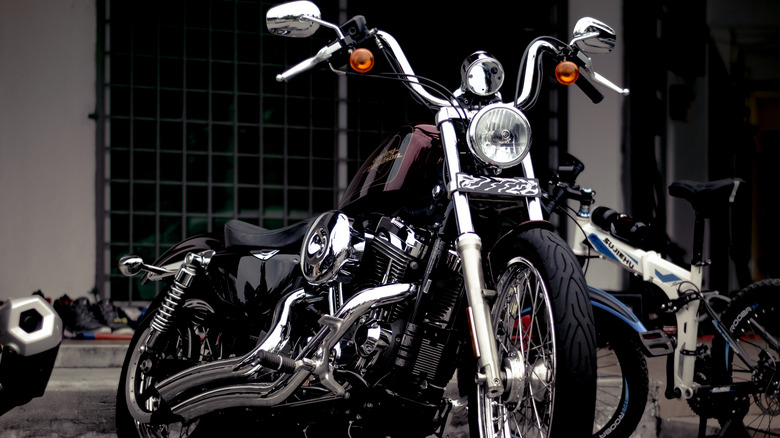 UGARAJ YATHAVAM/Shutterstock
It hasn't always been smooth sailing for Harley-Davidson, and towards the end of the 1970s, the company was undergoing a big shake-up as it went independent from its parent company AMF. Around this time, the US government placed noise and emission regulations on all engines, so Harley needed to come up with a new power unit to replace the antiquated "Shovelhead" block, which had its roots in the 1920s.
The result was the Evolution (or "Blockhead") engine which was installed in all Harley-Davidson V-twin bikes, starting with the Softail Evo in 1984.
This manufacturing modification significantly improved Harley-Davidson's product line as the new power unit didn't leak oil (for which the Shovelhead engines were notorious), ran cooler, and produced far fewer emissions. In short, Harley had been forced to modernize and was much better for it. Sales picked up, and the company was saved from a possible demise, thanks in no small part to the excellent Softail Evo motorcycle, which enjoyed a fifteen-year run and can be picked up for a bargain in today's used market. A late 1990s model in good condition should cost around $6,000, and as a bonus, it won't leave black puddles on your garage floor.
Harley-Davidson Street 750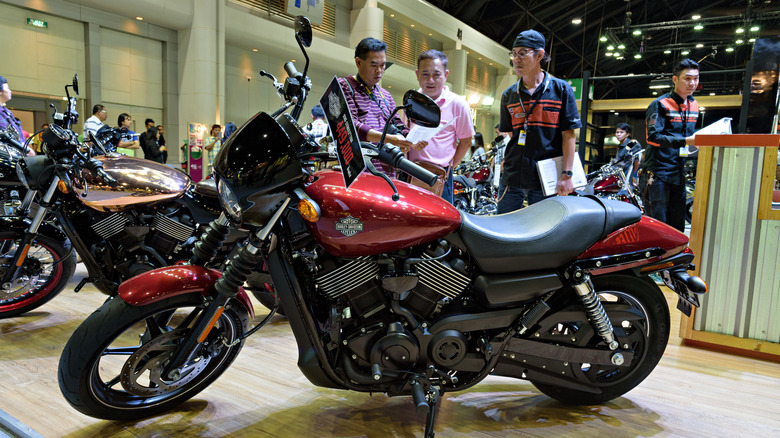 Foto by M/Shutterstock
When one thinks of a typical Harley-Davidson, the mind usually conjures a large hog with a low seat, forward footpegs, and ape-hanger bars, but the brand is more diverse than many people believe. One such example of this is the Street 750, which is one of the leaner bikes in the Harley product line, weighing 489 pounds. Street-oriented, as the name suggests, it is maneuverable, has a comfortable, upright seating position, and is an ideal entry-level bike for those pursuing the H-D brand but who don't want to jump right in at the deep end.
What some may find surprising is that this smaller-capacity 750cc engine produces over ten horsepower more than the much larger block on the Sportster 883, and while it's no road rocket, it is notably faster than its bobber cousin. Unfortunately, to keep the price down on this entry-level bike, Harley was forced to make some compromises that resulted in a messy wiring harness and some questionable machining, which you simply wouldn't see on cruisers from the great Japanese marques, such as Honda's equivalent Shadow 750. Still, you get a genuine Harley for your money, which could be as little as $4,000 for an early model.
Harley-Davidson Street Rod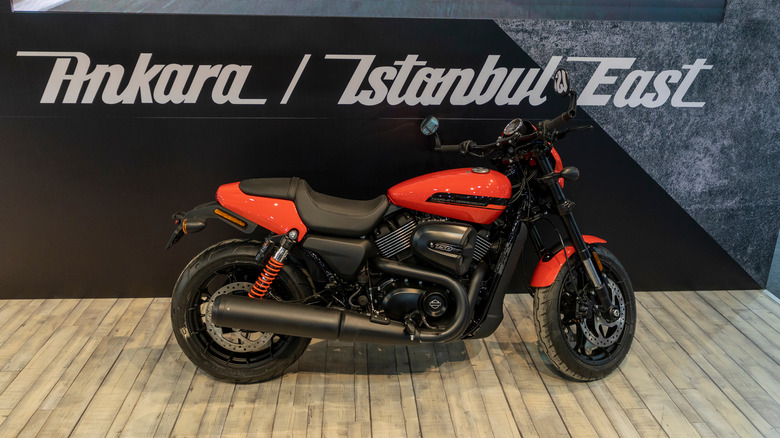 otomobil/Shutterstock
Three years after Harley-Davidson released the Street 750, the Street Rod rolled off the production line to great acclaim. The frankly sloppy issues that beset its predecessor had been ironed out, and all seemed right with the world. Small by Harley standards, this quirky machine was a competitor of street-oriented bikes of its day, such as the Triumph Street Twin or Honda CB500F. It is basically a sportier version of the Street 750, designed with performance in mind, but it is still unquestionably a Harley.
One issue that was addressed on this new generation street bike was the brakes, as Harley doubled down with two front discs and ABS as an option. The relatively short suspension travel was increased to 4.6 inches, improving handling, and the general fit and finish were hard to fault. For those in the market for a smaller bike from the big marque, you could do a lot worse than a used Harley-Davidson Street Rod, although taller riders may find their knees up around their ears, as the riding position is rather cramped. That being said, for the bargain price of around $7,000 used, you might be willing to compromise a little on comfort.
Harley-Davidson Iron 1200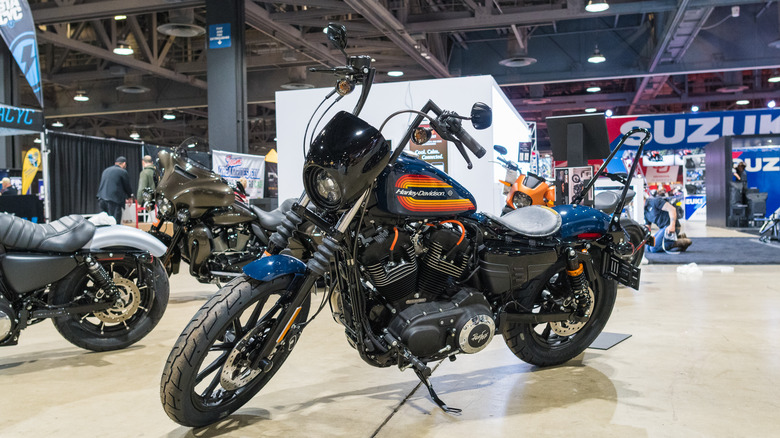 betto rodrigues/Shutterstock
If the two "Street" models are marketed as beginner bikes by Harley-Davidson standards, then the Iron 1200 is the big daddy of the Sportster family, and this powerful patriarch really looks the part. With its wide, low seat, semi-ape hanger bars, and splayed footpegs, you adopt a Harley stance as soon as you drop into the saddle.
While it may score a perfect ten on looks alone, the Iron 1200 is not without a few issues that, by now, are par for the Harley-Davidson course. Some consider its 1,202cc engine to be too powerful for its lightweight frame, and it lacks the maneuverability of other Sportys. It is reported to have a weak front brake (despite double discs and Brembo calipers), and its vibrations are said to feel like you're riding a spin dryer along the highway. But these are typical attributes that Harley owners have come to expect, and like an eccentric family member, they fully embrace the quirks. When all is said and done, the Iron 1200 is undeniably cool and is excellent value for money at around $9,000 for a recent used model.
Harley-Davidson Road Glide Custom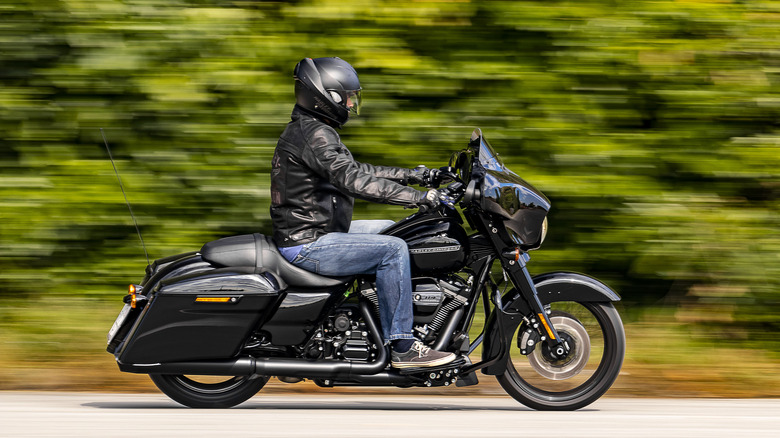 supergenijalac/Shutterstock
Harley is renowned for its big touring bikes, and the Tour Glide was its flagship model at its release in 1979, up against the mighty Honda Gold Wing, which dominated the touring cruiser market at the time. The Tour Glide line lasted until its model year 1996, then making way for the FLTR Road Glide starting in 1998.
Notable for being sandwiched between a half-faring and bagger tail to the front and rear, its looks sit somewhere between the old-school classic cruisers of the sixties and seventies and the more contemporary styling of its equivalents from Europe and Japan. While this is in keeping with the overall Harley-Davidson aesthetic, some might find its faring to be a little boxy, with even the recent editions looking ever-so-slightly outdated.
With that said, this is a bike that performs well over long distances, with a comfortable upright seating position, excellent wind protection, and added luxuries such as a built-in stereo and speaker system. The Road Glide Custom is a modern classic that is still very much in demand today, with recent used vehicles trading for over $30,000. It might be surprising, then, that a slightly older model can be bought for less than a third of this price while still offering many of the high-end features for which this premium model is known.
Harley-Davidson Forty-Eight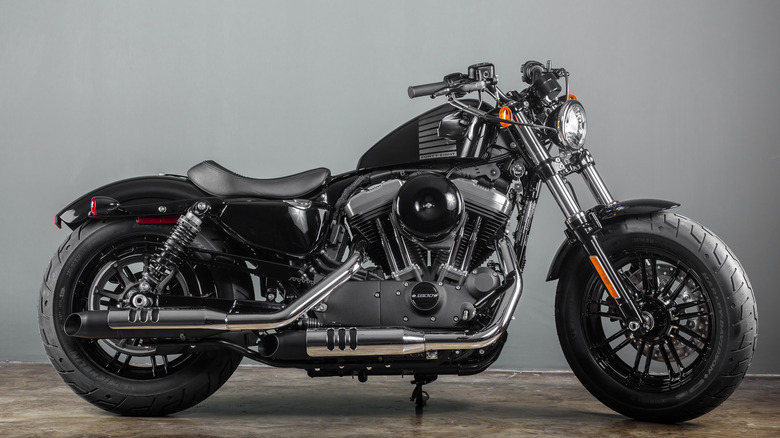 JULY_P30/Shutterstock
There's no doubt about it, the Harley-Davidson Forty-Eight is a great-looking motorcycle. However, when it comes to H-D, and the battle between function and form, function not only loses but often receives a pounding comparable to 12 rounds with Tyson Fury. As such, other models in the Sportster range have been dogged by vibration issues, handling issues, and comfort issues, and yet, these are the exact same bikes that adorn posters on walls in bedrooms, offices, and garages all over the world. It seems Harley Davidson knows its customer base very well indeed and knows exactly what sells and to whom.
The Forty-Eight was named after the year its "peanut" style fuel tank was introduced, but despite some retro attributes, this bobber is fashioned to suit modern tastes. A rubber-mounted engine block has helped to alleviate some vibration issues, its low solo seat is comfortable, and features include a long and low frame and fat tires, a final belt drive, and Harley's ubiquitous 45-degree V-twin engine with a 1,200cc capacity. Yes, it's a custom model built mainly for show (who ever thought under-mounted mirrors were a good idea?), but you can pick up a 2010 model for less than $4,000, which is a small price to pay for such an undeniably cool machine.
Harley-Davidson CVO Fat Bob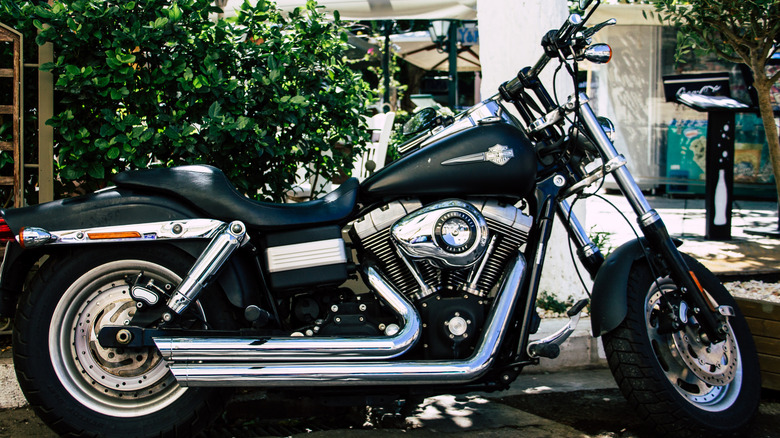 Jose HERNANDEZ Camera 51/Shutterstock
While we're not sure who the "Bob" in question is, much less his dietary habits, he gave his name to one of the finest motorcycles to grace the Harley catalog, and for that, we are grateful. Of course, it's just as likely that the Bob in its moniker refers to the bobber styling of this cruiser, and Fat refers to its monster 1,802cc engine, but in any case, this is one remarkable machine. CVO stands for "Custom Vehicle Operations," so you know you are getting something special right off the bat here.
With a short production run between 2009 and 2010, the CVO Fat Bob still has legions of fans among Harley enthusiasts, and for a good reason. It has excellent attention to detail with its spun aluminum dials, Alcantara-accented leather seats, and lavish chrome forks, tailpipes, and other accents. The premium features are too many to list here, but suffice it to say this bike comes with a gold ignition key in a special display box. Everything about it screams exclusivity, so one might be surprised to learn that you can buy one for just under $7,500.
Harley-Davidson Dyna Low Rider S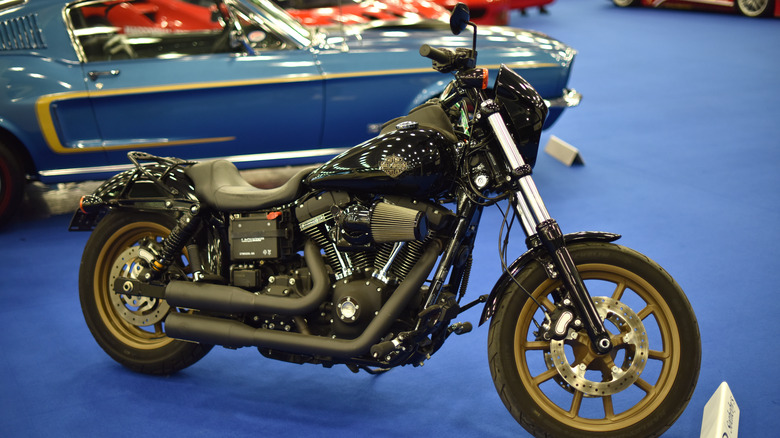 John Keeble/Getty Images
Henry Ford once famously said, "Any customer can have a car painted any color that he wants, so long as it is black," and this certainly applies to the Harley-Davidson Dyna Low Rider S. This bike is a beautifully-crafted gothic masterpiece exclusively in vivid black with barely an inch of chrome on display and high-performance specs. In profile, its blacked-out Screamin' Eagle twin-cam V-twin engine is at once imposing and impressive, and the low solo seat that gives it its name makes it look like a crouching panther, ready to pounce.
All this gushing rhetoric would be pointless if the bike didn't perform, and this was the primary focus for all S-series cruisers, including the Fat Boy S and the Softail Slim S models. It includes a premium suspension, double disc brakes with ABS, Harley's 6-speed Cruise Drive transmission, and the brand's Heavy Breather air filter that protrudes, turret-like, from the right-hand side of the beefy 110 cubic-inch engine. Every bike is a sum of its parts, and here Harley went all-out to ensure they delivered an exceptional machine, albeit for $2,750 more than the standard Low Rider at its time of release. A 2017 Low Rider S, therefore, retails for as little as $12,000 in used markets, and you certainly get a lot of bang for your buck.
Harley-Davidson Sportster 1200 Custom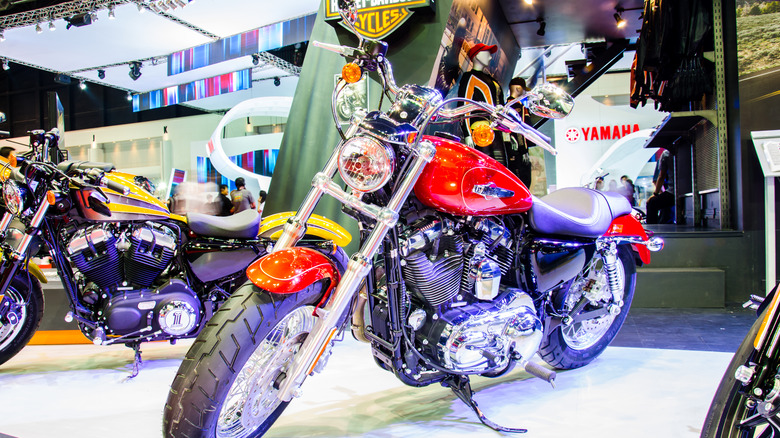 Chatchai Somwat/Shutterstock
Those looking for the sweet spot between style and practicality might consider the Sportster 1200 Custom as a one-size-fits-all solution. Weighing fewer than 600 pounds, this powerful Harley is easier to maneuver in traffic and, on the whole, a far more sensible and unintimidating machine than its iron-horse counterparts. You wouldn't cause a stir while popping to the deli for a sandwich on the 1200 Custom, but you could just as easily hold your own at bike meets while chatting with the leather-clad, bearded masses.
Most of us would be lying if we said that image has nothing to do with why we ride, and looking cool has likely been the main focus of Harley's marketing division for decades. However, the rider experience must always top the list of priorities, and this is what you get with the Sportster 1200 Custom. A highway-ready, classically-styled Harley-Davidson that performs well through the twisties, offers all-day riding comfort and doesn't break the bank at around $9,000 for a five-year-old model.
Harley-Davidson Dyna Super Glide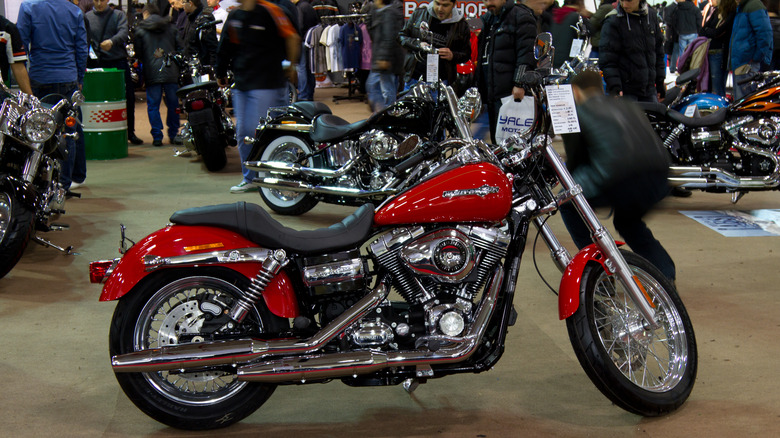 EvrenKalinbacak/Shutterstock
Fans of FX's "Sons of Anarchy" will instantly recognize the Dyna Super Glide, as ridden by the lead cast member Jackson "Jax" Teller. This powerful yet sleek machine appeals to those looking for a sportier ride that retains the Harley-Davidson aesthetic with plenty of muscle, classic lines, and cruising comfort for hours. As one of Harley's bestselling bikes, this 1,585cc monster is surprisingly nimble, which adds to its appeal as riders won't find themselves sitting in traffic for hours waiting for a wide-enough gap to appear.
Another factor that adds to the popularity of the Dyna Super Glide is that this no-frills machine is eminently customizable, as many Harley-Davidson riders like to put their own personal stamp on their rides. However, despite this popularity, it's not without some issues. These include a short travel rear suspension that can send seismic shockwaves up your spine when it so much as sniffs a pothole and lackluster cornering abilities, partly thanks to a low-hanging muffler. Yet, these minor quirks aside, the Dyna Super Glide is still a great-looking bike that is one of the more practical motorcycles that H-D ever made, and a good-condition Sons of Anarchy-era example can be yours for the bargain price of around $6,000.