The 6 Best SD Memory Cards For Nintendo Switch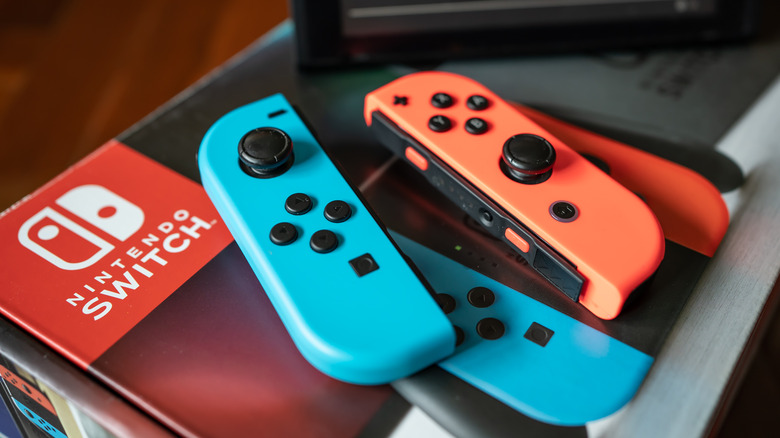 Wachiwit/Shutterstock
We may receive a commission on purchases made from links.
Games these days are getting bigger and bigger. And that means your game console's memory is getting smaller and smaller. One of Nintendo's most highly anticipated games "Tears of the Kingdom," the sequel to the acclaimed "Breath of the Wild," is about to boast an unprecedented 18.2 GB size file, making it the biggest game for the Switch made by Nintendo. Now that the Switch has been around for several years, and the system's game catalog is getting increasingly expansive, it's pretty common to find yourself having to download and redownload games given that the console's internal storage is only 32 GB. 
Luckily, most game systems have the capacity for expanded storage space with the addition of a microSD card. However, while a microSD card can make for an easy solution to the game storage problem, there are a bunch of different options out there that are better for certain users' needs. If you're looking to expand your console storage, but unsure of where to start, these are the 6 best microSD memory cards out there that are compatible with the Nintendo Switch.
Samsung Evo Select microSD-Memory-Card - 512 GB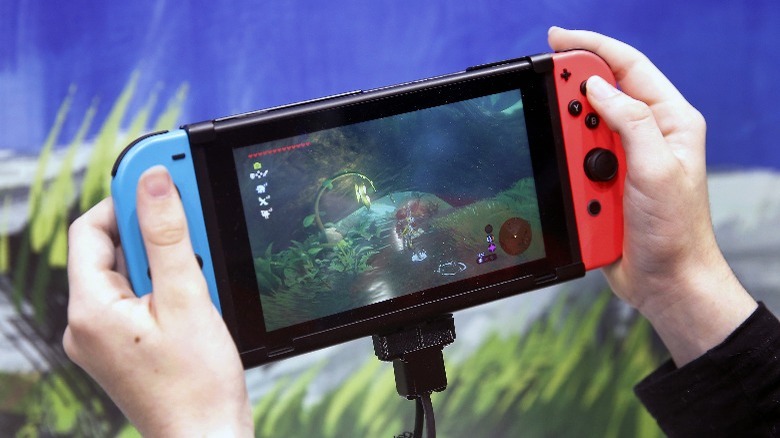 Chesnot/Getty
One SD card, which falls in the middle of the pack in terms of price point, still earns you a lot of bang for your buck. Though more expensive than some microSD cards at $44.99 (on Amazon), the amount of storage you get with this card is really fantastic while never compromising on performance. If you go with the Samsung Evo, you're essentially expanding your Switch's storage space 16 times over. 
The Samsung Evo comes with 512 GB of storage. The data transfer speed is up to 130 MB/s and the card itself can resist water for up to 72 hours. However, if you're a gamer who's not quite sure they need that much extra storage space, you can also get this microSD card in other storage sizes as well, including 256 GB, 128 GB, and 64 GB. Truthfully, the best reason to go with the 512 GB model is that you can currently buy it on Amazon for almost 50% off, meaning you're really making the most of your money.
SanDisk 128 GB microSDX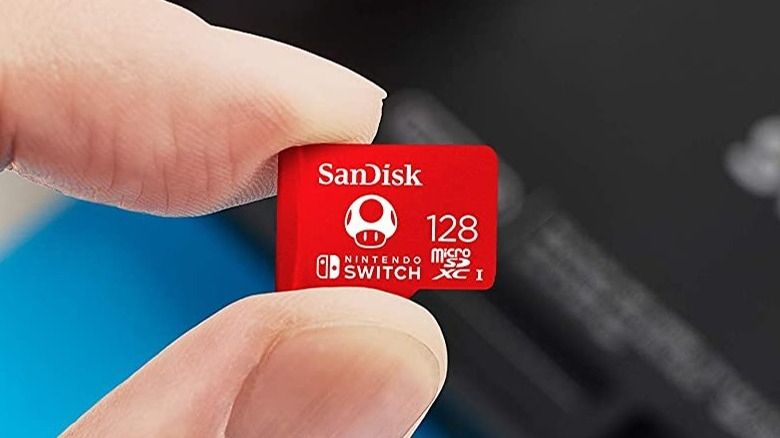 SanDisk
Sure, the reasoning for this one might seem a little trite, but it feels worth highlighting as an option. The SanDisk 128 GB microSDXC card is a great storage expansion option for your Nintendo Switch that comes with a little extra flair. Its price point is also quite good compared to some of the others on this list, and it has a personality you just can't beat. 
Currently priced on Amazon at $16.72 from SanDisk on Amazon as of this writing, this card is specifically licensed for the Nintendo Switch. If you want surefire compatibility at a great price, this is the card for you. The 128 GB version even comes with a fantastic Toadstool insignia on the front. While it's true that you won't be able to see the artwork when the card is in use (disappointing truthfully) it still makes for a nice touch. However, if you're looking for another size or even just some artwork that matches your favorite Nintendo property, you can also get a Zelda-specific themed one at 64 GB — or a 256 GB "Super Mario" star card, or a 512 GB "Animal Crossing" leaf card for a little extra money. One of the only downsides to this option is that the card's read/write speeds are 100/90 MB/s, respectively — which is not the fastest speed you'll see in a memory card, but it's still relatively high compared to some other models. 
Gigastone 128 GB 5-Pack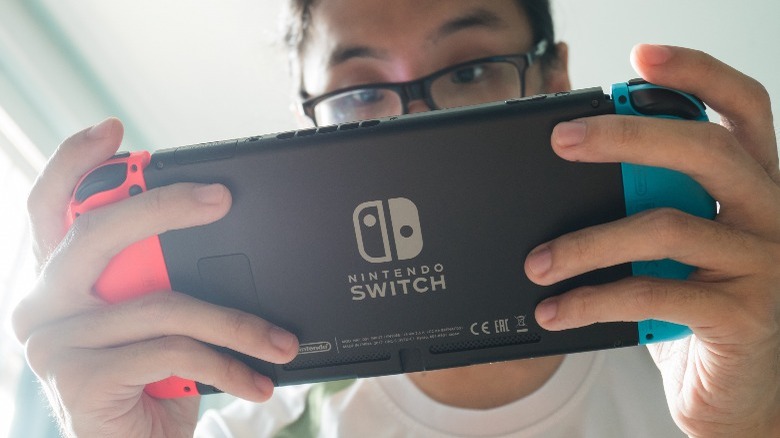 Wachiwit/Shutterstock
This pack option is a great solution for a family that might have multiple consoles or even just the solo gamer who needs a ton of bang for their buck. Gigastone currently sells 5-packs of microSD cards that have a 128 GB capacity each. Though the pack itself is slightly more expensive, considering what you're getting, this option is highly cost-effective. The greatest benefit to this option is, of course, that if you have multiple systems that need storage expansion, you can get them all in one swoop. 
Additionally, if you're looking for a lot of extra storage, and don't mind spending some time moving data around, the Gigastone 128 GB 5-pack is a great option at $59.98 on Amazon. If we break that price point down into per GB storage, the price comes out to roughly $0.10 per 1 GB of storage. Ultimately, that's a pretty good bargain. The only downside to this option however is that the read/write speed is the lowest on our list (so far) at 100/50 MB/s. 
Silicon Power 1 TB microSD Card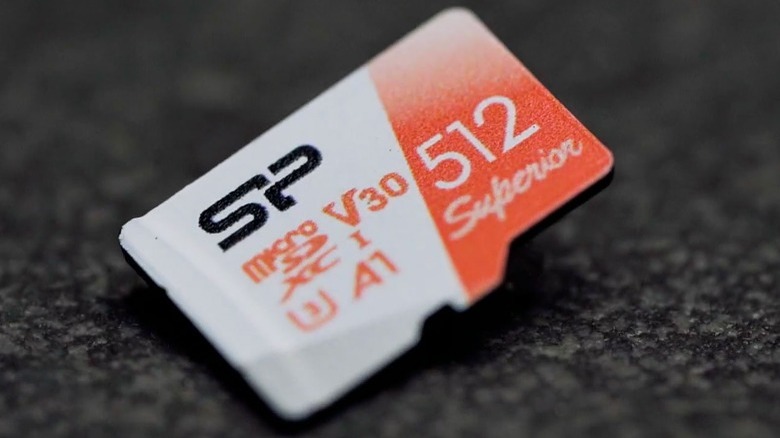 Silicon Power
This microSD card is probably best suited for gamers who need the absolute largest amount of storage regardless of cost. However, even though this option is definitively pricier than most, it's still a relatively good bargain considering its storage space. The Silicon Power 1 TB microSD Card is a great, wonderfully compatible option for the Nintendo Switch that will maximize your gaming experience. 
Currently, you can buy the Silicon 1 TB microSD Card for $79.97 in the brand's Amazon store. Generally speaking, most Nintendo Switch games are about 10 GB, so with the addition of a 1 TB microSD Card, you can add almost 100 brand-new games to your console's memory. Unfortunately, because of its size, the read speed for this card is definitely creeping along at 80 MB/s. But ultimately, this option is really intended for those with extensive game libraries, and may not be for a more casual gamer. 
Micro Center Premium 256 GB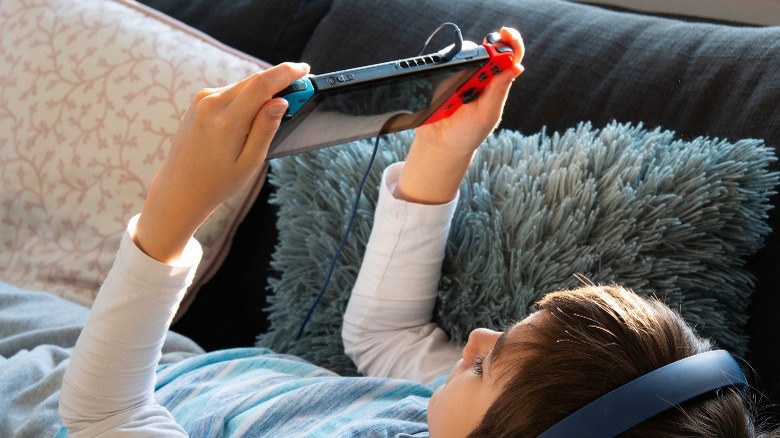 SrideeStudio/Shutterstock
This microSD card is effectively the best bang for your buck. It's also very well-suited for those who want something that doesn't necessarily have a lot of bells and whistles, but is effective and has an excellent price point. On top of that, this microSD card also has some variety and options within its class.
The Micro Center Premium microSD card is essentially your middle-of-the-road option. With 256 GB for an Amazon-listed $25.99, the cost-effectiveness of this purchase is relatively unparalleled. What's more, there are models that can offer up to 1 TB of microSD storage if you're looking for something more. Though, of course, those models are more expensive. Surprisingly though, despite a large amount of storage, even the 1 TB version can feature a read/write speed of 90 MB/s and 70 MB/s respectively. The 256 GB version, which is probably the most user-friendly/best casual gamer option offers 95 MB/s and 60 MB/s for read/write speed, landing it right in the middle of the pack in terms of storage and speed. 
SanDisk 400 GB Ultra microSDXC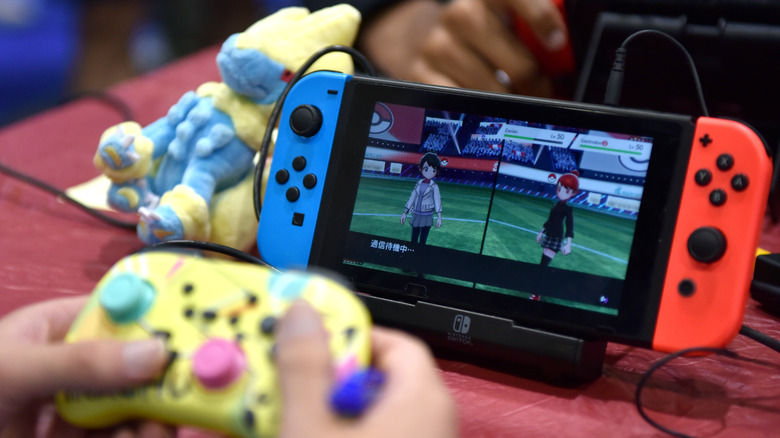 John Keeble/Getty Images
This microSD card option makes the cut by virtue of its unusual, yet effective storage size. In terms of price point, this option is also highly cost-effective. The SanDisk Ultra microSDXC boats an impressive 400 GB storage space, and falls in the middle of the pack in terms of price at $36.65 – that's via Amazon where you'll see that this is around half the normal price, making it a fantastic, cost-effective option. There are also other size options as well for prices that are nearly as decent.
With its unusually high storage space and excellent price point, the SanDisk 400 GB microSDXC breaks down to roughly 11 cents per GB, putting it right up there with some of the cheapest options available in the marketplace. However, the most unique feature of this card comes in the form of its speed. The SanDisk Ultra microSDXC offers incredible transfer speeds at 120 MB/s, making it one of the fastest microSD cards out there.
Which microSD card is best for you and your Switch?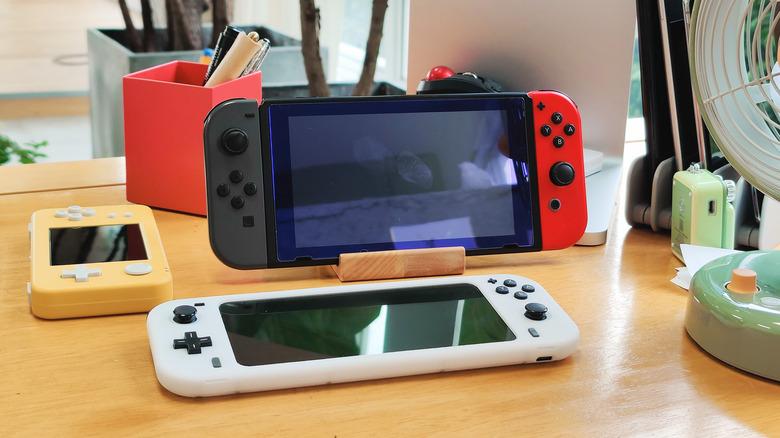 Jack Skeens/Shutterstock
Overall, there are a lot of really great options out there for expanding the internal storage space on your Nintendo Switch. As larger games start trickling down the pipeline, now is a great time to take advantage of the Switch's storage expansion capacity. However, there are obviously a lot of elements worth considering when it comes to purchasing a microSD card. How much extra storage should you get? How much does the read/write speed factor in on your decision? 
Ultimately, between the options on the list, the most cost-effective option based on the amount of storage you're getting is the Gigastone 5-pack. With the Gigastone 5-pack, you're essentially getting 640 GB of storage in addition to the flexibility of having multiple cards for multiple consoles. The Gigastone also has pretty decent read/write speeds, making it a reliable and effective option. The Samsung Evo Select is also another great option that rivals the Gigastone 5-pack in terms of sheer storage size but boasts an even more impressive read/write speed than most of its competitors. 
Of course, if you're a hardcore gamer who wants the most storage possible for the best price point, the Silicon Power 1 TB microSD Card is definitely your best option. You just can't beat 1 TB of storage in one place. In terms of cost-effectiveness, the price breaks down to roughly 12 cents per GB of storage, making it only slightly more expensive than the Gigastone 5-pack in terms of price per GB.