Mandalorian-Themed Xbox Series X|S Revealed, But There's A Big Catch
Celebrating the release of "The Mandalorian" Season 3, Xbox and Lucasfilm teamed up to create some unique merchandise. Two Xbox consoles (Series X|S), a themed controller, and even a matching controller hoodie are all up for grabs. The good news is that anyone can get them, but the bad news is that most people won't be able to.
"The Mandalorian" is a highly successful show set in the "Star Wars" universe, and many fans worldwide are rejoicing as the third season of the show begins streaming on Disney+. Starring Pedro Pascal in the lead role, "The Mandalorian" is one of the most beloved things to come out in the franchise in the last few years, with a score of 8.7/10 on IMDb.  
Alongside the success of the show, there are plenty of Xbox games that "Star Wars" fans can enjoy, such as "Lego Star Wars: The Skywalker Saga" or "Star Wars Jedi: Fallen Order." Could this new and exciting collaboration mean that a game based on "The Mandalorian" may be in the works? That much is unclear, but it's certain that there'd be some interest for such a title, given the size of the show's fanbase.
You need to be really lucky to score this bundle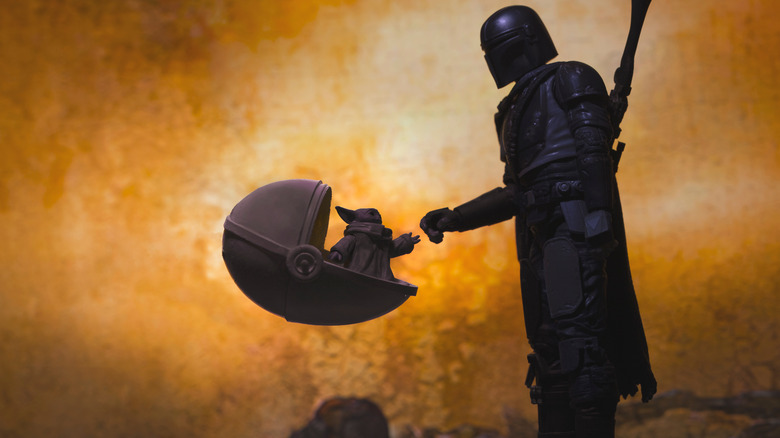 Willrow Hood/Shutterstock
Microsoft revealed the bundle in a quick blog post, talking about what it contains and how to get it. It includes two consoles — both an Xbox Series X and a Series S — as well as a controller with a matching hoodie. The hoodie and controller are both styled after Grogu, the character more commonly known as "Baby Yoda" across the internet. The smaller console also features Grogu, but the big Xbox Series X device sports art featuring the "Mandalorian" himself.
As is often the case with such console bundles, the catch is that you won't be able to buy it. The bundle is up for grabs as part of a sweepstakes: In order to enter, you need to be over 18, and you need to live in a country that Xbox Live supports. If you meet that criteria, all you need to do is retweet the promotional post on the official Xbox Twitter account with the hashtag #TheMandalorianXboxSweepstakes.
Xbox didn't disclose how many bundles are awaiting lucky winners, but chances are, there aren't many at all. It's very possible that only one such bundle exists. The sweepstakes started on March 1, 2023 and will conclude on May 11, 2023, at 8:00 p.m. PT.
Although Xbox didn't share a picture, it also seems to have prepared a gaming chair of sorts, called the Pram XL. The peculiar name is a reference to the show, and Xbox teases that the prize has massaging cushions, LED lights, cupholders, and holders for peripherals. This particular contest is only open to U.S. citizens: It runs from March 16 through May 11, and in order to enter, you'll need to head to Microsoft Rewards.