Here's What Makes This Honda Motorcycle Perfect For Off-Road Adventures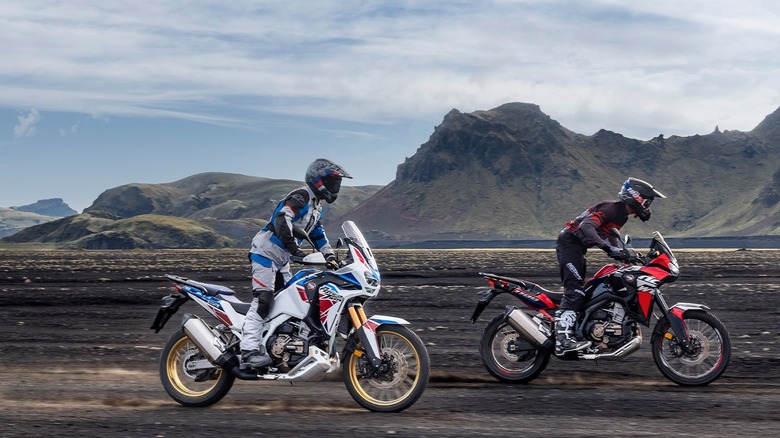 Honda Powersports
When it comes to motorcycling, there's a horse for every course. Do you want to go fast? Get a sports bike. Do you want to go far? Get a cruiser. Do you want to go fast, but on paved surfaces? Get a dirt bike. All of the above? Get an adventure bike. 
Since the 1980s, when BMW launched the R80 G/S, the adventure motorcycle market has steadily grown to the global sensation it is today, with BMW celebrating the ever-popular R1250 GS family as the brand's best-selling motorcycle for 2022. It's easy to see why adventure bikes are so popular — they offer a comfortable, relaxed riding position, heaps of performance, and a reasonable balance between on-road and off-road capability. Of course, there is a lot of variety in the adventure market, from the incredibly dirt-capable mid-range Yamaha Ténéré 700 and Aprilia Tuareg 660 to the more road-biased Honda CB500X. Then there's the crop of high-displacement adventure bikes that try to do it all. The Honda Africa Twin is one such high-displacement adventure bike that's remarkably capable, both on- and off-road.
The latest Africa Twin is an 1100cc all-rounder but it didn't start that way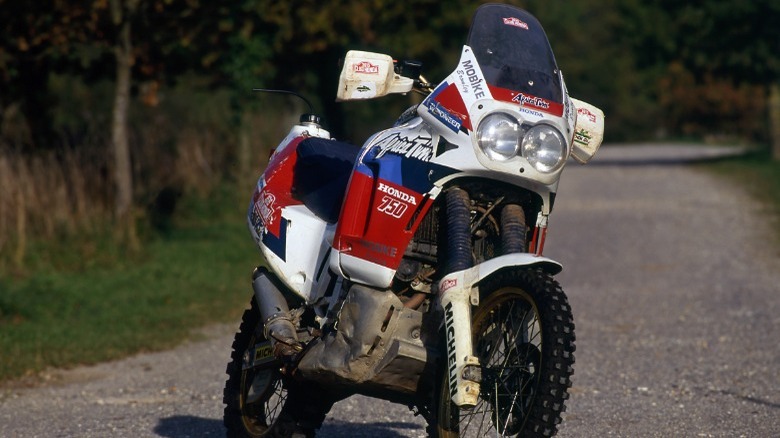 Heritage Images/Getty
The Honda Africa Twin has been around in some form or another since 1988, although it was a comparatively small 647cc v-twin, and the overall package weighed only 407 lbs. The Africa Twin went through a number of iterations, using a 742cc v-twin motor between 1990 and 2003, when Honda ceased production of the motorcycle. Of course, it was eventually revived as a 998cc parallel twin in 2016 and the current 1084cc parallel-twin in 2020. One problem that comes with increasing displacement is often an increased weight, and that has proven true with the Africa Twin, which weighs in at 505 pounds in its current CRF1100L guise. 
The weight of the Africa Twin is helpful to the rider, in some ways. A heavy bike feels more substantial and is far more stable on the road at high speed — two things that are far from scarce when on cross-country adventures. 
Despite its weight, though, the CRF1100L Africa Twin is often cited as an excellent off-road adventure bike thanks to its clever electronics and some strategic changes that Honda made to the frame and weight distribution. 
What makes the Africa Twin great off-road
The Africa Twin 1100 certainly looks the part — an unobtrusive windscreen, a commanding riding position, and large wire-spoke wheels — but what's under the fairings and mudguards makes all the difference. One of the biggest upgrades to the latest Africa Twin is the suspension setup, featuring electrically-adjustable 45mm Showa forks with 9.1 inches of suspension travel — 0.4 inches more than BMW's venerable 1250 GS. The rear wheel on the Africa Twin is kept under control by a single Showa shock with hydraulic preload and rebound damping adjustments, granting 8.7 inches of rear-wheel travel and 9.8 inches of ground clearance. 
Honda tames the 1084-cc motor's considerable power and weight with a number of riding modes that give the user control over things like throttle response and ABS intrusion. Wheelie control and torque control make the bike easier to use for beginners or advanced riders tackling tough trails, while cruise control and Apple CarPlay functionality make the Africa Twin easy to live with on long rides. While it's certainly no lightweight, at over 505 pounds ready to ride, the Africa Twin's relatively low seat height of 34.3 inches, in combination with the narrow seat and frame make it accessible and easy to manage on- and off-road. The Africa Twin's electronic trappings, comfortable seating position, and off-road capability make it an ideal adventure bike for users that want to have long days in the dirt, or only explore the dirt a little after the highway ends.