Darkest Dungeon 2 Gets A May Release Date For Its 1.0 Launch On Steam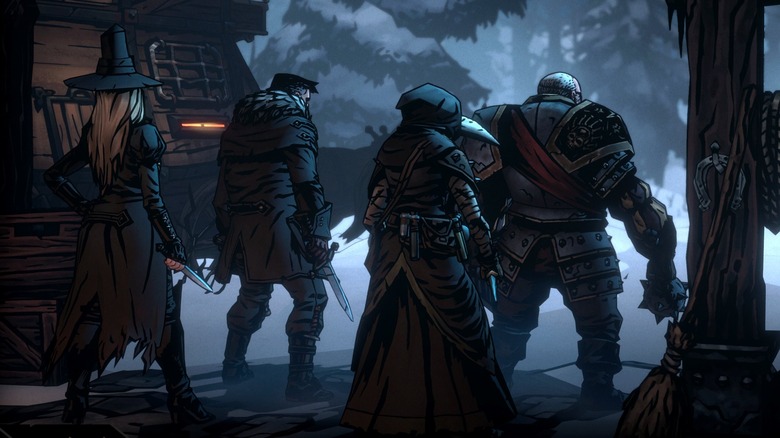 Red Hook Games/Twitter
If you're a hardcore fan of roguelike games, you've no doubt heard of "Darkest Dungeon." This turn-based RPG puts you in charge of an ever-growing band of weary wayfarers who've stumbled upon your abbey for one reason or another, each with their own unique strengths and drawbacks. Some could be outlaws with no remaining willing participants in their madness, or perhaps they're lost souls estranged from family and friends who are looking for a quirky group to clique up with.
The magic of "Darkest Dungeon" is that you can use a bit of your own creative roleplaying to fill in that lore, but other aspects of their makeup — including their personality, fears, vices, and skills — are entirely random. You'll only uncover their full character by walking them through the fire and advancing through a series of progressively difficult dungeons, the dangers of which aren't ever exactly the same from one playthrough to the next thanks to procedural generation.
In March 2021, Red Hook Games released its sequel in early access on Steam, giving players the ability to dive back into a life of trauma-filled dungeon crawling with a whole new set of challenges and fears to conquer. It's been a long slog since, but the developers have finally settled on a date for the version 1.0 release.
Get ready for Darkest Dungeon 2 in May
Announced at Steam Next Fest, where other hotly anticipated indie titles are being showcased, "Darkest Dungeon 2" will get its full release on May 8, 2023. It's nice to have somewhere to place the thumbtack after nearly two years in development. Better yet, you can download a free demo for the incoming game on Steam starting today, and apparently, it'll only be available for the duration of Steam Next Fest, which concludes on February 13.
"Darkest Dungeon 2" will feature just as much variety in playable characters and traversable regions as the original game, though likely with all new artwork, scenery, abilities, items, and trinkets to collect. There's also a deeper narrative with an increased emphasis on relationships within your teams. In the original game, battle effects mostly impacted individual characters, but your comrades can now develop personality traits that have a big impact on the team at large.
The demo lets you play with at least four of the 12 planned heroes across two different sets of dungeons in the starting region, which should be enough to get a feel for how Red Hook Games enhanced this unique twist on the genre. You won't be able to save any of your progress between expeditions in the demo, so try not to get too attached to the characters.