Orfeld H01 Cordless Vacuum Cleaner 6-In-1 Review: Jack Of All Trades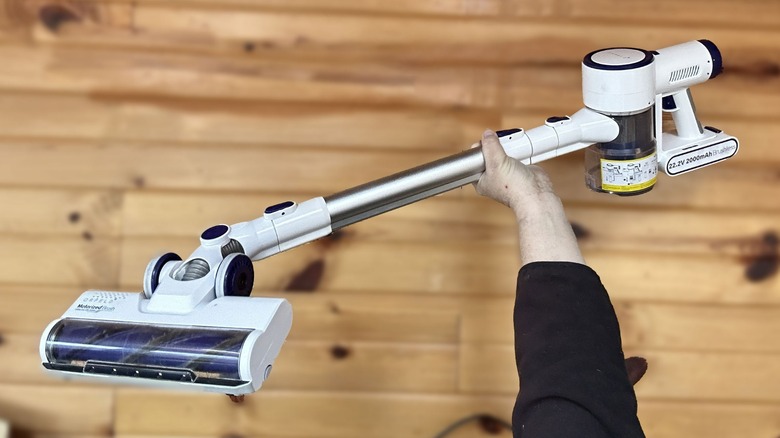 Adam Doud/SlashGear
We may receive a commission on purchases made from links.
I always enjoy a gadget that has a certain versatility. Smartphones are a perfect example. They can be a camera, a video player, a podcast player, or a voice recorder. It's part of the reason why, when I'm on the hunt for a new gadget, I look for devices that go beyond their obvious function. So, when Orfeld reached out about testing its upright cordless vacuum, and I saw it had a wide variety of capabilities, I wanted to give it a whirl.
Fast forward through holiday party hosting and the mad cleaning frenzy that goes with it, and suddenly I was thankful for that versatility, and even more thankful I didn't have to lug my 35-pound vacuum all over the house.
Are vacuums the sexiest piece of tech I have ever reviewed? No. But it is a piece of tech that basically every home needs to have, so here we are. I've spent three weeks and a pair of holiday parties with the Orfeld H01 6-in-1 cordless vacuum cleaner, and this is my full review. 
Orfeld sent us an H01 6-in-1 cordless vacuum cleaner for the purpose of this review.
Expand and contract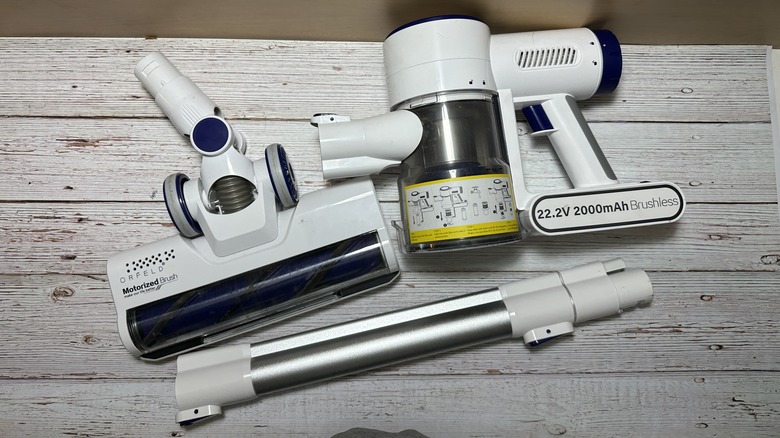 Adam Doud/SlashGear
The Orfeld 6-in-1 vacuum has a standard stick vacuum configuration. The base unit holds the battery and the dust cup. From there a detachable and expandable wand extends out to the power head and brush roller. The whole unit weighs less than a gallon of milk, so overall, it earns the label "lightweight." The wand is detachable, so you can attach the powerhead to just the handheld body for a super short vacuum (I used this configuration to vacuum stairs), or you can just detach the power head and use the wand by itself, with the included crevice tool, or with this included brush.
The wand expands and contracts between 14 and 24 inches. The power head meanwhile can flex 180 degrees from side to side and up to 90 degrees from front to back. That maneuverability, combined with the low profile makes it possible to vacuum in tight spaces.
All this makes the vacuum really versatile for cleaning situations. I could use the same vacuum to clean my carpeted floors, wood floors, and my car. It's like having a vacuum cleaner and dust buster all in one unit, which speaks to the versatility I look for.
Power and suction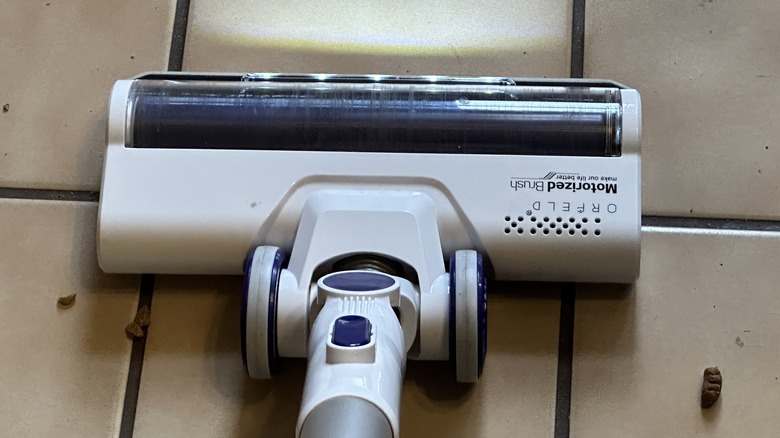 Adam Doud/SlashGear
The vacuum sucks with 24000 Pa (short for Pascal Pressure Units). The Pa measurement doesn't mean a whole lot by itself. That sounds like a lot, but Pa power in a vacuum is a lot like megapixels in a phone camera. The number doesn't count nearly as much as all the factors that go together to determine what takes a good photo. The same goes for Pa units in a vacuum. 24,000 is on the high side for battery-operated vacuums, and right about the middle of the pack for upright vacuums.
What I can tell you is that the vacuum cleans rather well. It will pick up everything from dog food to dust and dirt that collects throughout the day. I have found that it cleans carpets about as well as my fairly inexpensive upright vacuum, which is great. What's missing is the longevity of a corded vacuum.
The Orfeld is powered by a 22.2V, 2000 mAh battery which Orfeld advertises is good for about 40 minutes of cleaning. That seems consistent with my experience. The battery takes over four hours to recharge, which is a decently long time, but that's not the main problem I have with the battery. I'll elaborate more on that in the next section.
Storage is problematic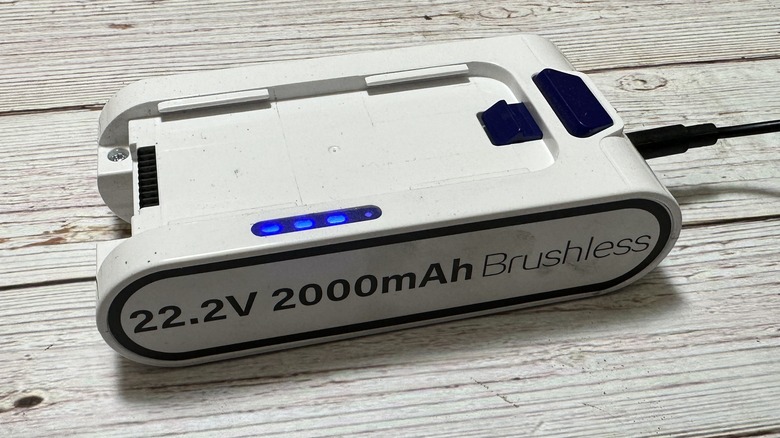 Adam Doud/SlashGear
The Orfeld vacuum comes with a storage hanger that you can mount to the wall. That storage rack holds the vacuum, fully assembled, and also the brush and crevice tool. Oddly, Orfeld chose to mount the storage holder for the brush and crevice tool on the bottom of the rack. When you insert the tools into their respective slots, they stick hanging down, but not very well. I find the crevice tool on the floor every day, which is a little annoying.
One other thing I would have liked to have seen was for the vacuum to charge while it was in its holder. The battery disconnects from the hand unit and plugs in separately with the included charger that uses a barrel connector, but there's no way to just plop the vacuum into the rack and have it charge. The barrel plug is accessible while the vacuum is in the cadle, but that is just an extra step. Having it charge by setting it in the cradle would ensure that every time you used the unit, it was fully charged. As it stands, you could pick up the vacuum and get ten minutes into your cleaning only to find a dead battery.
The battery has three LED lights on it to show the charge level, which is a nice touch, but it doesn't help you if your kids or roommates vacuum the day before and didn't plug it in when they were done. It's a small pain point, but actually, the rack itself is my main pain point with the vacuum overall.
Maintenance is frequent, but easy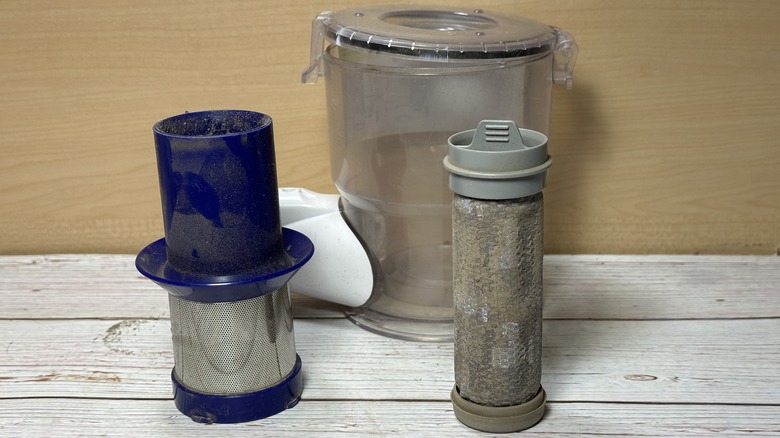 Adam Doud/SlashGear
The vacuum has a dust cup built into the hand unit and that dust cup has a steel mesh filter and a HEPA filter built in which is great for keeping the air discharge clean and keeping the dust where it belongs. The dust cup flips open when you release the latch to get most of the dust and debris out. I found I had to remove the mesh filter in order to get all the debris to come out without getting lodged.
The power head is equipped with a single motor-driven brush roller. This is important because air-driven rollers require optimal suction in order to spin. The brush roller on the Orfeld has no such restriction. The brush roller easily pops free with the flip of a switch on the power head for easy cleaning. That is a relief considering my three dogs left a ton of hair to vacuum up. Hair is the enemy of a power head, so it's great that the brush roller is easy to remove and clean.
Other test notes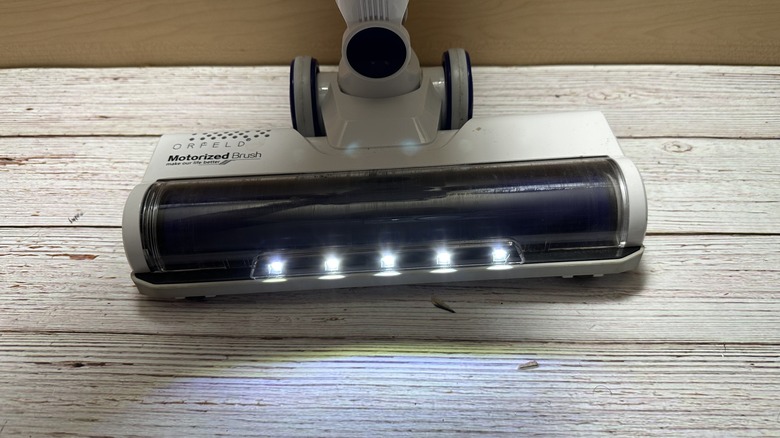 Adam Doud/SlashGear
Overall, I love having this vacuum as part of my cleaning repertoire. The versatility makes it useful everywhere from the living room to the garage. If you can get into a regular cleaning cycle of giving everything a once-over every few days, this vacuum will serve you well. If you are more like my family who vacuums less frequently, this will be a welcome addition to your home, but I don't think it will supplant a good upright vacuum. The speed at which the dust cup fills up and the brush roller gets filled with hair means that your cleaning routine will suffer frequent breaks while you perform this maintenance.
I'd also like to see a faster charging battery. Four hours is just too much downtime considering Orfeld only promises 40 minutes of cleaning. It's a 2,000 mAh battery, or less than half of what your phone likely has. Can you imagine the uproar if it took four hours to fully charge your phone? 
I get that this is not a 1:1 comparison. Vacuums are not — in fact — phones, but still, I'd rather pay a little bit more for a battery that charges in one hour, or maybe two, but definitely not four.
The vacuum also has a light on the front to illuminate where you're about to clean. It's pretty bright, so it helps see debris you might otherwise miss on a wood floor. The electricity runs down the wand in a separate, also extendable bar under the main tube where the debris goes. It's a nice, solidly built system, and I would have to say the whole vacuum feels sturdy, though it is plastic, so try not to drop it down too many flights of stairs.
Wrapping it up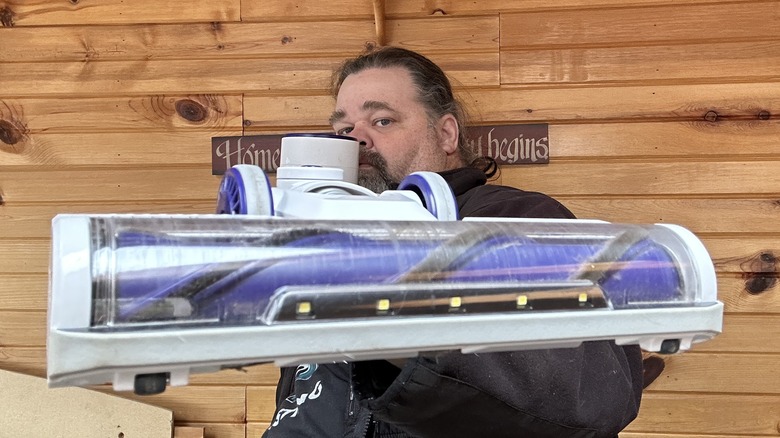 Adam Doud/SlashGear
This is the classic situation of a device being a jack of all trades, but a master of none. Yes, there are better vacuums out there — like the significantly more expensive LG CordZero A939 cordless vacuum with all-in-one tower – and we've seen worse. But this isn't really meant to completely replace your upright unless you're more obsessed with cleaning frequency than my family. Just like robot vacuums are made to be run several times per week, so is this. It can do a lot of little jobs as well as a true upright vacuum can do a single big job. So, it can replace an upright, but only if you stay on top of it.
But the overall versatility and the vacuum's ability to take up the duties of a dust buster, a drape cleaner, and a "quick fix" cleaner that works well on carpeted stairs makes this a win in my book. I just have a few minor qualms with storage and charging, all of which are easily overcome by how useful this vacuum is on a day-to-day basis. The result is, I will lug my atrociously heavy and bulky upright vacuum out of the closet a whole lot less, and that is a win in my book.
You can purchase this vacuum on Amazon for approximately $160 — or discounted significantly to closer to $106 at the time of this review's posting.