The Lavish Private Jet Elvis Named After Lisa Marie Presley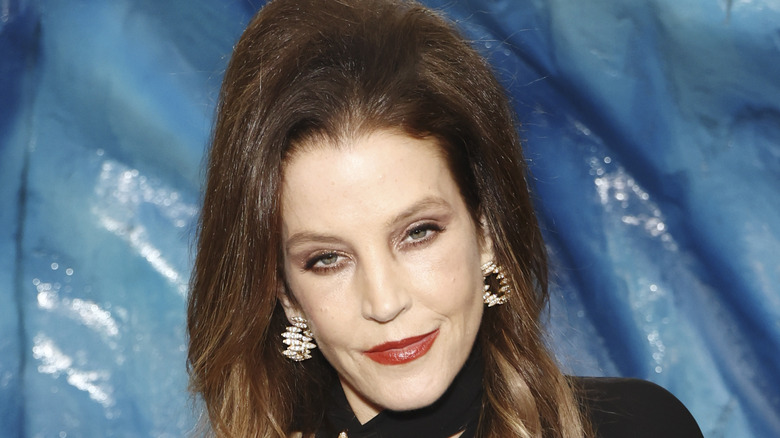 Joe Scarnici/Getty Images
Lisa Marie Presley, the only child of Elvis and Priscilla Presley, has died at the age of 54, according to multiple reports. The singer, who was recently seen during the 2023 Golden Globe Awards, was reportedly rushed to the hospital on January 12 after suffering a cardiac arrest. Presley's mother Priscilla confirmed the news to People, saying in part, "I must deliver the devastating news that my beautiful daughter Lisa Marie has left us." Presley's family has no other news to share about her tragic passing at this time, with Priscilla requesting privacy for her and her family during their time of grief.
Lisa Marie followed in her father's footsteps, having released three albums during her career, the last of which was released in 2012 under the title "Storm & Grace." Elvis Presley, her father and subject of the new movie "Elvis," had leased and purchased a number of private planes during his illustrious career, one of which remains on display at Graceland where visitors can see its special name emblazoned near the cockpit: Lisa Marie.
Elvis spent $800k remodeling the Lisa Marie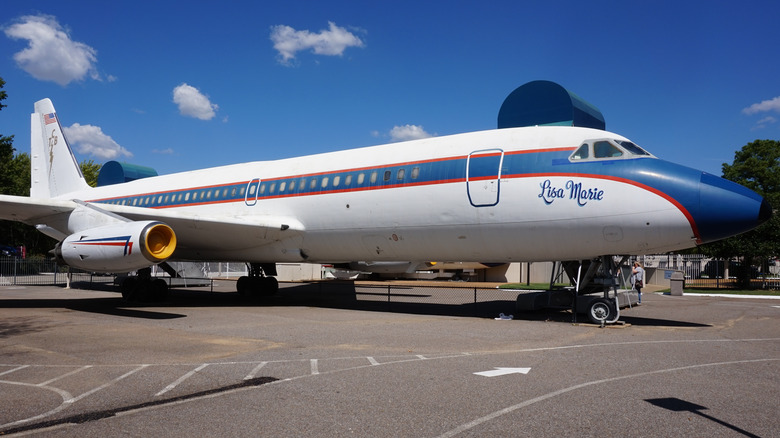 Rico van Manen/Shutterstock
After scrapping his original plan to buy a Boeing 707 jetliner due to legal troubles its previous owner had gotten into, Elvis Presley paid $250,000 for a Convair 880 in 1975. He bestowed the jet with the name Lisa Marie after his daughter and soon had the interior stripped and rebuilt to his own specifications. The result was a private plane that, from a modern perspective, looks like a classy time capsule filled with retro luxuries, including a private bedroom.
According to Elvis Australia, the modified jetliner could hold a maximum number of 28 people including crew, though its trips often clocked fewer passengers. In addition to the loving name given to it by its owner, the Convair 880 also had a nickname pulled directly from one of Elvis' most iconic songs: the Hound Dog One, though Elvis himself preferred to call it his Flying Graceland. 
The Graceland website sheds additional light on the aircraft, revealing that Elvis ultimately poured around $800,000 into remodeling the Lisa Marie. In addition to the aforementioned bedroom, the jetliner sports a conference room and living room, seat belts plated with gold, sinks "flecked" with 24-karat gold, and there are even leather-covered tables surrounded by suede chairs. The aircraft remains open for Graceland visitors to enter and see for themselves.