Samsung's New NVMe SSD Claims Big Efficiency, Performance Gains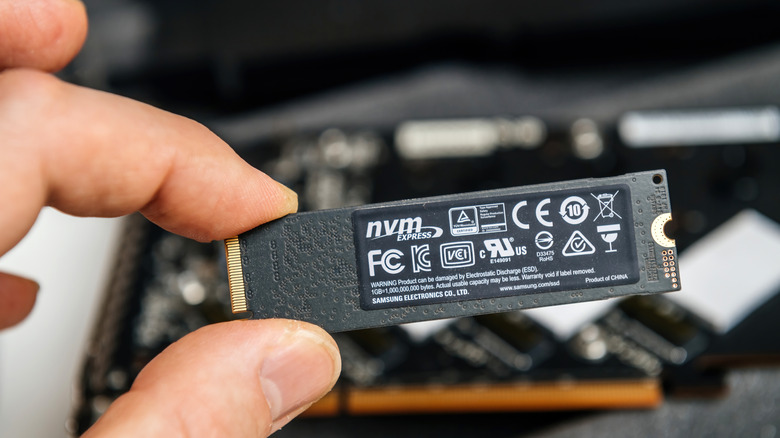 Hadrian/Shutterstock
Samsung — one of the biggest names in the world of storage devices — has been making SSDs for a long time. In fact, Samsung was among the first companies to manufacture and sell SSDs to retail consumers (Via PC World). Thanks to its extensive experience with flash-based storage systems, the company maintains a massive edge over its competitors. This is reflected in its sales figures, according to which the company alone accounts for more than 25% of the global SSD market.
Today, Samsung offers consumers a wide variety of SSD options ranging from 2.5" SATA drives, and PCIe 3.0 SSDs, to PCIEe 4.0 compatible drives in various storage configurations. These storage devices span a variety of price points and use cases — giving consumers several options to choose from. In a bid to further consolidate its position as the world's leading SSD maker, Samsung recently announced the launch of a brand new range of SSDs that offer some serious performance gains over their predecessors.
Samsung's new PM9C1a lineup of 4.0 M.2 NVMe SSDs are positioned as mainstream SSDs and succeeds the company's older PM9B1 lineup. The major improvements to these drives include 70% higher power efficiency per watt, 10% lower power consumption on notebooks when they go into power-saving mode, and much faster sequential read/write speeds.
Everything to know about Samsung's PM9C1a SSD's
In the blog post announcing the new PM9C1a SSDs, Samsung claims that they offer 1.6x faster sequential read speeds and 1.8x faster sequential write speeds compared to the older models. In terms of numbers, this means that the SSDs can reach speeds of up to 6000 MB/s and 5,600 MB/S in sequential read/write speeds. In addition, Samsung also claims that PM9C1a SSDs support up to 900K and 1000K input/output operations per second (IOPS). These gains come primarily because of Samsung's upgraded 5nm controller and the company's seventh-generation V-NAND technology.
The lineup of PM9C1a SSDs shall be sold in multiple storage capacities, starting with a 256GB option and going up to 512GB and 1TB models. The drives support M.2, 2230, 2242, and 2280 form factors of modern PCs, and can even be used on compact PCs. Furthermore, with its significant power efficiency gains, the PM9C1a lineup of SSDs could become the SSD of choice for future laptops. While these new SSDs are positioned well below Samsung's flagship 990 PRO SSDs, the broader reach of the PM9C1a series on account of their potentially lower price tag makes them an essential launch for Samsung.
While Samsung hasn't revealed availability details for the PM9C1a SSDs, there is a good chance that these drives could be lapped up by OEMs in large quantities. We should have more clarity on this aspect in the months to come.