1.2 billion apps downloaded over Christmas week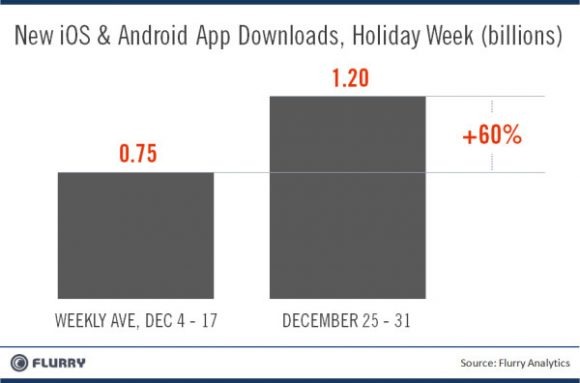 We already know that Christmas Day was a huge day for the activations of new Android and iOS devices with 658 million activated on Christmas Day alone. According to analytics firm Flurry, the week of Christmas was also huge for app downloads as well. Flurry estimates that on Christmas Day alone there were 242 million apps downloaded.
Stepping back and looking at the entire week of December 25 through December 31, the total number of apps downloaded was massive. During that week, there was a total of 20 million devices activated, and 1.2 billion apps downloaded.
The US is unsurprisingly the place where most of the apps were downloaded with 505 million in the US alone. China was second place with 99 million, and the UK has 81 million downloads during the week. Flurry notes that moving into 2012 breaking the 1 billion download per week mark will be much more common.