Zombie Driver hits TegraZone and hands-on with buckets of blood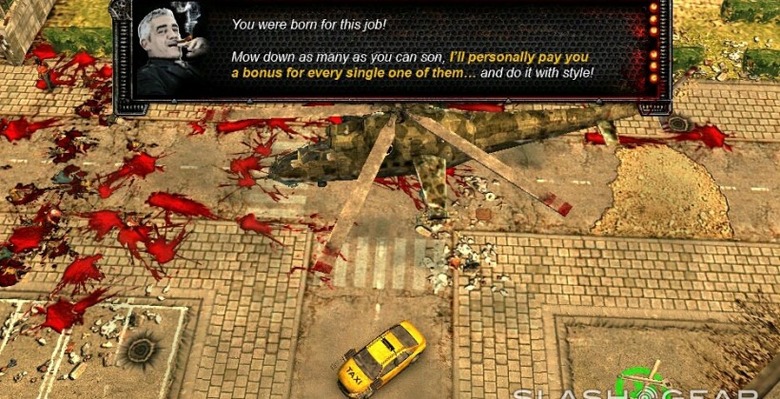 It's time to have a peek at the next big smash gaming experience developed for the Tegra 3 quad-core environment on Android: Zombie Driver THD! This game brings on what the developers at Exor Studios make clear is "massive amounts of zombie carnage and unprecedented destruction effects." And that it is, folks, we've had our own peek at this game and can readily assure you – there's no better way to spend your late night candy-filled sugar coma this Halloween (tonight or whenever you just so happen to want do down a bunch of Snickers bars) than to slay some zombies in a destruction derby-style massacre.
Inside the game you'll be rolling out in one of three different modes – the first is a storyline: that's what you see above. Inside storyline mode you'll quickly understand that you're mission is almost always to take out the enemies, those being the undead! It's the style with which you destroy that gets you up in the ranks! Once you're ready to let the blood shower over you, you'll be saving survivors left and right as you take on zombie packs and bosses like a death-dealing monarch.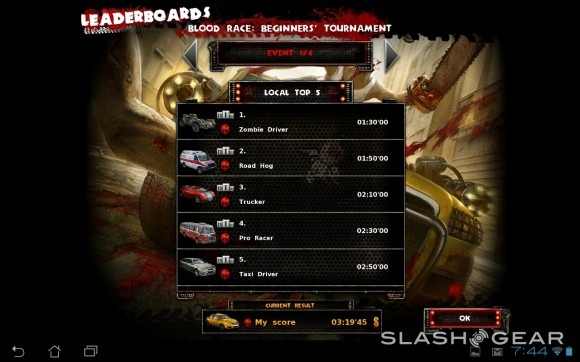 You'll drive anything from a bulldozer to a fire truck to a tank. This game brings on 7 arenas for you to dish out the insides, and in the second mode – a race sort of situation – your choices for massacre machine matter more than ever. You've got to balance the destruction you're able to deal out with your ability to maneuver: it's not just about the death of the dead, it's about cold, hard speed as well!
The third mode is all about survival – wave after wave of puss-oozing bone-chompers making your mission to survive: with great rewards awaiting you! Each level will have you addicted to upgrading your machine and your score – more destruction each time you destroy!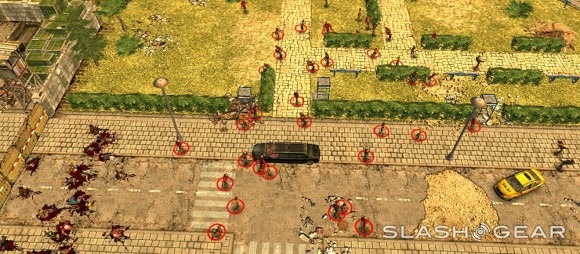 Each weapon has three upgrade levels, you've got combo moves to make everything just a bit more interesting, and of course there's a way to upgrade your Taxi into a Chariot of Death – their words, really! In all there's 13 different vehicles to choose from and you'll most certainly be having flashbacks to Twisted Metal before you murder your first 100 bodies of undead filth.
"Thanks to Tegra 3's fantastic GPU performance we were able to use the same quality textures in Zombie Driver THD as on the PC. The outstanding quad-core CPU performance makes it possible to support Tegra game development in parallel to other high-end platforms!" — Pawel Lekki, Chief Operating Officer, EXOR Studios
The graphics in this game are made lovely by PhysX by NVIDIA and you know good and well that the physics, top to bottom, are above the line. This game will cost you just about 7 bucks on the Google Play app store through the NVIDIA TegraZone and it's available right this very minute. It's perfect to get some candy-less aggression out too, if that's your aim – blast away!