ZiiLabs unveils their 100-core ZMS-40 chip for Android 4.0 (Ice Cream Sandwich)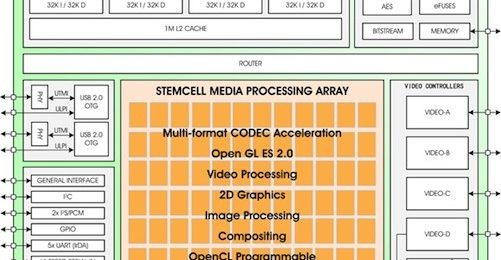 Do you remember when owning a dual-core device actually meant something? Well that time is approaching its end, because ZiiLabs recently unveiled a processor with – get this – 100 cores. Yeah, the ASUS Transformer Prime touts a quad-core Kal-El processor, but ZiiLabs is really changing the game.
It's set up much like a quad-core chip, but the ZMS-40 adds 96 "StemCell Media Processing" cores that help out the four included ARM Cortex A9 cores. It is not only supposed to reduce battery consumption by half, ZiiLabs claim it will also manage "twice the peak media performance". When I play graphic intensive games or watch movies on my tablet, the battery drains faster than I can keep up. If the ZMS-40 can remedy that apparent problem – then I hope it makes its way into devices soon.
We may actually see a few tablets with the ZMS-40 chip incorporated at CES next week. If so, we'll be the first to let you know how it stacks up to the rest. But until then, we'll leave you with the official press release:
[via Engadget]