You have died of Dysentery - The sweatshirt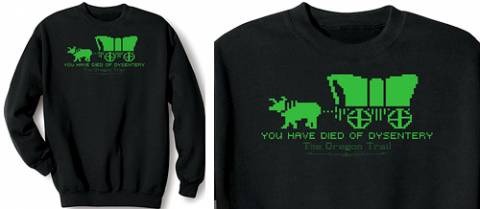 I'm not one that writes on clothing or fashion, but this one was too good to pass up. If you were in grade school during the 90's like I was, you've probably heard of a little game called Oregon Trail. Chances are also pretty high that you've died of Dysentery  on more than one occasion.
This black sweatshirt (or T-shirt) commemorates the passing of your character by one of the many ways you could perish. When this fun little message popped up you knew that the last 30 minutes of your life were wasted, and you cannot, in fact, get that time back. Not even by starting from a save point, as there were none.
You can show off your love with either the sweatshirt for $27.95 or the t-shirt for $17.95. You'll probably get a number of strange looks from people, but what do they know? That game rocked.
Fond Memories Of The Oregon Trail Now On A Sweatshirt Or T-Shirt [via ohgizmo]