Yet another iPod remix accessory: Blue Beatz Case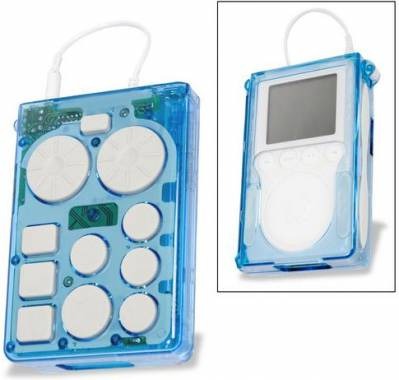 Where have manufacturers got the idea that we want to edit our music on-the-fly from?  I've already heaped plentiful scorn on the Blue Man Group iPod remix thingy, and now I'm faced with this Blue Beatz iPod Case that not only protects your DAP with unpleasantly tinted polycarbonate but also gives you a selection of buttons that overlay "funky beats" on your music.
Now I'm an open-minded kind of guy, I've even eaten snails, but this to me is unmitigated tat.  Anyone who thinks that products like this, or the Remixing Decks I lambasted the other day, are worthwhile will be sorely disappointed.  I can see them being bought for kids this Christmas, on the assumption that it will aid their "creativity", but frankly you'd be better buying them a basic keyboard and a couple of teach-yourself books of music.  The entertainment lifespan of the $15.66 Blue Beatz Case, even with its integrated belt clip, will be measured in hours rather than days.
Product Page [via Chip Chick]