WowWee Rovio Wiimote-control software: Video Demo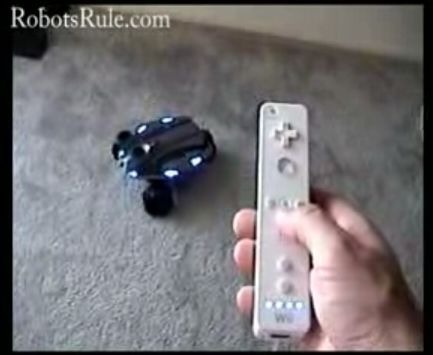 WowWee's Rovio WiFi mobile webcam is designed to be easily controlled at a distance via the webportal – however what if you want to operate the robot from close up?  RobotsRule's Robert Oschler has added Rovio functionality to the upcoming version of his free RoboDance app, meaning you can use a Nintendo Wiimote to control all of the robot's features. Video demo of the RoboDance Rovio Wiimote control in action, after the cut
Since the Wiimote connects to your PC via Bluetooth, you don't actually need a Wii to be able to use the software.  In fact, all you need is a Windows PC (with Bluetooth, obviously) that can connect via WiFi to the Rovio.  The full Rovio control set is supported, including directional movement, camera control, automatic docking, picture taking and more.
The only bad news is that this new version of RoboDance won't be released until Q1 2009.  However Robert is looking for beta testers on his user group, so if you fancy an early preview it might be worth signing up. 
Update: Robert points out that, as the Wiimote communicates with the Rovio via the PC and WiFi connection, you're not limited to using it locally to the robot.  Throw it in your laptop bag and you can use the intuitive gesture-control to operate the Rovio from wherever you have internet access.