World's Smallest RC Helicopter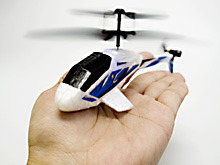 Brando is selling the world's smallest RC Helictoper. Called the Picooz by Chinese manufacturing company Silverlit, it comes in red, yellow, and blue. The copter has some very small dimensions, weighing in at only 10g and 167mm in length.
A large remote control is included, and it looks bulky compared to the plane. The controller is black and has an unnecessary big plastic red knob at the front of it, although it seems like it is durable.
It was deemed the smallest RC Model Helicopter by the Guinness World Records, and for $29.00 (reduced from $39) from the Brando website, I think i will be looking into buying one of these units really soon. Happy flying!
Rechargeable Micro RC Helicopter [Via: Brando]