World's First Lamp Free LED Projector with Liquid Cooling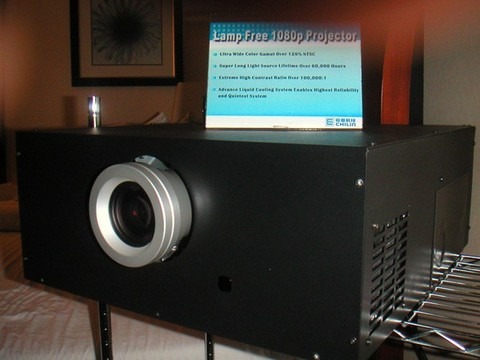 The Taiwanese have taken liquid cooling to the next level—a liquid cooling LED light source home theater projector and better yet, it is lamp free. I bet you fewer people heard of Chilin Technology until now. They are a leading ODM/OEM manufacturer and supplier of high end home theater projector in Taiwan. The company has teamed up with Luminus Devices and Texas Instruments to bring you a revolutionary product at CEDIA 2008.
The lamp-free projector uses PhlatLight LEDs instead of a conventional UHP lamp, as well as the latest Texas Instrument 1080p (1920x1080) DMD technology to pump out 600 ANSI lumen and over 100,000:1 Contrast Ratio. That's not it; Chilin also claims its 128% NTSC color gamut, which is 80% greater than that achieved through conventional UHP projectors. No word on aggressive contrast rating if that's dynamic or native value.
Also, the company's engineers expecting the LED system to last for up to 50,000 hours (The lamp uses on most LCD lasts around 2000-5000hours). The manufacturer has not disclosed the availability or pricing information at this point.