World's first directly solar powered air conditioning system unveiled in China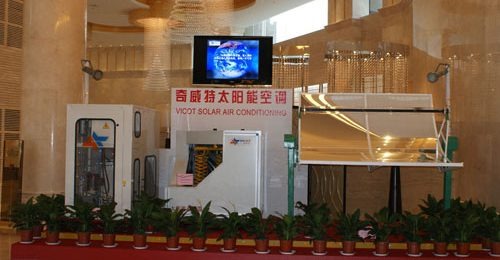 In many southern states like Texas, we have the opposite problem that folks in northern states with respect to keeping our homes at a tolerable temperature. In the summer the heat reaches such high temperatures that, a home without air conditioning can literally kill people. In the north, the cold winters can kill. In Texas, the cost of running an AC system in the hot months of the summer can run hundreds of dollars for cooling alone.
A new directly solar powered air conditioning system has been unveiled in China that has the potential to not only make cooling a home green, but also save homeowners a huge amount of money at the same time. The machine is made by a company called Vicot.
The machine claims an 85% thermal cooling conversion efficiency and it can utilize solar energy at 27 times what a typical water-hearing unit is able to do. The system allows for 24/7 cooling, heating, and a supply of hot water with natural gas used to supplement when needed. The company claims that in 3.5 years, the initial investment for the system can be recovered and in 6.7 years, the entire investment in the system can be recovered. The downside is that the cooling system appears to be too large for most residential home and price is unknown.
Via VPO (Membership required)