WiQuest close after poor Wireless USB adoption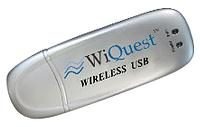 Wireless USB – what's not to like?  Short range replacement for all those snaking cables, surely it's a dream come true?  Well, tell that to the 120 freshly redundant ex-employees of WiQuest, who shut up shop last week after investors pulled out.  Believed to be "number one in the space", WiQuest's dual-chip product was an optional extra on certain Dell, Lenovo and Toshiba laptops, as well as being used in Belkin and D-Link hubs, and its failure is being seen as a warning to ultrawideband (UWB) companies and startups.
WiQuest fell, the company and analysts believe, for four main reasons.  Firstly, theirs was a two-chip solution where manufacturers wanted one.  Secondly, it was too expensive, coming in higher than the roughly sub-$5 a piece cost of Bluetooth and WiFi chips that OEMs demand.  Thirdly, the transfer speeds simply weren't up to the "Wireless USB" billing, at just 50MB/s.  Finally, power demands were too high for inclusion in ultramobile and smartphone-style devices: 1W in reality, when the concept called for less than 300 milliwatts.
Regulatory hurdles – such as different locations using different UWB frequencies – are also cited, but at the end of the day it seems that customers weren't willing to dip into their pockets for an add-on with no obvious use.  "We were at about a one-percent attach rate in notebooks," said Todd A. Brown, vice president of worldwide sales at WiQuest, "and [we] needed to be at 5-10 percent and growing."
[via Everything USB]