5 Top Windshield Wipers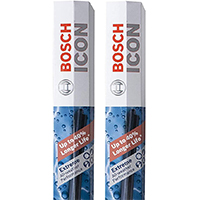 Bosch ICON Wiper Blades
Pros
FX dual rubber blades last up to 40% longer
Tension-spring arcing technology
Flexible spoiler distributes downward force
Cons
Sold as single wipers
Pricey
Positive consumer reviews and a competitive price combine to make Bosch's ICON wiper blades a good choice if you're in search of new windshield wipers. This product also features some helpful design elements, like a weather-shielded connector and a wind spoiler.
As of publishing, these wipers cost $19.65 each on Amazon.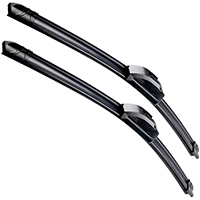 VTOGOI Wiper Blades
Pros
Low price
Aerodynamic design minimizes debris clutter around the wiper blades
Durability rating of 1 million wipes
Cons
Basic design
Limited brand history
VTOGOI provides a simple wiper blade replacement option at a relatively affordable price. This product is comparatively light on features, but it gets the job done, according to reviews.
As of publishing, these wipers cost $15.99 per pair on Amazon.
Michelin Rainforce Wiper Blades
Pros
M-Guard rubber coating
Powder-coated metal finish
EZ-Lok connector system
Cons
Lowest Amazon rating of our picks
Conventional design can cause wind noise
Michelin has been in the automotive industry for over a century, and its Rainforce wipers feature some unique proprietary features and modest pricing. The all-natural rubber blade is compression-molded to provide firmer contact with the windshield, and the EZ-Lok system makes installation secure and simple.
As of publishing, these wipers cost $10.95 each on Amazon.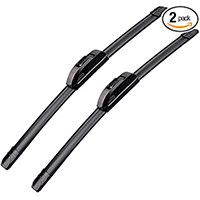 ZIXMMO OEM QUALITY 22"+19"
Pros
Moderate cost
Exceeds OEM safety and durability standards
Six- to 12-month guarantee
Cons
Not a well-known brand
Some quality complaints
ZIXMMO's wipers have a relatively simple beam design, but they feature an aerodynamic deflector and supposedly exceed OEM safety and durability standards. ZIXMMO also provides a six- to 12-month quality guarantee.
As of publishing, these all-season wipers cost $17.99 per pair.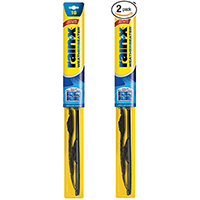 Rain-X Weatherbeater Wiper Blades
Pros
Established design
Natural rubber blade resists elements, road salt and washer fluid
Multiple press-points conform to your windshield
Cons
Little innovation
Conventional design can cause wind noise
This wiper blade has been on the market for over 15 years, and it continues to garner positive reviews. It has a straightforward design made of galvanized steel and rubber that resists corrosion.
Rain-X's Weatherbeater wipers are sold on Amazon in convenient two-packs for $19.72, as of publishing.
How We Found the Best Windshield Wiper Brands
Our list of the best windshield wipers was based, in part, on the brand's reputation, the number of exceptional product reviews, prices and overall customer satisfaction. Ease of installation was not a primary consideration in our choices, as wiper installation is fairly straightforward once you get a feel for it.
Compare Windshield Wipers
We selected our top picks for windshield wipers based on brand quality, reputation, cost and customer ratings.
| Brand | Model | Rating* | Cost* |
| --- | --- | --- | --- |
| Bosch | ICON | 4.7 | $19.65 each |
| VTOGOI | N/A | 4.7 | $15.99 per pair |
| Michelin | Rainforce | 4.5 | $10.95 each |
| ZIXMMO | N/A | 4.7 | $17.99 per pair |
| Rain-X | Weatherbeater | 4.6 | $19.72 per pair |
*On Amazon, as of publishing date
What to Consider When Buying Windshield Wipers Online
Buying and installing new replacement wipers for your car or truck may not be an incredibly complicated process, but there are still factors to consider. Here are some aspects to think about, especially if you're buying online:
Your vehicle: Windshield wipers are not universal, so you need to purchase wipers specific to your make and model, including the length of the blade itself.
Your budget: Decide what you're comfortable spending on replacement wipers. Remember, windshield wipers are designed to be replaced, so think of your recurring costs. Consider whether increased performance and durability are worth it for you in the long run.
Local weather: If you live in an area that experiences ice and snow along with rain, you might benefit from all-season wipers.
Threats to your wipers: Depending on where you live and how often you drive, you might be most worried about heat, corrosion, chemicals or sunlight. Prioritize wipers that resist the threats you're most likely to encounter.
Past wiper experiences: What wipers have you been disappointed with in the past? If you weren't satisfied, try another brand or a different level of quality.
Reviews: See what other consumers have to say about their experiences with a given brand of wipers.
Longevity: All wipers need to be replaced eventually, so the longevity of your wipers has a significant impact on your costs over time. You can buy cheaper wipers and replace them more often or go with a more durable (and more expensive) choice.
Bottom Line: Why Invest in the Best Windshield Wipers
The difference in price between the cheapest and best brands is relatively modest, especially considering that your safety and that of your passengers is at stake. Buying a better windshield wiper can make for a less stressful, safer experience every time you have to drive in the rain. Do your research and buy the right wipers for your needs.
Next, read about how to find the best extended car warranty.
Windshield Wiper FAQ
Windshield wipers are important because they help you see where you're going by:
Clearing windshields of everything from annoying mists to heavy downpours
Spreading washer fluid and cleaning your windshield of debris
Helping dislodge snow and ice
While wipers are a relatively inexpensive replacement part, the role they play is much more valuable.
Once you have the appropriate replacement wipers, pull the wiper assembly up and away from the windshield. Different windshield wipers have different attachment mechanisms, but look for a way to release the old blade while pulling down. Like anything mechanical, wear and tear and aging can cause wipers to stick or become hard to remove. It may also help to push up and then pull down when releasing.
Finally, line the new blade up with the now empty assembly and install it per the directions on the box. If you're replacing a wiper with one of the same make and model, the box may even have directions for removing your old wiper.
You may be able to find cheap or discontinued wiper blades for as little as $5 per wiper. However, premium-quality blades can cost $25 or more each. Look for a balance of quality and longevity.
Quality wipers should last up to a year while providing streak-free, noise-free performance. Your experience may depend on your climate and your circumstances.
Yes, front and back wiper blades are different in a number of ways (shape, size, etc.), and they are not interchangeable.