Wide Open Baja - My jaw-dropping experience in the Middle of Nowhere, Mexico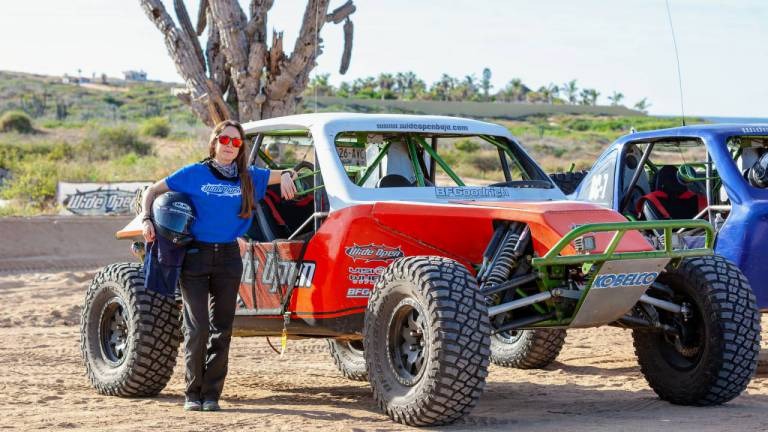 'twas the night before Christmas and all through the house, not a creature was stirring, not even a... SCREECH, STOP! Allow me to interject here: you could question the sanity of someone who, instead of choosing to recite heartwarming poems fireside on a snowy December night, instead goes chasing the faint echo of roading engines in Cabo San Lucas – widely acknowledged as one of the most dangerous cities in the world – while being warned that "you could die out there tomorrow on every turn, shoot off a 1000 foot cliff, fly off into the ocean if you're driving with that one person who panics." Welcome to Wide Open in Baja, where the stakes are high and the potential for fun is even higher.
Americans have the Super Bowl, Europeans enjoy Wimbledon and the World Cup. Mexico's superstar sporting event is arguably the SCORE Baja 1000, an immensely popular, home-grown, off-road motorsport. A cornerstone of Baja culture for the last 52 years, it's an extreme 1000 mile endurance race that attracts world-class drivers and spectators 100,000 strong. With a 50-percent success rate for competitors ever finishing, not to mention a reputation as the deadli-est race in the world, it takes steely nerves and serious skill to make it to the end line.
For many, crossing the checkered flag of the Baja 1000 is the dream of a lifetime – albeit, a rather expensive one that can cost upward of a hundred thousand dollars. Wide Open Baja is an awesome introduction to this style of racing and offers entry-level tours encompassing all budgets: from 3 hours at $595, to a 4 day adventure that runs $6,295 – which might just be the most expensive vacation of your life. Turn=key race programs are also offered to amateurs and pros alike. No matter what you choose, rest assured, you can expect one hell of an adrenaline-filled experience.
Wide Open is the largest off-road racing entity in existence, custom building their cars, by hand and hacksaw, from the chassis up. They race all 36 of their vehicles, so when you sign up, the $100,000 to $130,000 car you drive is the real deal: a bonafide Baja 1000 racer, a class all its own.
Day 1 - Some Serious Warnings
I was the only woman standing in the hotel lobby among 13 car enthusiasts from all different backgrounds: my companions included a high school senior on a family trip with his dad, a mechanic who saved for years for this moment, and a heart surgeon who knows all too well that life is short. Never having driven a racer before, I had my doubts as to whether or not I would enjoy such a testosterone-fueled time. I was in for the surprise of my life, though, because that opinion was about to change.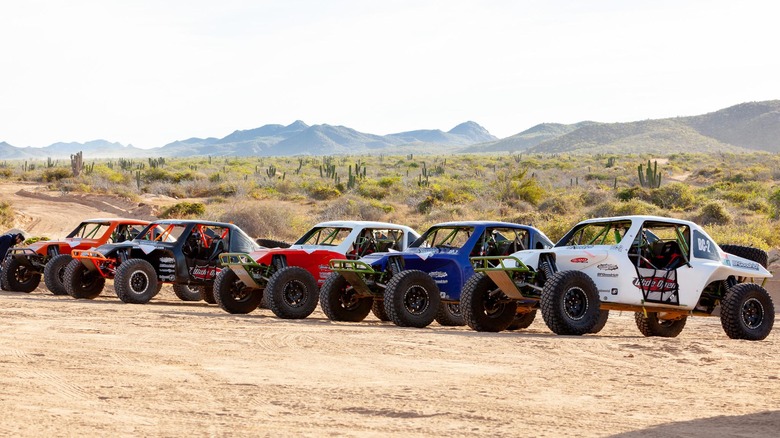 Our dashing and daring Wide Open guides were Darrin Graham and Sergio Lopez. Darrin had fallen in love with the sport and moved to the beguiling Baja seven years ago to guide full time. He spends around 300 days a year in a Wide Open car and is a seasoned veteran of parts of the Baja 1000. High with excitement, the group chomped at the bit with questions, only to be shut down hard by Darrin. "Sorry folks, we're not telling you anything tonight, you're already in the mode of over processing," he warned us, "no driving tips or tricks until tomorrow."
Two things were made abundantly clear that first evening, the first potentially a dealbreaker for many modern motorists: being proficient with a manual transmission is a mandatory requirement. "If one of you kills a family of four a week before Christmas because you're not good on the clutch – that's really really bad," Darrin warned us. Something to take seriously since the tour is on public roads, not a go-kart track. His other tidbit was no less serious: we needed to stash our essentials in the Wide Open daypack provided. After all, in the case of a catastrophic emergency, you'll be life-flighted out of the country as fast as an oil change at Jiffy Lube.
Day one concluded with a belly-busting dinner of tasty potato skins, yellowfin tuna, seared steaks, and prawns. All meals and snacks are included in Wide Open packages except for alcohol with dinner. Turns out, Darrin isn't only an ace driver but brings along plenty of knowledge as a former sommelier and food and beverage expert, helpful when it comes to pairing local wines with food. The driving days may be long and brutal, but by night you're plied with fine dining and 1,000 count bed sheets – at least, on the 3 day Cabo/La Paz/Cabo "fluffy" tour.
Day 2 – Wild and Wet in the Desert South West
The sun rises over the prehistoric-looking jagged peak of El Picacho and the Sierra de la Laguna Range. Darrin stands like a Jedi Master, stick in hand, drawing lines and symbols in the soft sand at our feet in a crash-course on GPS, VHF Radio, caterpillar stops, and obstacle calling. "These cars get up to around 90 mph," our tutor points out. "Try to stay under your maximum skill level, and most importantly, drive only as far as you can see." After all, the number one cause of accidents is down to reduced visibility from the dust kicked up by each car.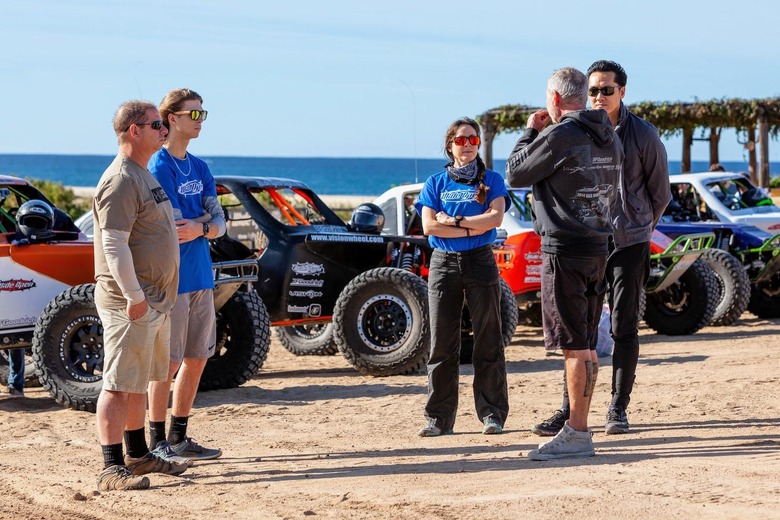 I run my hand over the body of my assigned racer, admiring the beast that would carry me over mountains, desert, four-foot boulders, arroyos, and god-knows-what-else with 175 horsepower. You can't help but be impressed at the components of the off-road marvel: chromoly chassis, Subaru boxer engine, Snug Top fiberglass body, power steering, and impressively large Bilstein shocks with ibock springs.
I jumped into the steel tube roll cage like Daisy from The Dukes of Hazzard and settled comfortably into the cushy suspension seat. Next comes buckling up the 5-point harness, donning my helmet, linking the fresh air tube and radio, and then snapping a few all-important selfies as my driver hits the ignition switch. He slips the clutch into first gear like a pro: tires spin and we leave the Wide Open hacienda, literally, in the dust. Arriba!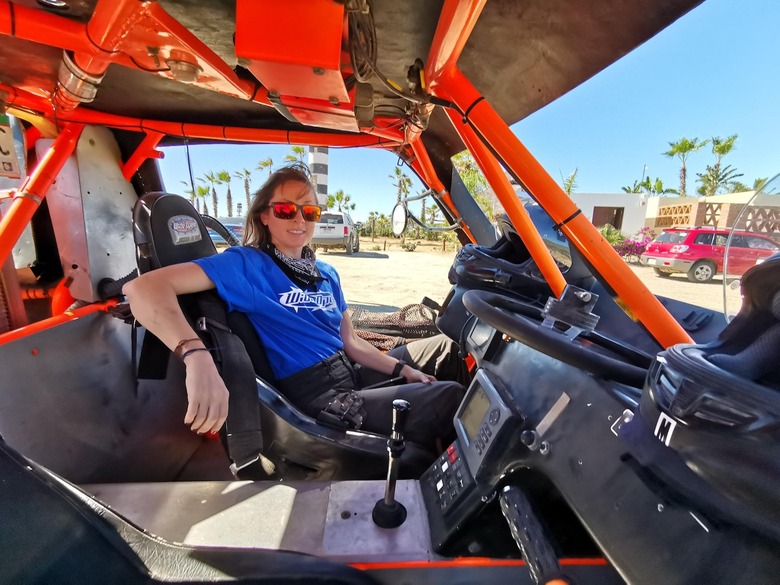 Within minutes you're doing honest to goodness, real yahoo cowboy driving. The car seemed to bend and flex like an advanced yoga student. I'll never forget seeing the huge front, left BF Goodrich tire, with its 18-inches of wheel travel, come above the body of the car to eye level and thinking "holy heck, this is so surreal." You can't help but laugh while you're being thrown around like a rag-doll, as my driver negotiated what seemed like impossibly rough terrain and massive obstacles. It may be as much of a surprise to you as it was to me that it was some of the most fun I've ever had.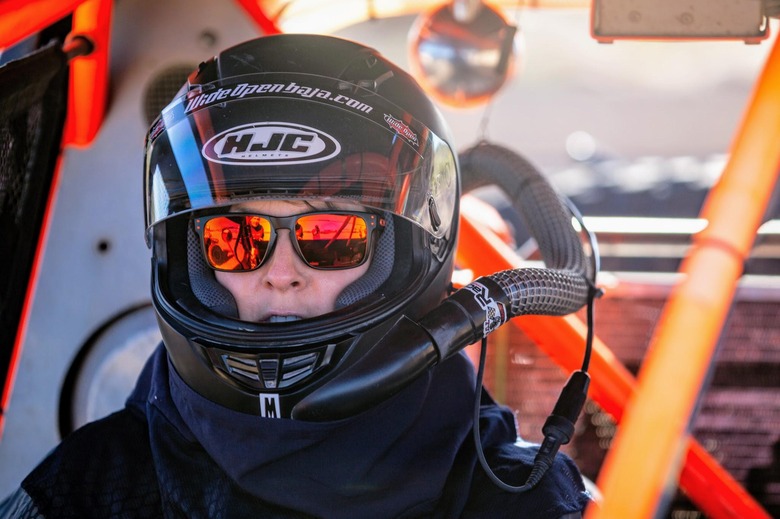 The first driver change at mile 40, and now it's my turn. Thumbs up with a loose grip on the four-spoke steering wheel and pedal to the floor, I finally meet my inner speed demon: whizzing down narrow dirt tracks, drifting around wide sandy corners, Cholla cactus launching into the windowless cockpit and exploding, needles like shrapnel lodged in our hands and legs. Horses galloped alongside the car, roadrunners darted across the road, while the goats, pigs, and donkeys each did their thing. With the landscape constantly changing at a high rate of speed, it was like living a video game.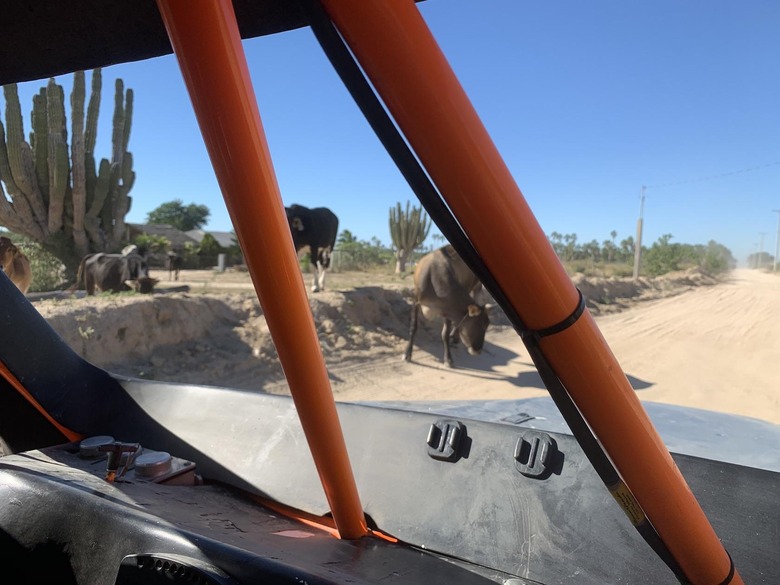 The day wouldn't be complete without plowing through a 4 foot deep by 10-foot wide mud pool. As a tsunami of filth washed over us, coating and soaking everything in entirety, I remembered Darrin's arch warning to "always expect the unexpected out here." My drive partner laughed hysterically as I wiped my eyes and spit out deep brown water, crying "I don't think that was dirt!" I had lifted my visor mere seconds before hitting the pit, scanning the way for livestock. Filming at that particular moment, the footage just goes black as the lens is covered in muck.
Cool air from the oncoming desert night swept across the land as we descended upon La Paz: an enchanting scene with the city set against a backdrop of the sea of Cortez off in the distance. Completing 250 death-defying miles on day one, and in need of some serious chiropractic adjustment, we arrived at the Cathedral hotel, showered and dined like rock stars at the best restaurant in town, Sorstis. The Mexican food and hospitable people respectively match the spiciness and warmth of chili pepper – it was a cultural tour too.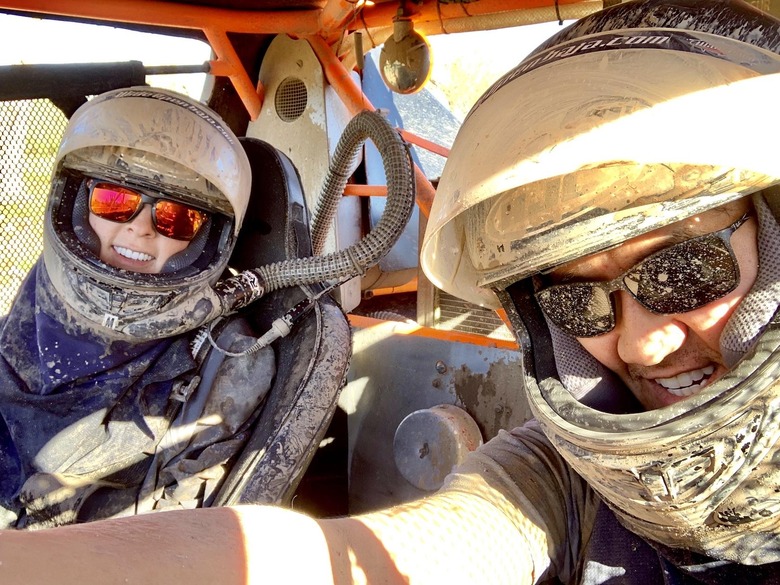 Day 3 – The Return, La Paz to Cabo
A traditional breakfast of gorditas, chilaquiles, and bistic rancheros, not to mention our bodies fuel-injected with black coffee, we waved goodbye to La Paz and started the return run to Cabo. It didn't take long to question the wisdom of showering and putting on clean clothes, though: day three proved to be just as wild. It was a full-throttle charge over open flats and tearing through the maze of paths that crisscross the peninsula like scorched grill marks. Cactus forests and 30-foot tall saguaros – all Dr. Seuss like in appearance – add to the mystique of the day.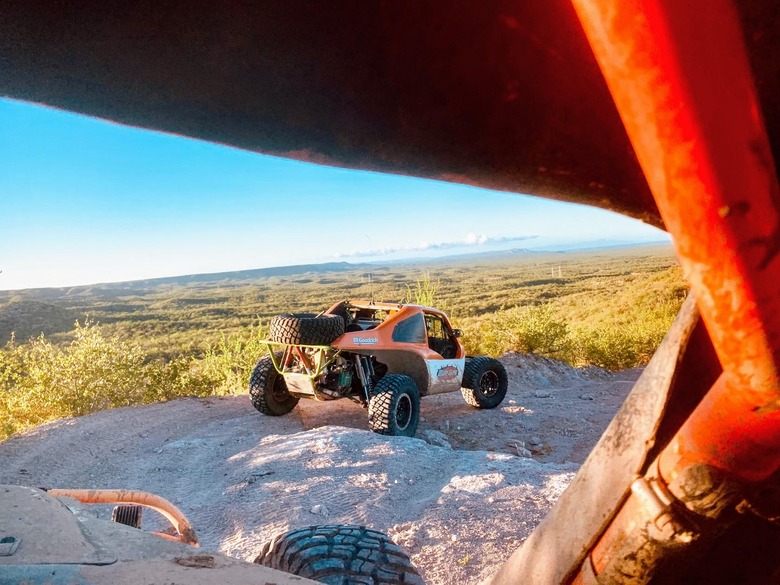 Ranchers tipped their hats and waved us on as we approached town. Minding the chickens, we pull back into the hacienda. The support crew thrusts celebratory ice cold beers in our hands: there's nothing quite like drinking a Pacifico and overlooking the Pacific while sitting on 33-inches of sun-kissed aggressive tire tread and surrounded by a group of friendly fellas to boot.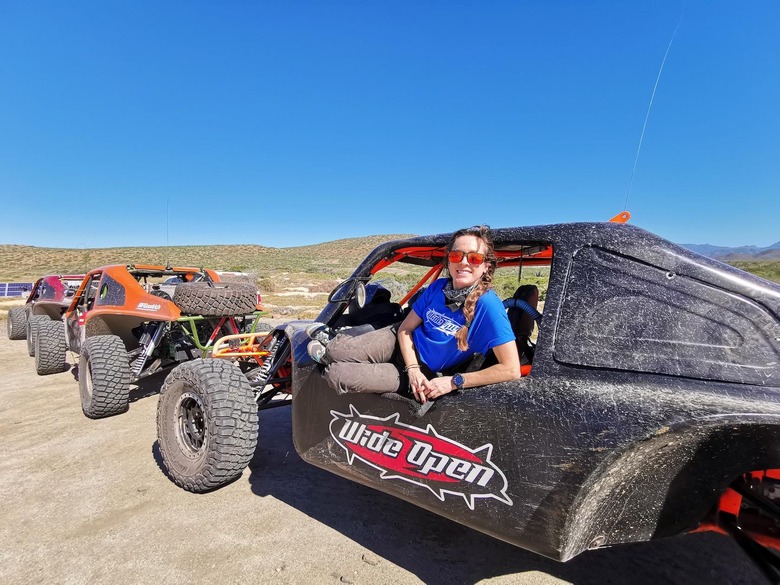 Whether you come for excitement or to hone your off-road expertise, feel free to drive like a trophy truck in the Baja 1000, catching big air over blind crests and everything else that comes with this most extreme of racing. The caveat, of course, is that if anything breaks outside of normal wear and tear, you'll pay for it (up to and including, potentially, with your life). A car in our convoy slammed sideways into a wood core cactus, making mincemeat of the tires in the process, and received a sizable addendum to their bill. Also advisable is taking a partner along, lest you be surcharged a solo driver fee.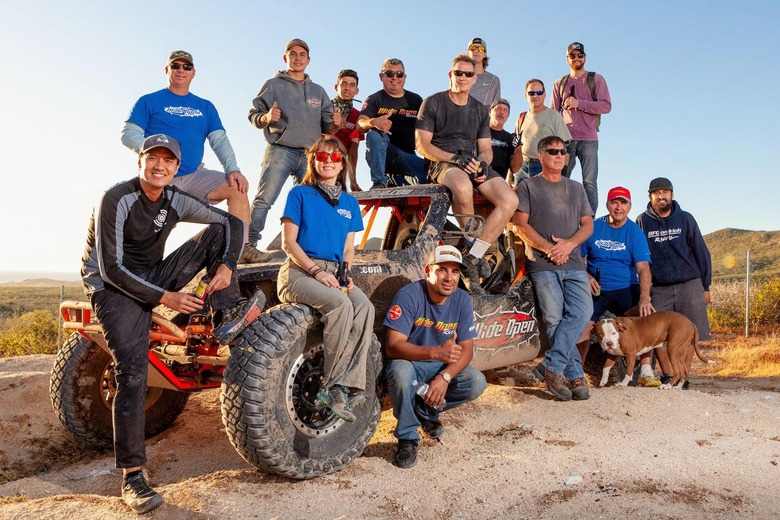 Wide Open Baja often ranks as a top 10 bucket-list idea in men' magazines. In reality, it's insanely good fun for everyone. Unwrapping presents under the Christmas tree will always have its place in my heart, but there's nothing like the gift of Wide Open Baja to get the blood pumping. Learn to drive stick, if you don't already know, and go forth and prosper – with a wide open mind and a sense of adventure.