WhatsApp Status will soon offer sharing to other apps like Facebook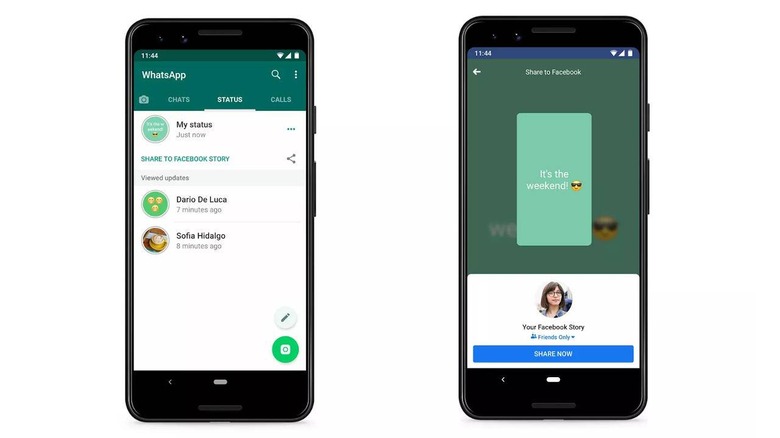 One of the advantages of being a part of a larger company is the ease of sharing with other parts of the company. At the same time, that could be problematic if your parent company happens to be named "Facebook". WhatsApp has been particularly careful to distance itself from its owner but its upcoming Status-sharing feature could raise concerns once again. Fortunately, at least according to the company, it isn't doing anything new on iOS or Android to implement it.
WhatsApp Statuses are the messaging platform's equivalent of Instagram' Stories. Users can set text, photos, or videos as their Status and it automatically expires in 24 hours. Soon, however, you might be able to preserve those for posterity on other apps and platforms.
The Verge reports that WhatsApp is testing a new feature that will let you share that Status to other mobile apps. That includes Facebook and Instagram but even Gmail and Google Photos. It may be a convenient way for WhatsApp users to post the same thing in different places but it could raise concerns about WhatsApp's data sharing with Facebook.
WhatsApp makes it clear that Status sharing only uses the very same sharing framework other apps use on iOS and Android. No data is automatically shared with Facebook and the two accounts aren't even linked together in the process. It is also an opt-in feature rather than something enabled by default.
WhatsApp and Facebook have already been under fire for breaking its promise not to share data between the two services so this new feature could make regulators take another closer look. Status sharing also means that those posts will no longer be ephemeral as there might be no way for WhatsApp to "take back" what was posted after 24 hours. If it could, then that might be yet another reason to be concerned.