Waymo driverless car crash video released after Arizona collision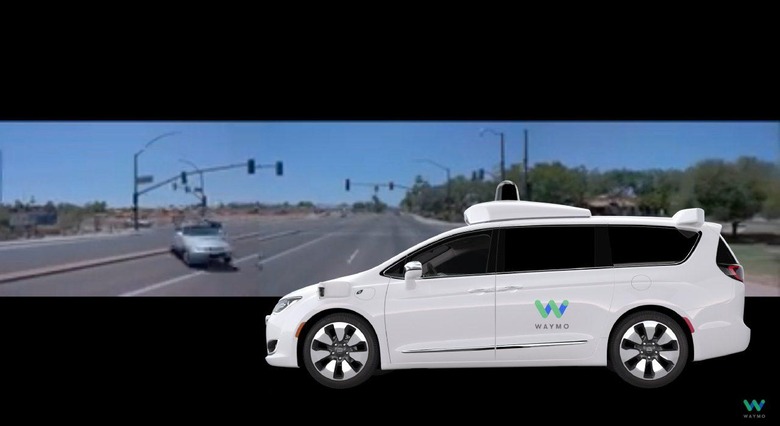 Waymo has released a video from the driverless car involved in a collision in Arizona today, suggesting there was little either the vehicle or the safety driver could have done to avoid the crash. The incident took place in Chandler, Arizona, one of the cities in which Alphabet-owned Waymo is running trials of its autonomous vehicle technology.
The incident saw a car veer across the lanes and into oncoming traffic. At the time, police had suggested Waymo's vehicle was in autonomous mode, but with a safety driver behind the wheel. That safety driver incurred unspecified injuries in the incident.
"Today while testing our self-driving vehicle in Chandler, Arizona, another car traveling in an oncoming lane swerved across the median and struck our minivan," Waymo told SlashGear in a statement this evening. "Our team's mission is to make our roads safer – it is at the core of everything we do and motivates every member of our team."
"We are concerned about the well-being and safety of our test driver and wish her a full recovery," Waymo said.
The incident took place at approximately 12:06pm local time. According to Waymo this evening, the car was in manual mode, not driving autonomously, on Chandler Boulevard approaching North Los Felix Friv e/North Hearthstone Way in Chandler. A silver Honda sedan, traveling eastbound on Chandler Boulevard, swerved across the median strip, eventually colliding with the Waymo minivan.
The video released by Waymo is taken from front-facing camera sensors mounted in the car. Arizona changed its rules on autonomous vehicle testing late in 2017, opening the door to driverless cars being operated without a human behind the wheel. Until then, a human operator had been required, in order to take over should an incident arise that the vehicle's own systems were unable to handle.
Chandler Police Department is currently investigating the crash. It's unclear at this stage what caused the silver Honda to swerve across the road into the path of the Waymo minivan.
The crash is the second this year in Arizona involving an autonomous vehicle. Earlier in 2018, an Uber self-driving prototype was involved in a fatal collision with a pedestrian, who stepped out into the road; the car was unable to stop, and the Uber safety driver did not intervene in time to prevent the crash. The pedestrian was taken to hospital, but later died of their injuries. Uber subsequently settled with the victim's family.